Nino Niederreiter knows how the bright young prospects selected in the top five of the 2013 NHL Entry draft on Sunday felt and will feel. He knows almost exactly how Elias Lindholm will have felt, the fifth overall pick by the Carolina Hurricanes, having been selected in the same spot three years earlier. However, the example of Niederreiter, fondly known as "El Nino" will serve a reminder to all those selected on Sunday that breaking into the NHL is extremely hard.
While the latest crop of young stars including Lindholm, Seth Jones, Jonathan Drouin, Aleksander Barkov and Nathan MacKinnon all lining up for their first shot at the NHL this September, Niederreiter was given a second chance and a fresh start when he was traded to Minnesota in exchange for Cal Clutterbuck and the Wild's 2013 third round pick.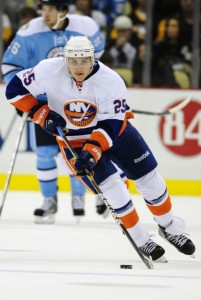 Niederreiter = 2013 First Round Pick For Wild?
Minnesota General Manager Chuck Fletcher made it very clear in his comments on draft day that he felt Niederreiter was an acquisition not dissimilar from as if the Wild had possessed a first round pick in the draft. The only difference is of course is that Niederreiter has 64 games of NHL experience and also scored 28 goals and 50 points in 74 AHL with the Bridgeport Sound Tigers in 2012-13.
Of course there are reasons that Niederreiter became available for such a relatively cheap price. As the highest drafted Swiss player in the history of the NHL enters the final year of his Entry Level contract, there are significant question marks hovering over his game.
"El Nino" impressed in a nine-game NHL stint at the end of the 2010-11 season. However, he saw extremely limited ice time while appearing in 55 games finishing with just a single goal and a -29 rating. Despite a strong first half to the AHL season, the New York Islanders didn't invite one of their top prospects to training camp. Garth Snow clearly felt that Niederreiter's development would benefit better from a full year in the AHL and that the team was better without the 20-year old. A first playoff berth since 2007 would suggest that Snow was right. 
The training camp snub didn't go down well with Niederreiter and his reaction was negative. The frustrated young player requested a trade away from Long Island. That negative reaction will be a major concern for the Wild, who will not want to guarantee Niederreiter a regular spot in the line-up. He will need to apply himself to his craft. [See also: Where Will Nino Niederreiter End Up?]
Despite some concerns, there's no doubt that Niederreiter has elite level NHL talent. All of that talent was on full display during last May's World Championships when he scored five goals and eight points in 10 games during Switzerland's improbable silver medal run. He has great skating ability and the offensive skills to be a regular 30-35 goal scoring power forward at the highest standard.
What Role Will Niederreiter Play Next Season?
Niederreiter will obviously hope that the move to Minnesota is an opportunity for him to earn a permanent NHL roster spot on the top three lines. The departures of Clutterbuck and Pierre-Marc Bouchard certainly open up a couple of spots, but Niederreiter faces plenty of competition from fellow young forwards Mikael Granlund, Jason Zucker and Charlie Coyle for roster spots. It's possible that all four could end up in the opening night line-up, but it's also conceivable that Niederreiter could once again be the victim of a numbers game. There are only nine places on those top three lines and just six for the wingers.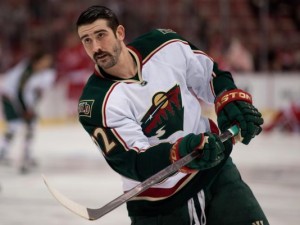 If Niederreiter does make it into the starting line-up, then it is fairly obvious what he can bring to the Minnesota line-up. He can bring extra size to the line-up and help provide offensive depth, which the Wild have seemingly been searching for since the franchise's inception.
It will probably be some time before the line combinations become a little clearer. However, one intriguing possibility is a line featuring three first round picks from the same year (2010) Granlund, Coyle and Niederreiter all playing together.
Thank You Cal Clutterbuck
The Niederreiter trade cannot be truly discussed without mentioning Clutterbuck. The 25-year old was a third round pick of the Wild's from 2006. He has some offensive ability scoring 19 goals in 2010-11, and 15 in 2011-12. More importantly, Clutterbuck is known as one of the biggest and most regular hitters in the NHL. He opens up space on the ice for his line mates and possesses enough speed and skill to play on any of the four lines.
Clutterbuck's disappointing 2012-13 season combined with his contract status made him a very movable asset. The reality is that Fletcher has done pretty well to give up relatively little for a player with a very high upside.
Seb has been writing about the NHL and ice hockey online for over a decade. A long-time passionate Bruins fan, it's a dream of his to be writing about this team, but don't expect him to hold back from telling some hard truths when necessary. Follow him on twitter @seberead