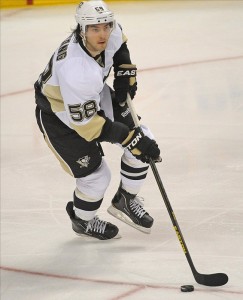 Kris Letang signed a $58 million contract, but his hesitation over coming to terms with the Pittsburgh Penguins was being dealt in a future trade. General Manger Ray Shero had no way to contractually offer a no-trade clause to Letang. Not being traded was the sticking point for Letang and agent Kent Hughes. Letang wanted to settle in Pittsburgh.
Letang feared that he would be dealt in the same way that Jeff Carter was traded. Carter signed a luxurious contract with the Philadelphia Flyers in 2011. Carter thought he'd be a in a Flyers' uniform forever. As his NTC and contract were set to kick in, Flyers' GM Paul Holmgren shipped Carter to the Columbus Blue Jackets. After Carter was burned, the new CBA addressed this issue so no player would ever have this happen to them again.
As THW's Mike Colligan explains in What's Holding Up the Kris Letang Negotiations, Letang didn't have this option:
"Players are only eligible for the Carter Clause if they would have been an unrestricted free agent in the year prior to signing the extension.  Letang would not have met age and experience requirements for unrestricted free agency this summer and therefore has been pushing for a verbal agreement instead."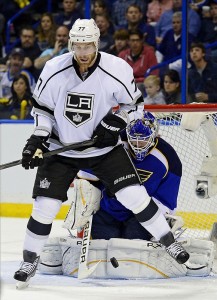 We have to assume that Shero gave Letang assurances that he would not be traded in the coming years. Letang and his agent are obviously taking Shero for his word or this deal would still be hanging in the balance.
On the flip side, nothing is official unless it's in writing. There is nothing to keep a Letang trade from happening down the road. If Shero wanted to trade Letang this coming season, every NHL club would be in the running. Once Letang's new contract begins, there are some restrictions set in place as Rob Rossi wrote for Triblive.com.
"Starting July 1, 2014, he [Letang] will hold a limited-movement clause that allows him to select from 12 teams to which the Penguins can trade him. The list can be altered prior to the start of every season during Letang's new contract, which will expire after the 2021-22 campaign." (Rob Rossi – Triblive.com)
Shero may have convinced Letang that he'd be in Pittsburgh for the next eight years, but there will be nothing to prevent a handful of teams from asking how they can pry Letang away from the Pens starting in 2014 season. Letang would hold some power as to where he could go, but ultimately cannot prevent a trade from taking place.
Letang was a Norris Trophy candidate, but this was all due to his offensive skill set. He averaged a point per game and put up similar offensive numbers in the playoffs. His offensive numbers may lead the league for defensemen every season in the years to come, but no one is worried about Letang's offensive brilliance.
Letang's defensive play is what is in question. Everyone is questioning Letang's worth due to the fact that he was on the ice for half of the goals surrendered by the Pens in the playoffs. Letang looks like he worries about offense first and defense when he has the time. If his defensive zone play does not improve, and the Pens flame out again in the playoffs next season, there may come a time for a major shakeup. Shero hasn't exactly changed the make-up of the Pens to begin this off-season. Despite having the same team and core of players from a season ago, Pens' fans are hoping the team will have a different outcome next year. If the Pens do in fact come to a crossroads, Crosby and Malkin won't be the players leaving.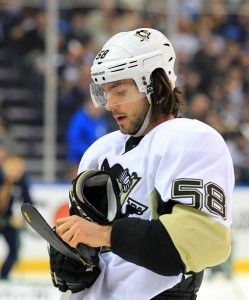 Letang would be at the top of the list if major changes were needed, and a fantastic bargaining chip being locked into a long-term deal. He's 26, and barring injury, has close to 10 quality years of NHL service remaining. There are concerns about the Pens' lack of young forwards and lack of shutdown defensemen. If Letang were dealt and given what he'd demand in return, these needs would easily be filled.
A future trade of Letang may diminish Shero's reputation. However, even if Shero verbally guaranteed Letang that he'd remain here over the next eight years, Letang did not take the "Penguins Discount" as Crosby and Malkin did. Instead, Letang "got paid" having much less individual hardware to boast about than Crosby and Malkin. If Shero wanted to deal Letang and renege on his promise, his is excuse would be right there. If the Pens do not meet expectations in the upcoming season, this may become reality.
Justin Glock has covered the Pittsburgh Penguins for The Hockey Writers since 2011. As a lead writer, his Penguins knowledge traces back over two decades. For any requests, please feel free to contact Justin via email: JGlock10@gmail.com.