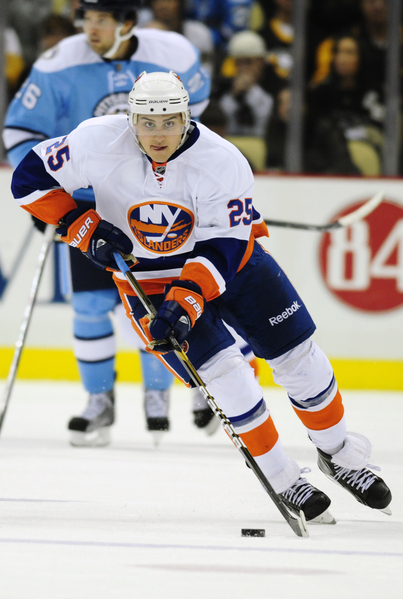 After learning about Nino Niederreiter's camp requesting a trade from the New York Islanders, hockey fans must be wondering where El Nino will wind up in the near future.
Islanders fans were undoubtedly left scratching their collective heads when Niederreiter wasn't given an invite to an abbreviated training camp after scoring 36 points (19 Goals, 17 Assists) in 39 AHL games for the Bridgeport Sound Tigers. However, Isles fans were left with something more to think about on Tuesday afternoon as news broke that Niederreiter and his camp felt slighted enough by New York to request the prospect's trade to another organization.
While Garth Snow didn't rule out the possibility of recalling Niederreiter at some point during the 2012-2013 NHL season, the GM did not elaborate much when he spoke to Newsday's Arthur Staple as the reporter tweeted:
GM Garth Snow: "All convos with players remain private, but I haven't heard from Nino himself that he's unhappy."

— Arthur Staple (@StapeNewsday) January 22, 2013
Regardless of any assurances from the Islanders organization, or lack thereof, Niederreiter's future with New York might not be as certain as many fans thought it would be going into the current NHL season.
Not receiving an invite to training camp after scoring at a torrid pace in the AHL would not be an easy pill to swallow for many top-end prospects, but a couple of situations must first be examined before fans rush to judgement on who is right and wrong in this particular situation.
A Year to Forget
Most Islanders fans will probably remember the campaign that Nino Niederreiter had during the 2011-2012 NHL season, but not for its highlights or flashes of brilliance that were seen from the prospect.
Niederreiter's one goal in 55 games played undoubtedly disappointed Isles fans, but there was still reason to feel confident about El Nino going forward as it was no secret that the forward was getting bottom six minutes alongside veterans such as Marty Reasoner. While Niederreiter wasn't paired with the greatest of teammates, he also was the victim of some unlucky circumstances when he was on the ice.
Registering only one point in over 50 games played certainly did not endear Niederreiter to Isles fans, but many were left wondering if New York had handled El Nino in a correct fashion. Some surmised that Niederreiter's extended stay on the Island was due to the Islanders using the prospect's contract to stay slightly above the NHL cap floor, but New York's actual intentions with the Swiss prospect might never be revealed.
Playing alongside veterans on New York's third and fourth lines likely didn't offer Niederreiter many legitimate scoring opportunities, but players such as Matt Moulson, John Tavares, Josh Bailey, Michael Grabner, P.A Parenteau, Frans Nielsen, and Kyle Okposo all jostled to remain in the Isles' top six forwards rotation, something that undoubtedly made it that much harder to consider El Nino for top line duties.
In the end, nobody was probably more upset at how the 2011-2012 NHL season played out for them than Nino Niederreiter, and nobody but the forward was more determined to right that wrong in the following hockey season.
Lockout Lifted, Niederreiter Grounded
Once the NHL lockout was lifted, Islanders fans were probably wondering which prospects would be given a shot to prove themselves in training camp. Despite the fact that names such as Ryan Strome and Griffin Reinhart were being heavily debated, Islanders fans that were following the Bridgeport Sound Tigers during the NHL lockout were probably getting ready to see how Nino Niederreiter's AHL success could possibly translate at the NHL-level.
Niederreiter was undoubtedly one of Bridgeport's best forwards (if not THE best) during the team's first 39 games of the 2012-2013 season as he led the Sound Tigers in scoring, but El Nino's training camp invite did not come. After doing everything that was asked of him at the AHL level, the Islanders decided that it would be safer for the prospect to stay the course in Bridgeport and continue his stellar scoring pace.
While such news was probably not well received by Niederreiter and his camp, it would be hard to envision the forward receiving more of an expanded role even if he did make the Isles' roster out of training camp.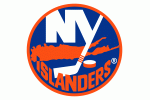 Last year, Niederreiter received barely eight minutes of play per game and was stuck on New York's bottom two lines. With P.A Parenteau being replaced by Brad Boyes on New York's roster, Niederreiter's move up to the top six forwards would have been just as improbable this season as it was last season.
Josh Bailey's eventual return to the Islanders roster would have likely impeded Niederreiter's shot at remaining in New York's top six rotation and it wouldn't be as simple for Islanders management to give El Nino top six time, especially when the organization wants players such as Michael Grabner and Brad Boyes to recover the scoring touch that they displayed earlier on in their respective NHL careers.
Of course it would have been nice to see Niederreiter prove that the '11-'12 NHL season was a fluke performance, but the forward wasn't the only AHL performer to be left without an invite despite putting forth a strong effort for the Sound Tigers.
Making the Most of AHL Time
Nino Niederreiter was not the only Bridgeport Sound Tiger to not receive an invite to the Islanders' training camp.
Players such as Aaron Ness, Matt Donovan, Johan Sundstrom, and John Persson have all stood out for the Isles' AHL affiliate in the last year or two, but having these players register top minutes and crucial experience was likely more important than having them stocked on the bench and receiving little playing time.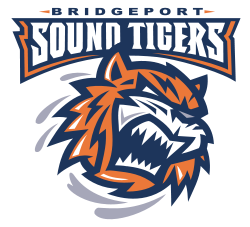 Some might point to David Ullstrom and Casey Cizikas' promotion, but it should also be noted that Cizikas has not received much playing time in his two games with the Islanders and Ullstrom has earned every bit of playing time he has received through solid efforts.
Islanders fans might not be pleased at the moment, but at this point in time it's probably better that the organization plays the "better safe than sorry" route with their prospects. Just last year, many hockey fans illustrated the belief that the New York Islanders were not taking the correct route when it came to bringing up Niederreiter. It was absolutely encouraging to see that Niederreiter brought forth his best effort to show the Islanders organization that he has the talent to succeed in the NHL one day, but that day might also be worth waiting for as it is hard to gauge how the forward's success would translate at the NHL level.
In essence, the Islanders seem to be stuck in a "damned if you do, damned if you don't" situation when it comes to Nino Niederreiter. On the one hand, strong play from a prospect should oftentimes merit an extended look from a parent club, but what if Nino was given an invite to training camp, made the Isles' roster, and was once again buried on the team's depth chart?
Since the Islanders elected to give Niederreiter another year of development where he can play top-line minutes, hockey fans should wait and see how this situation pans out. In a lockout shortened season where Niederreiter might not have gotten much of a chance to play the minutes that he should be playing, finishing the season with the Bridgeport Sound Tigers is far from the worst option.
Garth Snow has already stated that he wouldn't be willing to move Niederreiter to another team, but also hasn't ruled out the possibility that El Nino could be called up in the remaining 40-plus games.
For now, it would be a safe bet to assume that Niederreiter will be playing in the AHL with the Bridgeport Sound Tigers. Despite the fact that the prospect might be upset with his current situation, Islanders fans should expect to see Niederreiter receive his shot at NHL redemption in an Isles sweater sooner rather than later.