In what looked like a continuation of their Eastern Conference semi-final tilt last spring between the Philadelphia Flyers and New Jersey Devils, one squad knew when to throw punches and when to pull them and the other appeared mired in an early season struggle.  It was typical Flyers and Devils.  Frustrations flew and tempers flared.  At the final horn, New Jersey found itself 2-0 and Philadelphia, which hadn't lost three in a row all of last year, dropped to 0-3 in the early going.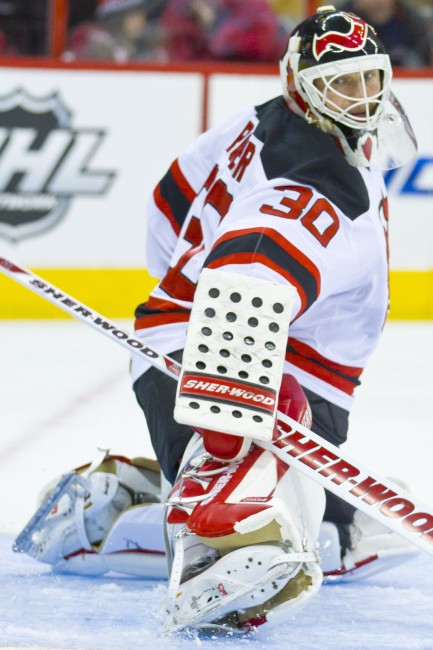 In the simplest of terms, a notable difference came from consistency in the crease.  Although one could argue that Ilya Bryzgalov was thrice hung out to dry, if Martin Brodeur is walling off all comers, it's hard to scratch together any momentum or positives from that point.  It was Brodeur the bedrock once again, turning aside all 24 pucks thrown his way, recording shutout number 120 on his illustrious career.
It didn't take New Jersey long to strike in the early first.  A strong carry along the boards by Dainius Zubrus behind the net helped to send the puck out to Bryce Salvador.  A shot from the point by Salvador saw a rebound left to a wide upon Travis Zajac down low.  Just at he did in game one, Zajac lit the lamp first to get the Devils on the ledger.
Book-ending the scoring late in the period for the Devils was David Clarkson.  On a wraparound and on the power play, Clarkson took advantage while Bryzgalov had trouble getting his goal stick free and banked the puck off the skate of Flyers defenceman Ruslan Fedotenko and into the back of the Philadelphia net.  A familiar formula for New Jersey, as Clarkson pocketed the second tally in game one on the Island as well.
Even more impressive when it came to special teams play was the Devils penalty kill.  New Jersey held Philadelphia to 0-for-6 with the extra attacker.  That penalty kill also generated offense.  Ilya Kovalchuk, who registered an assist on the Clarkson goal, was able to draw a hooking call, which led to a penalty shot.  Then Kovalchuk bested Bryzgalov on the stick side for the shorthanded penalty shot goal, putting New Jersey up 3-0.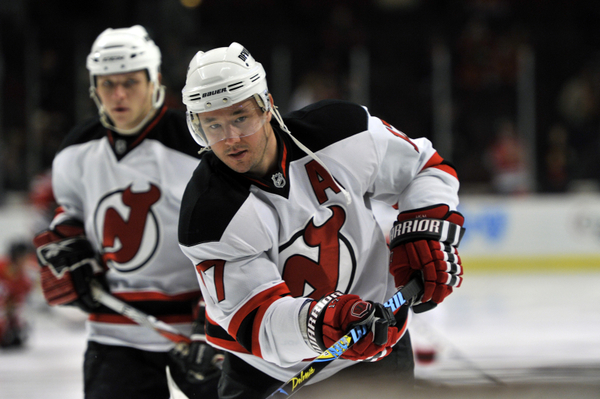 From the overall flow of the game, a lot of what permeated was the discipline of the Devils and the frustration of the Flyers.
On the Philadelphia end it was Scott Hartnell and Jakub Voracek picking up penalties after a Clarkson hit.  Wayne Simmonds taking a hack at Brodeur.  Claude Giroux getting an unsportsmanlike conduct penalty.  Plus Maxime Talbot taking chippy penalties late.
Conversely with the luxury of a lead, New Jersey either took a dance partner to the box or wound up fighting late.  Clarkson would wind up going with Simmonds and within the last minute, Steve Bernier and Brayden Schenn.
Again, ultimately discipline over frustration.