Steven Stamkos is a bit of an anomaly in the hockey world. He's a former 60-goal scorer that has also notched a 50-goal season and two separate campaigns in the mid-40s. That kind of production is nearly impossible to find outside of the top-tier scorers in today's NHL.
Yet, despite his ability to pile up goals at alarming rates, Stamkos is often overlooked when discussing the game's best players. He's often left out of those conversations by media, analysts and fans. So, the question I pose is, should Stamkos be considered among the NHL elite? Many have predicted his new contract will cost somewhere in the ballpark of Jonathan Toews and Patrick Kane, maybe more. Is he a player that deserves that type of cash?
If we define elite as (according to a Google search): A select part of a group that is superior to the rest in terms of ability or qualities.
Is that a fitting description of Stamkos? An overview of how he stacks up with his peers should tell us the whole story. First, we'll look at how he ranks as far as player type and it likely won't come as a surprise that his underlying numbers reflect his scoring ability. Below is a chart via Sean Tierney (@SeanTierneyTSS). Sean uses rate stats such as goals and assists-for per sixty minutes of play to place players into specific categories.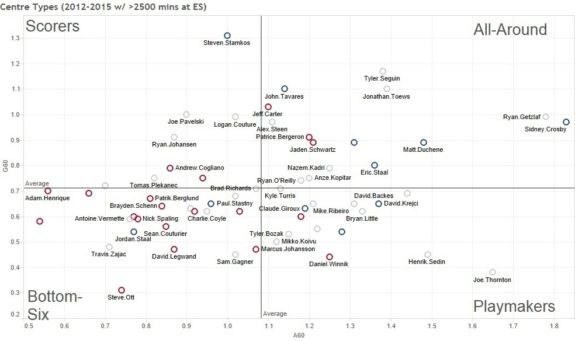 You can find Sean's article regarding this chart and the methodology behind it here. Prolific goal-scorers rarely play the center position and Stamkos clearly separates himself from the pack in that regard. But, his assists per sixty minutes have him teetering near the "all-around" classification. That speaks volumes to what he offers as a well-rounded player, despite his reputation as being a pure sniper. There's much more to Steven Stamkos' game than just putting the puck in the net.
Stamkos' HERO chart is below. If you use the drop down and compare him to other top-tier offensive forces such as Alex Ovechkin or Patrick Kane, you'll notice how much more he offers in all aspects of the game. His impact on possession and shot suppression, found in the bottom section of this chart, trumps almost any other player with a similar role.
From an analytics standpoint, at least at a high-level view, Stamkos is clearly among the elite and actually proves to have a more rounded game than most others in that category. I mentioned his impact on possession and shot-suppression above but let's dig a little further to see his specific influence on his most common line mates.
Steven Stamkos and His Impact on Line Mates
Playmakers like Crosby, Toews and John Tavares are known for their ability to take average hockey players and make them very good. It's simple, find a shooting lane and they'll get it to you. While Stamkos isn't considered a setup man like Crosby and Toews, his effect on his line mates is still very telling. The chart below is courtesy of stats.hockeyanalysis.com. These numbers represent Stamkos' time-on-ice with his most frequent line mates, Ryan Callahan and Alex Killorn.

  Now, let's also visit how Killorn and Callahan fair when separated from Stamkos.

Most possession numbers stay in the same vicinity as the first chart that included Steven Stamkos. However, if you look at goals-for per sixty minutes it really highlights the offensive boost Stamkos will provide. A difference of over one goal per sixty minutes of ice time is pretty deserving of the title 'elite'.
You can run these same metrics going down the list of players that recorded time with Stamkos and the result doesn't change. He helps to maintain solid possession but provides a major boost in goal production. The last chart I want to visit looks at Stamkos' dCorsi. This chart is pretty straight forward and essentially provides a look at how an individual influences their team's offensive or defensive production while on the ice.
You can see by his gradual trail from "Better O, Worst D" to "Better O, Better D" that he has developed into a two-way forward. The gradual change also means steady improvement, not one season as an outlier.
Point Production and How Stamkos Stacks Up
Of course, over the last five years, there's only one player with more goals than Stamkos and that's Ovechkin. But, it's important to note that Ovechkin has played 33 more games over that span. Ovie has scored at a rate of .57 goals-per-game. Stamkos has 202 goals in 331 games-played or in other words, .61 goals-per-game, which leads all NHL forwards.
Stamkos ranks third among forwards for total points over that span. Total games-played also impacts this as well, as Crosby and Evgeni Malkin lead all forwards in points-per-game. But, Stamkos is a hair over a point-per-game over that span and has recorded a total of 357 points in 331 games-played.
Simply put, whether you're digging into analytics or simple production numbers, Stamkos is 'elite' and deserves to be looked at as such. So, when you're insistent that the Lightning should move him for cap reasons, keep in mind that it will mean not having Steven Stamkos on your roster any longer. I've tried to convince myself that the Lightning can replace his production but honestly, they can't. For those that continually leave him out of conversations around who is considered the league's best, I suggest rethinking your approach to how you gauge those players.
Stamkos should and will receive top dollar on his next contract, possibly making him the highest paid player in the NHL. He deserves it, so it's up to Steve Yzerman to make it work.