Even in the best of circumstances, it takes talent and effort to lead a pro team in scoring – perhaps even truer for rookies. Carter Camper led the Providence Bruins with 48 points in 2011-12, but he's looking for more.
Providence's center surprised many with his team-leading production in '11-'12. The lone P-Bruin selected to the 2012 AHL All-Star Game, Camper's season became even more memorable. The 23 year-old received a call in late February to head up I-95 to the Garden, where the Miami of Ohio grad broke through for his first NHL goal with the Bruins.
"It was amazing," Camper said of his first glimpse of the NHL, "… it was a dream… you learn a lot up there – the guys made it a real comfortable transition while I was up [in Boston]. It definitely pushes you to get back up there… you're not satisfied down here… [The NHL] is where you want to be."
But those early successes haven't stressed the sophomore forward. "… I guess it's a good kind of pressure. It pushes me to always want to get better and top [those numbers and successes] individually, and… you want to contribute more to have a better season and play in the playoffs – you don't want to go home early like we did last year."
Certainly, he's not the biggest or toughest customer at 5'9 and 173 lbs. – but his quickness, his hands, his intelligence, and his willingness to play a complete 200-foot game make him an intriguing prospect going forward.
"I realize I'm not going to be the strongest guy out there and as a hockey player I want to try to outsmart people and use my vision – but off the ice [I've worked on] leaning down a bit and getting quicker – and getting stronger… but not bulkier."
During the scrimmage today, Camper displayed all those qualities. His playmaking set-up his squad's lone goal, finding former Redhawk teammate and close friend Alden Hirschfeld with a tape-to-tape pass from behind the net. Camper said, "We played together for a couple years in school… we go way back, I've known him since I was 10 or 11 and I just know where he is on the ice."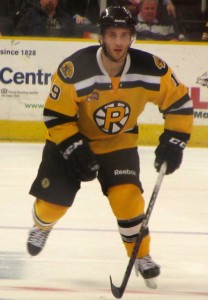 Wonderfully understating his impact on the tally, Camper described, "Jordy [Caron] put the put in-deep… I just wanted to get down there and support him and the puck came to me. I saw Hirsch driving down the middle and he doesn't miss from there."
Camper's career began in Ohio, where the young Carter played for the Barons of the NAHL. Later he earned a spot in the USHL – first for the US National U-17 Team, then the Lincoln Stars. Wherever he went, he scored. But he wasn't drafted.
Going undrafted was just something that needed to be overcome. Camper then laced 'em up for the RedHawks of Miami, playing four seasons and finishing second on the school's career-scoring list. His final year he averaged almost a point and a half per-game.
He led his team to the brink of a national title in '09, before the RedHawks were stunned by two goals in the final minute before losing in OT. Nevertheless, he earned the captain's "C" in his senior year and numerous awards for his performances including a Hobey Baker finalist nod in his last season in Oxford (Ohio).
Signed by the Bruins after graduation, Camper jumped right-in with two points in three games getting his feet wet at the end of the '10-'11 season, leading to his outstanding rookie campaign.
While he's unlikely to earn a letter – yet – in Providence, Camper exudes the 'do-what-it-takes-to-win' attitude that hockey's leaders exemplify. He's "… not a guy who's going to talk that much. We obviously have some great leadership with Whitter [Trent Whitfield] and [Jamie] Tardif… I'm more than willing to help the rookies." Even so, Camper's progress as a young leader in the P-Bruins' locker-room is something to watch.
Providence Bruins fans were treated to a tremendous rookie campaign in 2011-12 – one tough to top. But rest assured – Camper isn't satisfied.