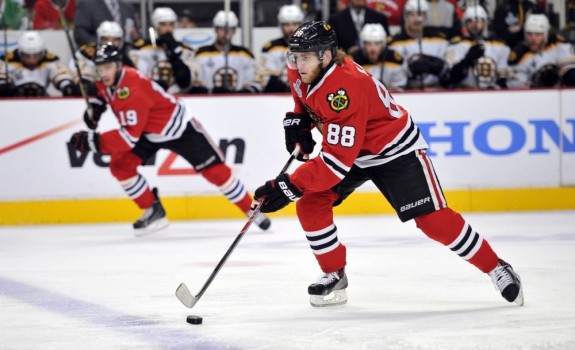 Thursday night at the United Center is going to be strange.  There will be no #19.  There will be no #88.  The last time Jonathan Toews and Patrick Kane were both out of the Hawks lineup at the UC:  April 5th, 2007, before either had played a game for the team, and two months before Kane was even drafted.  The world was a much different place in the spring of 2007.  George W. Bush was president.  The first iPhone was released.  Tiger Woods could still win majors.  But nowhere was life more different than on West Madison St in Chicago.  For "Chelsea Dagger"-era Hawks fans who only know sellouts and parades, it's hard to explain the difference between 2007 and 2014.
For the 2006-2007 season, the Blackhawks average attendance was 12,727, which ranked them 29th out of 30 teams in the league.  Its mind boggling now to think of the Coyotes, Panthers, Blue Jackets, Predators, etc outdrawing the Hawks, but they did.  Heck, even the Atlanta Thrashers put the Hawks to shame that year, and they wouldn't even exist in five years' time.  I remember going to several games that season.  I would present my (expired) college ID at the box office, and sit in the 300 level for $8!  Things have changed, to state the obvious.  The Blackhawks now draw nearly 10,000 more fans per game (22,684 this year, first in the NHL).  My $8 that I spent on my '07 student ticket will now provide me with about one Budweiser.  I won't even waste my breath complaining about how astronomical the ticket prices have become.
In those dark post-Roenick, pre Toews/Kane days, the Blackhawks were infamously labeled the worst franchise in sports.  The UC was half full.  The home games weren't on TV.  It was hard to find anyone who cared about the team, which makes their turnaround all the more amazing.  The most striking change in the Toews/Kane era, more than attendance or ticket prices or even winning is the place the Blackhawks have taken in Chicago's hearts (and on their backs).  In a city that loves all its sports teams, the Indian Head reigns supreme everywhere you go.  Two million fans lining the streets for a Blackhawks victory parade was absolutely unthinkable in 2007.  Hockey has clearly gone from niche to mainstream in the Windy City, and no one deserves more credit than Toews and Kane.
I know that hockey is a team game, and I hardly discount the important roles that Keith, Hossa, Sharp, Seabrook, etc have played in the team's success, but to me, the Chicago Blackhawks as we know them now are Jonathan Toews and Patrick Kane.  Even if the team had somehow managed to win Stanley Cups without them, there's no way two million fans are coming to a parade without 19 and 88.  They have inspired a cult of personality rare in professional sports, and almost unheard of in hockey.  They are the players that every young hockey player wants to be, and the sons that any mother could love, Toews the responsible older brother to Kane, the rebellious younger brother.  Their on-ice games mirror this image.  Toews does everything well and everything right- all the time.  Kane sometimes needs motivation, but at his best is more electrifying than anyone in the game.  They are perfect ambassadors for the game and the community, their visibility in the city as high as any Chicago sports figure since Jordan, Payton or Ditka.  The Hawks long-dormant fan base was dying for someone to deliver them from irrelevance.  Toews and Kane were the right guys at the right time in the right place.  Chicago has seen them grow up right in front of their eyes.  It's been almost too good to be true.
Success sometimes involves some difficult tradeoffs.  I would love to still be paying $8 for a Hawks ticket.  Frankly, I could do without some of the bandwagon fans who sit on their smartphones the whole game simply because the United Center is now the place to be.  But I would never want to go back to the dark ages when the best you could look forward to was watching Tyler Arnason or Mark Bell amidst a sea of empty seats.  Everything I'm writing should be evident to any Hawks fan, but sometimes it's nice to pause and appreciate what you have.  I hope Toews and Kane stick around for ten more years, but nothing is a given.  Take a look around, Hawks fan.  This is the golden age.  It won't always be like this.
(I'm not sure whether to laugh or cry at this video)
Ty Schrock is a lifelong Chicago Blackhawks fan, from the days of Jeremy Roenick and NHL '94, to the days of Patrick Kane and NHL '14.