Tim Thomas is still a Boston sports hero.
I think. Maybe. Actually, I'm not sure. Here's why.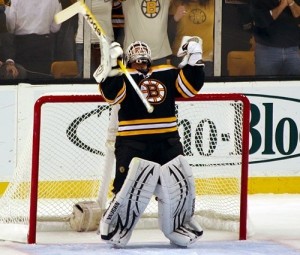 It had been awhile since a "Thomas, Thomas…" chant rained down from the balcony of the TD Garden. The last time might have come after a clutch save in the 2012 Eastern Conference Quarterfinals, his last time between the pipes in Boston. With 11 minutes left in the third period, this time was because Thomas had just let in the Bruins' fifth goal of the night, a video game-like juke of a move and snipe from Shawn Thornton.
"Thomas, Thomas…"
It was a taunt from the fans addressed to the same guy who led the Bruins to their first Stanley Cup Championship in 39 years in 2011. Then, with about two minutes left in the game, David Krejci fired home a point-blank snapshot after a brutal Florida turnover for the sixth Bruins goal of the night.
Again, "Thomas, Thomas…" with the fans more in unison than any other attempt during the game.
"I didn't really hear it too much," said Thomas. "I hear that everywhere. I was more focused on what was happening on the ice than what was happening off the ice."
Tuesday night wasn't Thomas' first trip back to the Boston since taking a year off from hockey. The last time, November 7, 2013, Thomas was scratched due to an injury. There was a tribute video that time–a collection of saves from the goaltender's time in Boston, leading up to highlights from the Bruins' 2011 postseason run. Thomas waived from the press box, acknowledging the standing ovation from fans.
There wasn't much fanfare this time, unless you're counting the six goals that Thomas allowed in the Bruins' 6-2 win over the Florida Panthers. It probably wasn't the homecoming Thomas was looking for. Then again, he probably wasn't looking for much.
"I felt good going into it," said Thomas who still managed to stop 35 of Boston's 41 shots. "I felt like I was going to play a strong game, and well, you can see the results. The good news is, in this league a loss is a loss. It doesn't matter what you lose by. A win is a win. It's one loss in our category but we can look forward to next game to making it a win."
Tuesday marked Thomas' second start against his former team, both of which fell in the loss column. Thomas and various Bruins have talked about moving on from the situation and living in the present. Tuukka Rask is their goaltender now, an elite one at that, and the years where Thomas manned the pipes are well behind them. But there's no denying what the Bruins and Tim Thomas once built together as a team in Boston, a place where the goaltender once called home.
"I felt very comfortable being in this building," said Thomas. " Obviously, I didn't feel as comfortable when they started getting 19 shots in the first period and a couple of goals going in, but I felt comfortable coming into the game."
If we're being honest, it wasn't pretty. While the Panthers team in front of him was pretty poor, Thomas was unable to steal a game like he did so many times when in Boston. It got worse as the game ended as tempers flared after Carl Soderberg went hard in the Panthers' crease, catching Thomas with a high stick in the process. Thomas retaliated with a swing of the goalie stick towards Soderberg's head, an act that penalized the netminder with three seconds left in the game.
"With less than a minute left in a game and they're up by four goals, 6-2, I took exception to that," Thomas said in his post-game remarks.
There it was, the kayfabe heel turn. With the swing of a stick aimed at the head of a Bruin, Thomas did all that he could, completely unconsciously, to get the crowd to turn against him. Similar to a pro wrestler who follows the script of becoming the bad guy, a defeated Thomas became just that. Even though Thomas had been aggressive in a Bruins uniform before, it's different when he's on the other team.
Maybe that's just it. Aside from everything he had accomplished in his time with the Bruins, Thomas is just another player on another team. The recognition was given in his first appearance and was meant to cover it all. Until he comes back to Boston wearing a Bruins jersey again (unlikely) or in a suit, retired from the game, that's when he'll get another hero's welcome.
For now, the photos and memories are what keeps Thomas as a Boston sports hero, not another team's jersey.
Follow Mike on Twitter for more Bruins updates, news, and commentary