T.J. Oshie will be a very popular man this offseason. The 30-year-old forward is coming off a very strong season playing on the top line for the Washington Capitals, helping the team to another Presidents' Trophy win and solidifying his standing as the best player who could hit the free-agent market come July 1.
Both the Caps and Oshie have expressed that they would like to reach a deal to keep him in D.C., but according to the Washington Post's Isabelle Khurshudyan, it seems that could be a very long trail to traverse due to the Caps' salary cap situation. Washington has 11 players on its NHL roster that will need to be re-upped for next season, including Evgeny Kuznetsov, Andre Burkovsky, and four of their eight roster defensemen.
If Oshie is unable to sign before the July 1 start of free agency, he'll no doubt attract the attention of almost every NHL franchise. While much of that attention will be a call to see what his price is, there will be a few teams that emerge to make a serious move towards securing Oshie's services. The Minnesota Wild should be one of those teams.
The Wild Need a Finisher
All season long the Wild were a strong goal-scoring team. After all, they finished with 266 goals for, which ranked second in the NHL. Still, for as many goals as they scored, the Wild did not have a player who eclipsed the 30-goal mark. The Wild did have four players that topped 20 goals for the season (Eric Staal with 28 goals, Mikael Granlund with 26, Nino Niederreiter with 25, and Jason Zucker with 22), but many of them struggled to put together a consistent effort with goal-scoring droughts that affected the team's ability to win down the stretch.
RELATED: Minnesota Wild Salary Cap Info on all Roster Players and Prospects
In the playoffs, Minnesota struggled even more to put points on the board. The Wild were frustrated as they peppered St. Louis goaltender Jake Allen with 182 shots across five games for an average of 36 shots a tilt. They just couldn't finish on big shot opportunities by shooting wide, or by not being accurate with their shots.  As a result, the Wild were only able to put eight goals behind Allen in five games.
Sure, Allen deserves a lot of credit for his performance, but the Nashville Predators were able to solve him in six games while producing fewer shots. The Preds posted 155 shots in six games for an average of 26 shots a game, posting 15 goals for in their series win against the Blues.
Why did they have success when the Wild didn't? Simple: the Predators produced more quality shots on Allen and took advantage of the scoring looks they got—they finished. The Wild had issues doing those things, and all the shots in the world didn't matter because they didn't finish with pucks in the net. Take Bruce Boudreau's word for it:
T.J. Oshie Is a Finisher
One of the most storied moments in the history of USA Hockey in the Olympic Games came off the stick of T.J. Oshie. During the 2014 games, he pulled off the amazing feat of beating Russian goaltender Sergei Bobrovsky by converting four of six shootout attempts, including the shootout winner in the eighth round of the shootout. He finished the Russians off singlehandedly.
Fast-forward to this past regular season, and you can see how Oshie's ability to finish was on display. His goal tally of 33 in 68 games was impressive, but it was his ability to stay consistent and make the most of his chances to score that really stood out.
From January 1 to the end of the regular season, Oshie never went more than three games without notching a goal.  Additionally, on the season he posted an impressive shooting percentage of 23.1 percent, which was an NHL-best among players who played over 30 games. He scores a lot and does it 23 percent of the time he shoots. Compare that with the top goal scorer on the 2016-17 Wild, Eric Staal, who posted a 13.3 percent shooting percentage, and you can see where Oshie could significantly bolster the scoring potency of the team.
The Wild Already Have Most of the Cap Space They Need
It is no secret that the Wild are in a tight cap situation right now with some big offseason re-signings ahead of them.  However, the notion that they are unable to produce even close to the $6-8 million per season in cap space likely needed to sign Oshie seems farfetched. But that's considering the current salary situation. A look at the possible salary situation on July 1 paints a picture where enough space could be available for the Wild to make a competitive offer for Oshie's services.
If the Wild let Martin Hanzal, Ryan White and Darcy Kuemper move on in free agency as expected, that will produce $4.1 million in cap space. Now that's not enough to ink Oshie, but added to that, the Wild are expected to lose a big salary to the expansion draft, so we could see enough space cleared. Looking at the likely players that Vegas would select, could free up anywhere from $2 million to $4.1 million of cap space.  Those moves alone put the available space up to somewhere between $6.1 million and $8.2 million with which to sign Oshie.
A Hot Trade Market Could Mean More Space Freed Up
Wild owner Craig Leipold told the media today of the Wild's early playoff exit: "I was terribly disappointed. I'm not over it. … We got beat, so we have to get better."
In addition to letting some free agents walk and the expansion draft, if the Wild choose to they could free up more space through the trade market and are motivated to do so according to Leipold. As Michael Russo of the Star Tribune is reporting, the Wild are getting calls from lots of teams expressing interest in many of their players. If GM Chuck Fletcher chooses, he could trade for a draft pick, which is a positive net gain against the cap. Also, if done right, that type of trade could get the Wild back into the first or second round of this upcoming draft, which is something many see as an issue.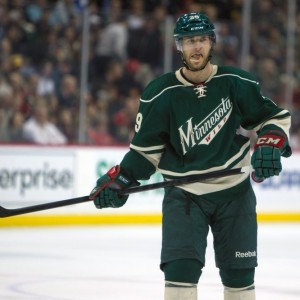 Furthermore, if done right. the Wild could find a taker for the expensive and underperforming Jason Pominville. If the right team comes calling with enough desire for one of the Wild's players and has a lot of cap space, they might include Pominville in a package deal that frees up his $5.6 million hit. This would require Pominville to waive his no-movement clause, and the Wild could offer him a fresh start and a bigger role with another team, which he might be looking for.
The Wild could certainly use that cap space to sign Oshie and with the savings previously described, they will have plenty in reserve to re-sign players like Granlund and/or Niederreiter. Still, even without a Pominville trade, the Wild will have the space to make a great offer to Oshie. The question then becomes how much can they offer players looking to be re-signed?
Bottom line: if the Wild want to make a big change they'll have to make big choices. Signing Oshie is a big change to meet a need they desperately have: consistent and clutch scoring. The depth of the organization is great right now with a bunch of talented prospects waiting to take their place on the NHL roster. They can afford to part with some of their lineup and have great young players ready to fill in. Not to mention adding a 30-plus goal scorer and former Mr. Hockey Finalist like Oshie signals to the State of Hockey that the Wild are "all in."
Danny Lambert has been covering the Minnesota Wild for some time now, and is back again as contributor to THW staff. A native Minnesotan he's always had his eye on the State of Hockey and is proud to write and represent such a great market and fans. Follow him on Twitter at @dannylambert17