In case you don't recognize the new team sitting at the grown ups' table, take the time to meet Dale Tallon's new look Florida Panthers. Unlike rosters of past years, Sunrise's team is no longer pinching penny's with the friendly morale booster of, "Maybe next year, folks." These Cats are now not only relevant, they're for real. To help let that sink in, forget everything you once thought of the organization. After all, this isn't your father's Panthers anymore. Heck, it's not even your older brother's Panthers anymore.
Excited? You should be.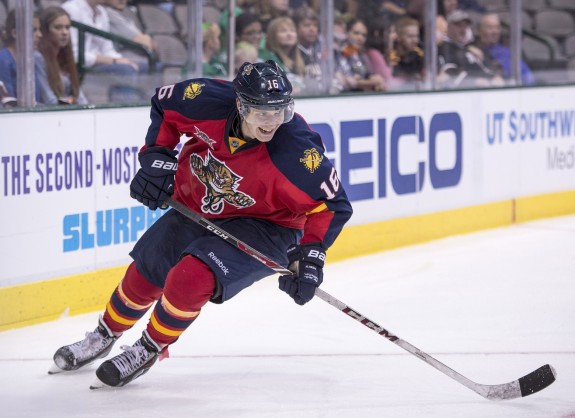 Change Starting At The Top
Any skepticism surrounding the Florida Panthers is justifiable. Last season alone, only the Buffalo Sabres had fewer points. But Florida's 29-45-8 mark ultimately landed them the top overall pick in this year's NHL Entry Draft. But with an organization that's drafted from top-five positioning in four of their last six drafts, why should a different result be expected?
Before Cats GM Dale Tallon drafted Aaron Ekblad with the top pick, or even went on an extravagant spending spree in free agency, the decision to hire Gerard Gallant as their new head coach was the calm before the storm.
This wasn't just any decision, however. Tallon brought Gallant on board knowing he wasn't just a decent choice, but the right pick. Throughout the history of the Florida Panthers, no coach has manned the Panthers' bench for more than three consecutive seasons. Pretty staggering for a team that qualified for the Stanley Cup Final in just their third year in existence.
"When the opportunity came up that they were looking for a head coach, you look at their roster and you look at their core players, I think it's a great opportunity," said Gallant. "I was in Montreal two years ago when I first started and that team was in 27th place. The League is so close, the teams are so close together now, you can turn things around in a hurry here and that's what I see with the Florida team."
Impressive chat with new #FlaPanthers coach Gerard Gallant. Likes the mix of vets & young talent, team will play fast, forecheck hard.

— Steve Goldstein (@goldieonice) July 9, 2014
In case people haven't noticed, the #FlaPanthers weren't the only team not to hire Bylsma … Gallant is a great hire

— Jameson Olive (@JamesonCoop) June 21, 2014
Gallant may not have been the household name Panthers fans were anticipating, but that doesn't mean Tallon settled on the one-time Memorial Cup winning coach. Besides, does Dan Bylsma have the familiarity with star forward Jonathan Huberdeau that Gallant conveniently has? Speaking of Huberdeau, choosing Gallant looks even better since the former number one overall pick is entering the final year of his entry-level contract; coming off of somewhat of a sophomore slump.
"Gallant coached the Quebec League's Saint John Sea Dogs from 2009-2012, winning two league titles and one Memorial Cup. Jonathan Huberdeau was his leader for the Memorial Cup years and could be helped by a friendly face to bounce back from a weak sophomore season in 2013-14.

"But more importantly, this choice needs to be one the Panthers stick with. Gallant has been an assistant in the NHL – he's leaving Montreal's bench for Florida – but his only other head job in the NHL was with the Columbus Blue Jackets for parts of three seasons before and after the 2004-05 lockout. Only one of those was a full season, though, and he never had much of a roster to work with." — Rory Boylen, The Hockey News
Columbus may be similar to Florida, historically speaking, but that's where Dale Tallon's increased phone activity comes into play.
The Perfect Balance
With Florida's recent struggles, the Panthers have recently developed the identity of a team that's "too young to win now." Their stash of highly drafted youngsters were complimented with aging talent. Names like Ed Jovanovski, Mike Weaver, and Scott Gomez were 35 or older. But experience and leadership is hard to replace, which is why Tallon has maintained the ideal balance of youth and wisdom.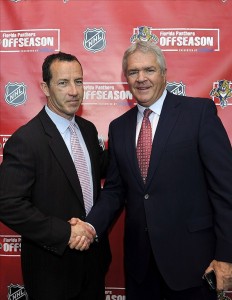 This is even more important now that former captain Ed Jovanovski has been bought out. Not only will the Panthers eventually need to fill a vacant captaincy, they'll need to fill the leadership void that the 38-year-old Jovanovski leaves behind. To do that, Tallon was given a blank checkbook for the free agency period. And although the Cats are far from even coming close to exceeding the salary cap, Tallon spent over $42 million on the first day of free agency.
"It was a great day for our franchise," bragged Tallon. "We exceeded expectations. We identified a number of players and we got 'em all. I've never had that happen before; the guys that we identified were guys that we ended up getting."
To date, Tallon has added names to the roster that are grabbing the attention of the league. After drafting Ekblad, Tallon added Jussi Jokinen, Shawn Thornton, Derek MacKenzie, Dave Bolland, Willie Mitchell, and Al Montoya. When combined with names that are on the brink of stardom, such as Aleksander Barkov, Nick Bjugstad, and Jonathan Huberdeau, these aren't the same Panthers anymore.
"Already loaded with young talent and a budding prospect pool, the Panthers added veteran depth at multiple positions to not only help them in the present, but also mentor their future stars." — Jameson Olive, Fox Sports Florida 
With a little under $12.5 million of cap space, Tallon certainly isn't finished. The former Blackhawks GM is currently in negotiations with 23-year-old defenseman Dmitry Kulikov, who is a restricted free agent. And with fellow defenseman, Erik Gudbranson, inked to a new two-year deal, Tallon appears to be in the stretch run. He can either stay active, or kick his feet up, while tinkering with minor formalities, like re-signing Brandon Pirri.
Can Florida Win Now?
This isn't the first time the Panthers have dropped a large number of Benjamin's throughout the free agency period. In 2011, Tallon spent a total of $74.575 million on 14 players who were either re-signed, or plucked from free agency. This includes a trifecta of four-year deals to Ed Jovanovski, Tomas Fleischmann, and Sean Bergenheim for a combined $45.5 million.
"The Florida Panthers spent big money in the summer of 2011, overpaying a bunch of veterans in order to reach the salary floor, and this year has a similar feel to it. The issue for the Panthers is that they are a franchise that has reached the postseason once in the past 13 years; they don't need to overpay free agents as much as they need to build a stable base of talent. With all the money the Panthers spent on July 1, there's not much reason to believe any of those players are going to be long-term answers." — Scott Cullen, TSN
While Cullen's analysis is factual, it's useful to point out that the three who received the biggest payday from Florida in 2011 have remained with the the organization through this past season. Furthermore, Bergenheim and Fleischmann are still part of Tallon's plans for the upcoming season, and possibly beyond.
Yes, Bergenheim has been tripped up with injuries. But Fleischmann was signed after a 21 point explosion in just 22 games with the Colorado Avalanche. Fleischmann's 51 point season in 2009-10 suggested that his outburst in Denver was no fluke. Furthermore, Fleischmann rewarded Tallon's decision to sign him for $18 million with a 61 point campaign in his first year in Sunrise.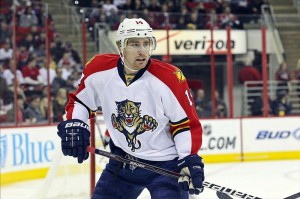 It's also crucial to note that the Panthers made the playoffs for the first time in a decade after Tallon's first shopping spree. And although they were eliminated in the first round by the New Jersey Devils, Florida pushed the Devils to the brink, losing in seven games.
While everyone seemed to scratch their heads at the trade that brought Roberto Luongo to the Panthers at last season's trade deadline, Tallon's vision is slowly being revealed with every piece added. The latest rumors include Florida trading for Blackhawks forward, Patrick Sharp. And although the current Panthers somewhat resemble the 2011-12 Cats, they're irrefutably better on paper.
With the core of Barkov, Huberdeau and Bjugstad in place, no one can accuse the Panthers of going for broke. They're just trying to win. And the odds suggest they will.
No, these aren't your father's Panthers anymore. If you're a fan, there's nothing to dislike about that. Even if you're the nostalgic type.
Andy is a contributor for The Hockey Writers, covering the Philadelphia Flyers. He holds a Bachelor's Degree in Communications from Walsh University. He enjoys spending time with his family, golfing, and reading. He is married with a daughter. You can follow Andy on Twitter @ADudones.