Brandon Dubinsky embraced Columbus. In the short time since his arrival Dubinsky has helped transform the Blue Jackets from laughing stock to playoff contender. A proven fit in Todd Richards wear-'em-down system, Dubinsky made national headlines with his tenacious shutdown play shadowing Sidney Crosby in the 2014 playoffs. For the Blue Jackets and their fans, however, the influence of the diverse center from Anchorage was noticeable long before April. 
Dubinsky serves as a stabilizing veteran presence and emotional leader for the [very] young Blue Jackets.  He's a big reason for recent success on the ice in Columbus. Today the organization returned the favor in the form of $35.1 million dollars over six years. The extension keeps Dubinsky in Union Blue through 2020-21. Though not yet confirmed, the deal ends the Jackets' long search for a new captain as all signs point to the club making 17's leadership role official.
THE OBVIOUS CHOICE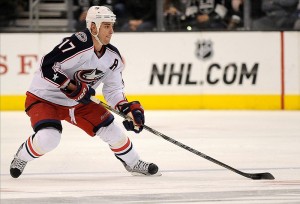 Less than three minutes into the Dubinsky contract extension press conference Jarmo Kekalainen fielded the first question about the captaincy. Jarmo, after joking that the staff projected over-under for said question was two, responded, "We'll have a separate press conference whenever we name a captain. We did well last year without one."
Jarmo didn't end the captain conversation there. He continued, "I've said to the players and I've said to everybody I think once we're gonna name the captain it's gonna become obvious who it is. Somebody is gonna rise from the team and then everybody is gonna look at him and say, 'That's the obvious choice.'"
Dubinsky's role with the Blue Jackets is much greater than second line center. He's a role model on the ice, in the locker room, and in the community. Dubi's mentorship has been critical to the development of Columbus' young core, particularly Boone Jenner and Ryan Johansen. Dubinsky preaches accountability, demanding full commitment from every player, every shift. Bottom line: Dubi, the consummate teammate, makes everyone around him a better player and a better person.
https://www.youtube.com/watch?v=IWrkoHqPq2I
THE CAPTAIN'S MEN
Dubinsky is set to wear the "C" for many years to come, but his alternates won't be nearly as consistent. The Blue Jackets have a surplus of worthy alternate captains. Todd Richards will assign the "A" to various players throughout the coming seasons, but there are a few who will wear it more often than not.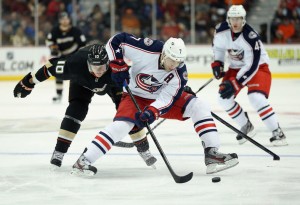 Expect to see either Jack Johnson or James Wisniewski serving as alternate captain every game. They are the leaders of the defensive corps until Ryan Murray fully comes of age. The blue line is in good hands with Jack and Wiz at the helm.
Boone Jenner earns more respect for his gritty, effective play every time he hits the ice. He's a fan favorite and deservedly so. Boone's rare combination of physicality and playmaking ability will earn him a frequent "A." He's a big reason opposing players do not enjoy squaring off against these Blue Jackets.
RT @RobMixer: Hartnell's impressions on playing against #CBJ last year? "Always a tough game…who are these little turds running around?"

— Columbus Blue Jackets (@BlueJacketsNHL) June 23, 2014
The Blue Jackets likely wouldn't have made the playoffs in 2014 without the clutch play of Ryan Johansen. He's a model for hard work, turning potential into production. He's bound to serve as alternate captain more and more as he grows into the face of the franchise. Horton, a character veteran with a Stanley Cup championship on his resume, will also have a few turns as alternate captain. Penalty box mainstays Jared Boll and Scott Hartnell have worn the "A" before (Hartnell with Philadelphia) and might substitute as an alternative captain in a pinch.
STABILITY IN COLUMBUS
The Blue Jackets have been anything but stable since their inception in 2000. It took years for the club to build a respectable developmental roster and even longer to be competitive in the NHL. Rick Nash, the only long-term captain in team history, failed to earn a single playoff victory during his tenure. Dubinsky has already done that and more. The message behind this signing is clear: Brandon Dubinsky is the obvious choice to captain the Columbus Blue Jackets.