Every year, Islander prospects come to Long Island in order to begin training with the Islanders for rookie camp. This is a great chance for the Islanders to see what they have on their hands for the future, and to bring some kids in as well. Then, there's the annual rookie scrimmage, where the players get a chance to show the fans what they've got. Admittedly, one scrimmage really doesn't mean all that much in terms of projecting how a player could fit into an NHL lineup, but it is a nice tool to have in terms of getting a sense of the type of player that a team's prospects could be. So, we'll start with what we saw from Michael Dal Colle and continue from there!
Michael Dal Colle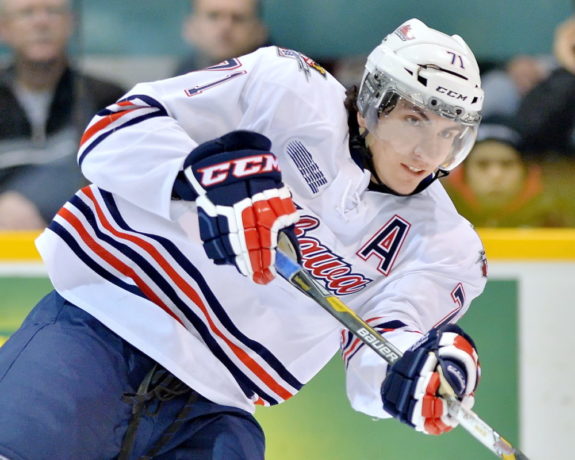 After being the 5th overall pick for the New York Islanders this year, Dal Colle was instantly lauded as John Tavares' future linemate. After watching him play last night, it was clear the scouts were right – as the pivot is extremely talented, but still has a ways to go. Dal Colle looked pretty raw on the ice – especially going up against the likes of Griffin Reinhart and Ryan Pulock – but that shouldn't be placed solely on him. Despite it being quite obvious that Dal Colle possesses great hands and has a knack for shooting, Dal Colle still needs some seasoning and probably won't compete for a spot with the Islanders for another two years.
Joshua Ho-Sang
There's no question – Joshua Ho-Sang can play. Islanders fans were very excited to see the kid that Garth Snow traded back into the first round to grab – and for good reason. Ho-Sang was one of the most electrifying players on the ice, skated extremely well, and was seemingly way ahead of almost anyone else offensively. It could probably even be argued that Ho-Sang looked more polished than Michael Dal Colle. His smile was contagious when his name was called in the pre-game introductions and when it was his turn to take part in the shootout fans were already audibly chanting "Ho-Sang." Ho-Sang did make some errant passes, so it may take a bit for him to get on a complete NHL level, but one can definitely see he's on a path to being an NHL regular. (Thanks to Michael Hirschbein for the video)
Griffin Reinhart
There's not much to say about Griffin Reinhart that hasn't been said, but it could be said again – the kid can play. Granted, he was playing against prospects and a lot of undrafted players, but he arguably looked much better than the last two scrimmages that he has participated in, which has only validated existing scouting reports that deem the defenseman NHL ready. Reinhart also tied in the hardest shot competition with Ryan Pulock at 89 MPH, and there is a good argument to be made that the defender is ready to make the jump to Long Island for this upcoming season.
Ryan Pulock
For whatever reason, it didn't seem like Pulock stood out all too much during the Isles' scrimmage. However, that's not to say that he didn't look very good – because he did – but he didn't display quite the same "awe" factor that Reinhart did. A year in Bridgeport could definitely do the prospect some good, and what's beneficial for the Islanders is that he can be called up during the season, either if the team thinks he's ready or for emergencies. Pulock could be the power play quarterback of the future, and that future might be sooner than we think.
Eamon McAdam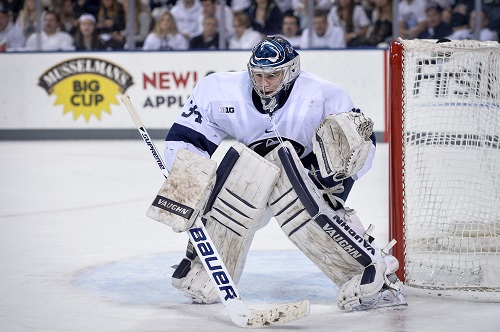 While there was a minor jersey malfunction for Eamon McAdam, the goalie made himself known as he looked very solid in net. His college stats have been pretty unspectacular to this point – something that could be attributed to Penn State's move to the Big 10 Conference and Division-I hockey – but the netminder was solid for the Islanders' scrimmage team. McAdam could very well prove valuable for the team and could compete with the vast amount of goalies in New York's pipeline over the next few years.
Other Islanders of Note
Some other players took the ice and played pretty well, including Adam Pelech, and Kevin Czuczman. I was impressed by Pelech's positioning and skating. Czuczman appeared to grow since his first few games in the NHL and moved well along the ice and could factor into the team's long term plans for sure.
The future is bright for the Islanders. This scrimmage only proved that even more, there are some future studs in the Islanders' organzation.