When you ice a team as mediocre as the one in Vancouver, many fans start calling for the team to tank.
"Trade Alex Burrows, trade Ryan Miller, trade the Sedins, trade everybody but Troy Stecher."
Okay, maybe Bo Horvat can stay as well.
Most fans in Vancouver probably want to see all the veteran players traded, similar to the full-on teardown Toronto did to their team. Even though the Maple Leafs have been brutal to watch for the past couple of seasons, they now have one of the quickest and most exciting teams in hockey. Fans in Vancouver are yearning for that type of excitement, which is clear by the fact that ticket sales are at an all-time low.
With the Canucks wallowing among the bottom-10 teams in the league, it's hard to blame fans for wanting Jim Benning and company to tear this thing down. However, it sounds like that's far from what he's going to do. Benning mentioned in The Province that he would not be trading any of his players who have a no-trade or a no-movement  clause. That includes both Sedins, Miller, Burrows, Alex Edler, Jannik Hansen, Brandon Sutter and Loui Eriksson.
Despite how desperately most people want to see the Canucks blow up their roster, it sounds like Benning won't do anything other than tinker or tweak the current lineup. That is a troubling outlook for the organization, who looks like they are years away from competing for the Stanley Cup once again.
Even if Benning does change his mindset and ends up trading Burrows or Miller at the deadline, it won't be enough to get them back into contention anytime soon. He already set the organization back by failing to trade Radim Vrbata and Dan Hamhuis for assets at last year's deadline. He would be wise not to make the same mistake again, but there is no Connor McDavid consolation prize waiting for the Canucks should they slip into the last spot overall in the NHL.
First Overall Doesn't Equal Success
Nolan Patrick could definitely help the Canucks, but he alone wouldn't vault Vancouver into contending status. Despite Edmonton's best efforts, it took them four first overall picks before they were able to land a player who could finally push them back into the playoff picture.
That scenario doesn't exist for the Canucks this year, and it hasn't necessarily worked for other teams in the past.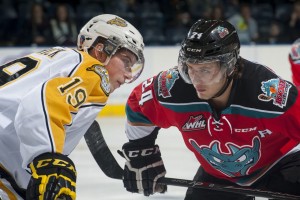 Selecting Taylor Hall, Ryan Nugent-Hopkins and Nail Yakupov sure didn't help the Oilers earn any respectability. Part of that was because their inept management team was unable to build around those players, but could you say with confidence that the Canucks front office is capable of much more?
Look at the New York Islanders this year. Selecting John Tavares first overall helped them become competitive again, but even though the superstar centre is in his prime, the Islanders still sit near the bottom of the league. First overall pick Erik Johnson might have helped the Blues via trade, but he plays for the worst team in the league right now: Colorado.
For every McDavid, Patrick Kane and Sidney Crosby, there are players like Johnson, Nugent-Hopkins and Yakupov who are talented but won't automatically turn a team into a contender. Management has to make enough smart moves and savvy draft picks in order to turn their team around. Even if the Canucks were to land the first overall pick in 2017, ownership shouldn't be convinced that Benning has done enough to help the Canucks become a contender once again.
Now into his third year as general manager, this team has Benning's handprints all over them. Where has it put them? At 28th overall in the NHL, with four regulation wins in 26 games. You could argue that young players such as Horvat, Baertschi, Hutton and Stecher need time to develop. You could also say Benning has ignored traditional rebuild logic, and he has iced a team with a long road back to respectability.
Canucks Need More Than High Draft Picks
In the current state that the Canucks are in, they are going to need a lot more than high draft picks if they want to change their future outlook. Benning needs to make sure that he is picking the "best player available" on draft day. Not just in the first round, but in the second, third and later rounds as well.
Benning was brought in primarily based on his scouting background, and his ability to unearth late-round gems. He was instrumental in the Boston Bruins selecting Milan Lucic and Brad Marchand in the second and third rounds respectively during the 2006 NHL draft. Those two players were vital during Boston's Stanley Cup victory in 2011.
Those picks were so good in fact that everyone forgot Boston selected an unknown Russian defenceman named Yuri Alexandrov with the No. 37 overall selection, just 13 slots before they selected Lucic. At least it looks like Benning has done a better job of drafting Russian defencemen  with his selection of Nikita Tryamkin.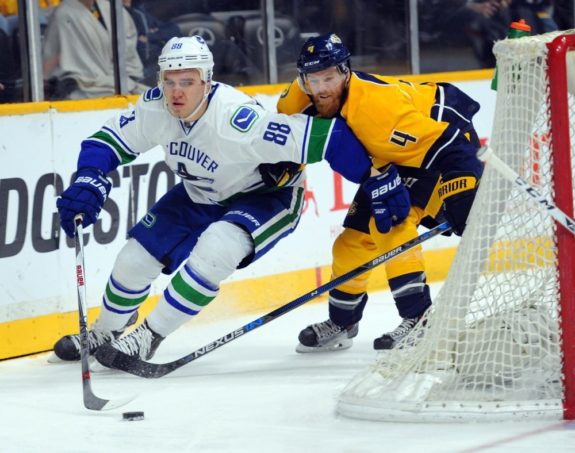 It's early to judge Benning's draft record with only three drafts under his belt. He looks to have unearthed some later round gems with picks such as Tryamkin, Gustav Forsling, Guillaume Brisebois, Adam Gaudette and Will Lockwood. Not to mention, Brock Boeser looks like a steal at 23rd overall in 2015.
Other teams, such as the Edmonton Oilers, have cake-walked into drafting quality prospects in the first round, but have struck out when drafting after the 30th slot. Vancouver however, seems to have a different problem.
Benning has a done a decent job drafting in later rounds, but what is of concern is his drafting in the top 10. Picking local boy Jake Virtanen at sixth overall in 2014 wasn't Benning's best decision. As Virtanen tries to find his game in the minors, other players such as Nikolaj Ehlers and William Nylander are already miles ahead of Virtanen at the NHL level.
Olli Juolevi still could turn into a top-two defenceman for the Canucks. However, it's easy to second-guess that selection when the Canucks have a plethora of young defencemen but very little talent up front.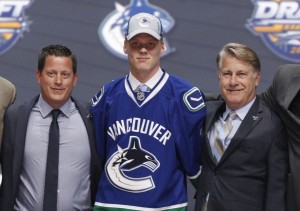 Matthew Tkachuk has already brought scoring, physicality, and a mean streak to Calgary. Those are all qualities that the Canucks desperately lack. Those are all qualities that the Canucks expected to get from Virtanen.
If Benning ends up striking out on either Virtanen or Juolevi, it will set this organization even further. He has made some applaudable moves by trading Kevin Bieksa and acquiring Baertschi. He's also raised eyebrows by trading for Sutter, handing out hefty contracts to Luca Sbisa and Derek Dorsett, and trading for Erik Gudbranson.
The bottom line is that Benning's transaction history is a mixed bag full of decent and questionable moves. For an organization as fragile as the Canucks, they need many more moves that fall into the "decent" category. Any more mistakes from the Canucks front office and a decade of futility is not out of the question for this franchise.