The Pittsburgh Penguins' penalty kill is in trouble. After giving up three power-play goals during their energetic 8-5 victory over Ottawa a few nights ago, it has become woefully evident that there's a need for adjustment. Currently languishing near the bottom of the league, their PK percentage stands the chance of becoming a historically bad statistic during the month of December, and perhaps beyond.

Adjustments May Be Made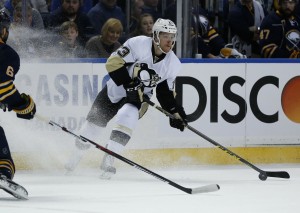 Perhaps the best way to spin this problem is to look at the bright side. Outside of the penalty kill, the only other real issue involves deciding which Stanley Cup-winning goaltender will play on a given night. There's a lot to envy about that second problem. Not to digress, but without an effective penalty kill, the Penguins are backing themselves into a corner every other night.
Mike Sullivan has solutions available to at least attempt to solve the problem. I recently wrote a piece about Scott Wilson and why he shouldn't worry about drawing into and out of the lineup right now. The same could be said about Tom Kuhnhackl. A healthy scratch for the previous two games, Kuhnhackl may soon find himself back in the lineup, as he's proven to be an energetic forward who has been an effective penalty killer in the past. Unfortunately, that means Scott Wilson may once again be without a jersey in the coming games. But that's not something to be overly worried about at this point.
In a Yahoo Sports article by Will Graves, fellow penalty killer Matt Cullen was quoted regarding some of Ottawa's goals:
The goals we gave up, there were a couple that were unfortunate.
– Matt Cullen
A Rotation of Specialty
Bringing in a specialized penalty killer like Kuhnhackl in place of the arguably more talented Wilson (who occupies power-play time in addition to his regular minutes) might be the boost the struggling PK unit needs. Observing the current top PK unit, the players look a bit slow — almost slightly delayed — in their decision-making. And if there's ever a place where you didn't want to be stricken with indecision in the NHL, it's when you're down a man.
Mike Sullivan has shown a knack in the past for making good adjustments. He gets what he needs out of his players because he matches complimentary players.(HBK line, anyone?). If Kuhnhackl can spark a penalty-kill unit that is right now among the worst in the league, then temporarily benching Wilson or another player is certainly in the best interest of the team. There's no harm in trying.
When the penalty kill re-establishes itself, Kuhnhackl can give way to either Wilson or another talent, with hopes that Kuhnhackl's knack and energy may have been embraced by the rest of the unit. It's not ideal when speaking about generating consistency, but with the potential to revitalize a failing penalty-kill unit, the decision is easy.