Last year, Scott Wilson was among a few younger players extended one-way contracts with the Pittsburgh Penguins. While his contributions have been solid, he's now finding himself losing regular playing time and is even among the recent healthy scratches. What gives?
By the Numbers
The Penguins have played 26 games as of this writing. Wilson has played in 23 of those. In those games, he's accumulated only seven points. Now, in Pittsburgh, it's thought that Wilson has the ability to perform above the level of a traditional seventh-round draft pick. To be fair, that doesn't mean that he's expected to be the second coming of Sidney Crosby. But when it comes to effectiveness, placing him among the Matt Cullen's and Eric Fehr's of the world shouldn't be out of place.
He's averaging two shots per game (36 shots total) and since he's playing primarily in a bottom-six role, these numbers aren't exactly poor. For comparison, both Nathan MacKinnon of the Colorado Avalanche and Brent Burns of the San Jose Sharks have 35 shots. According to the numbers, that's not bad production for a player cast in his role.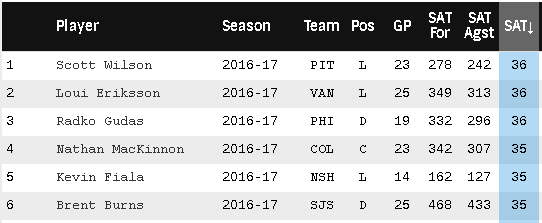 What's more, is that Wilson can support the power play, as evidenced by his nearly full minute of power play time per game. So why is he suddenly finding himself with less playing time?

Sullivan's Foresight
There's only so much playing time to go around, and this is one long season. Games are packed closely together, and resting the bottom six forwards seems to be on head coach Mike Sullivan's mind.
One of the hardest things for a young player is sustaining the level of intensity and the level of play game in and game out.
– Mike Sullivan
The above quote was taken from a recent statement Sullivan made with regard to Pens youngster, Jake Guentzel. I'd imagine that the same could be applied to Scott Wilson or any young Pittsburgh Penguin. When Wilson was getting more ice time earlier in the season, he was averaging nearly 14 minutes per game. Since November 8, Wilson is barely cracking 10 minutes per game in total ice time. It's a fact that the league's schedule is more condensed this season. Maybe this is one way that Sullivan can keep his lineup fresh without having too much impact on the veterans' ice time.
Wilson is strong on his skates, fits well into the up-tempo scheme the Penguins employ, and isn't making game-changing mistakes. He's showed a lot of promise during his young career as a Penguin, and while his numbers don't stand out, they're absolutely fine.
As long as Wilson isn't in Sullivan's doghouse, a rotation of bottom-six forwards can be healthy. Sullivan played to the strengths of his well-rested youthful players during last season's run to a Stanley Cup victory. So, if that's how he envisions the spring of 2017, may he continue to rotate Scott Wilson and the remaining youth on the bottom-six until that time comes.