Do you remember Frank Corrado? He's a defenseman that the Toronto Maple Leafs claimed off waivers from the Vancouver Canucks at the start of last season. Corrado has only played one game this season, so don't feel bad if you forgot he was still with the Leafs. The Leafs are a third of the way through the season and it's time for Corrado to go.
Mr. Benchwarmer
It looked like Corrado would be consistently playing for the Leafs after going through similar troubles last season. Corrado didn't play until Dec. 15 even through he was claimed at the beginning of the season. The reason eventually surfaced that he had suffered an injury while with the Canucks that affected his start to the 2015-16 season. He was still injured over the summer when players are meant to get in shape and prepare for training camp, meaning he wasn't in shape or ready for the Leafs training camp.
So Corrado practiced with the team until he was fit to play in the NHL. He finally played on Dec. 15, and then Corrado played 39 games and finished with a goal and five assists.
This season is different because Corrado isn't coming off an injury. And yet he's only played one game out of the total 24 games the Leafs have played this season. Looking back at a quote by Corrado in a Sportsnet article from Oct. 21 is almost cruelly ironic:
Obviously I don't want to sit out too long this year. I don't think it was good for me last year and I don't think it's good for any young player to sit out too long. I think you lose your identity a little bit as a player. – Frank Corrado
The reason for this, as per Mike Babcock, is that the Leafs are going with eight defensemen so they have a player ready to go when an injury occurs. So far, only Matt Hunwick has been injured for an extended period of time. However, this still doesn't explain why Corrado has only played one game.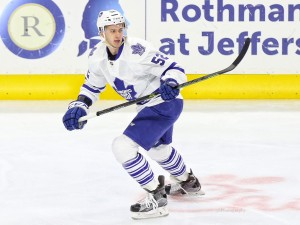 The Leafs' next defenseman with the least amount of games played is Martin Marincin with 15 games. So it's not like Babcock is making full use of the extra players by rotating them into the lineup.
The one game that Corrado played was on Nov. 12 against the Pittsburgh Penguins. The Leafs were completely outmatched and lost 4-1. Corrado had 16:24 minutes of ice-time and an interference penalty in the second period. That has been his season so far.
[irp]
Corrado's Future Isn't With the Leafs
The Leafs have shown that they have no intention of playing Corrado. By playing his first game in the Leafs' 15th game predicts to just five games over the 82 game season, if Babcock continues to play Corrado at this pace. The Leafs would have sent Corrado down to the AHL by now if he wasn't forced to go through waivers.
This all somehow means that Corrado isn't good enough to play in the Leafs' lineup, but they value him enough to avoid losing him to waivers. It's a weird situation where the Leafs want to keep Corrado and at the same time don't want to play him. Corrado is in the last year of his contract, which means he is playing to earn a contract for next year.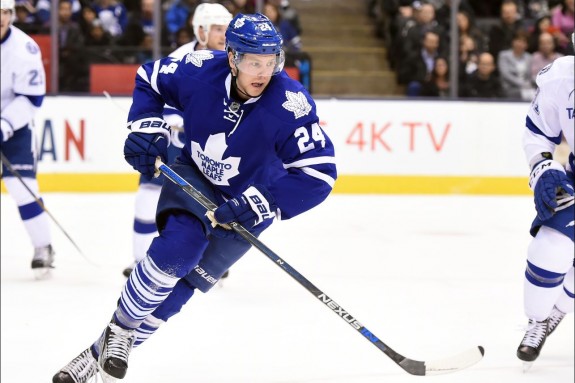 If the Leafs don't re-sign him then he will have a difficult time finding a team willing to give him a contract. What team would give Corrado a contract based on just a few games? Couple that with the Leafs not playing him for most of the season, which would give other teams a reason to worry about him. Because why else wouldn't the Leafs play him?
Corrado's future isn't with the Leafs. He needs to follow Peter Holland's example and get out of Toronto. Both are in the last year of their contracts and neither are being played by Babcock.
Peter Holland not on the ice at #leafs practice. He continues to wait on a trade.

— Chris Johnston (@reporterchris) December 5, 2016
They probably won't be any better than bottom line players and it's obvious that they've been pushed out of the Leafs' depth chart. So, the best option is trading or waiving Corrado. That way Corrado has a chance in the NHL with another team and the Leafs will have freed up a roster spot. It's the best option for everyone.