New York Rangers' forward Daniel Carcillo is not a bad hockey player. In fact, I would argue that Carcillo is simply a player with misguided intentions – forced to use his physicality to maintain a spot in the NHL.
Now, before you get all bent out of shape questioning if I can tell the difference between good and bad hockey, take a look at how the enforcer found his way into the big leagues. Playing for the Ontario Hockey League's Sarnia Sting, Carcillo recorded 134 points (61g-73a) in 141 games over parts of three seasons. He finished the 2004-05 season with the former Mississauga IceDogs and netted eight goals and 10 assists in just 20 games.
Even in his eight NHL seasons, Carcillo's demonstrated the ability to be an offensive threat – his best season coming in 2007-08 with the Phoenix Coyotes (24 points in 57 games). However, there's one other constant that seems to follow the 29-year old wherever he goes – the inexplicable ability to straddle the line of right and wrong.
In 390 career regular season games in the NHL, Carcillo's wracked up 1,179 penalty minutes. And he doesn't discriminate between regular season and playoffs. In addition to his regular season totals, he's added 97 minutes in 45 career playoff games.
But his minutes aren't just totalled from minor penalties and fighting majors. And that's where Carcillo's game is flawed. His passion – his drive – often pushes him to the brink of recklessness.
Carcillo and Driscoll
His third-round incident involving linesman Scott Driscoll, is simply another example of Carcillo's inability to control his play on the ice. A harmless restraint by Driscoll – a play that happens anytime a scrum breaks out – and Carcillo responded with a subtle slash followed by an elbow. Recklessness.
Carcillo was handed an automatic 10-game suspension for abusing an official under the NHL's Rule 40.3 Category II. Now, Carcillo did appeal the decision and has since had the suspension reduced to only six games. But his constant controversial play will eventually hurt him.
#NYR News: The NHL has reduced Daniel Carcillo's suspension from 10 games to 6..he is eligible to play again in Game 4 of Stanley Cup Final

— New York Rangers (@NYRangers) June 3, 2014
On January 2, 2012, Carcillo was handed a seven-game suspension for boarding former Oilers' defenceman Tom Gilbert – a play that was considered attempt to injure by the league's disciplinarian.
Carcillo – whose contract expires as of July 1 – can be an important role player on an NHL team. Like Shawn Thornton and Daniel Paille in Boston, if Carcillo can learn to play the game within it's rules, he could find a permanent home and find himself praised more for his offensive abilities and less hated for his antics.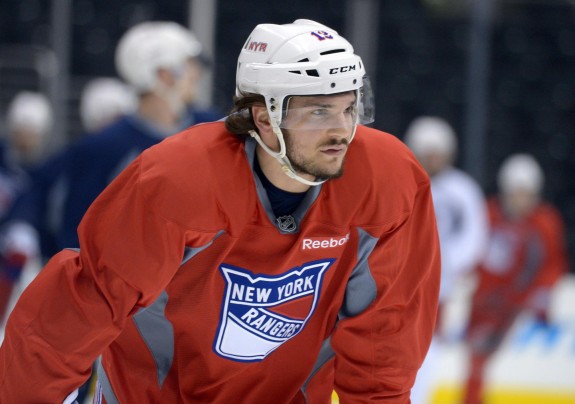 If he doesn't change something, however, it's only a matter of time before NHL jobs will be tough to come by. Since the expansion era began, the league has become more saturated in terms of the skill level of its players. But teams are starting to adapt to the fast-paced game that exists today. Soon, there won't be a place for players like Carcillo unless they have something to offer the team offensively.
While there certainly wasn't – and still isn't – any excuse for what Carcillo did, the event leading up to his abuse of Driscoll definitely played a role in Carcillo loosing control.
Reputation is Everything
As I mentioned, Carcillo's reputation often plays a role in how calls are made against him. Even in the Driscoll altercation, it's because he's Daniel Carcillo that the linesman turned his attention to the Ranger forward.
Now, some would argue that Carcillo's actions were stupid and deserving of a long suspension. Sure, he made a bad decision in the heat of the moment, but Driscoll's focus was wrongfully placed on a player not involved in the on-ice altercation.
With a fight going on, both linesman are supposed to focus on the bout and be ready to separate the two combatants when they see an opportunity. Instead, Driscoll stepped away from the Prust-Dorsett battle and held off Carcillo pushing him towards the penalty box. Was that the right move, or was it simply pushing Carcillo to that brink of recklessness?
Regardless, there were questionable steps taken by both Driscoll and Carcillo. Certainly, the latter received the discipline that he deserved. But the incident will hurt Carcillo's free agent value and will continue to until he changes his ways – at least alters his game to some extent.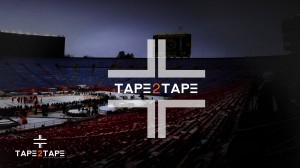 Have some thoughts about this week's column, let me know at @AndrewGForbes on Twitter.
Tape2Tape is a column looking at some of the biggest stories from around the world of hockey. Discussing different topics, it focuses on one major story each week. Agree or disagree, writer – Andrew Forbes – would love to hear what you have to say.