First, there was the dark curly mullet. That was followed by the goal-celebrating salute. Now, he's the veteran pillar on a young Florida Panthers team looking to take the next step towards contending for the Holy Grail.
While his hair and his goal celebrations have changed, however, his ability to shine on the ice is a constant that he's exhibited for more than two decades. And while he's entering his 22nd season in the NHL, at the age of 43, Jagr isn't even close has shown no indication of really slowing down.
Ranking Jaromir Jagr
Minus a short KHL hiatus, Jagr's spent most of his pro hockey career playing in the NHL. He's played in 1,550 career regular season games recording 1,802 points (722g-1,080a) during that time. He's played in 17 playoff seasons – 202 games with 199 points (78g-121a).
It's hard to argue with those kinds of numbers. In fact, there's next to no doubt that Jagr will be a first-ballot Hall of Famer when the time comes. Don't believe me? Here's how he lines up on the league's all-time lists.
Regular Season:
11th on the games played list (1,550 – 14 games behind Nicklas Lidstrom)
5th on the goals list (722 – 9 goals behind Marcel Dionne)
6th on the assists list (1,080 – 55 assists behind Paul Coffey)
4th on the points list (1,802 – 48 points behind Gordie Howe)
4th on powerplay points list (585 – 3 powerplay points behind Teemu Selanne)
1st on game-winning goals list
1st on overtime goals list
Playoffs:
16th on the games played list (202 – 6 games behind Wayne Gretzky)
11th on the goals list (78 – 1 goal behind Jean Beliveau)
9th on the assists list (121 – 3 assists behind Sergei Fedorov)
5th on the points list (199 – 15 points behind Glenn Anderson)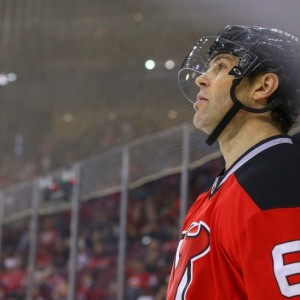 But it's not just what he offers up front that has the Panthers front office excited to have him back in the lineup in 2015-16.
According to a piece by CBS Sports' Adam Gretz, "The Panthers front office and coaching staff raved about the work Jagr did with their young players – specifically Barkov and Huberdeau – and his ability to take them under his wing. It's an incredible development for Jagr, a guy whose ability as a leader was often times questioned earlier in his career."
And his on-ice impact doesn't stop there. If you've never watched Jagr play, his ability to control the play is impeccable. His legs resemble the trunks of 100-year-old trees and he boxes out opposing players by pushing them off the puck with his back side.
His size and strength make up for his lack of speed in today's fast-paced game and it's because of these two qualities that he's still such a dominant player.
According to Gretz, he has a 55 percent Corsi rating over the past three years – ranking him 40th among players (595) that have played at least 1,000 minutes over that time. That's pretty incredible when you think about it.
Is JJ Nearing Retirement?
When Jagr's asked about retirement – and you have to believe it happens quite often – the answer isn't a simple yes or no for the best Czech player to ever suit up in the NHL. Instead, the 43-year-old responds with a much more accurate timeline.
"I love the game. What I want to tell you is I don't know if it's going to be the last year in the NHL. If I stay healthy, it's not going to be my last year in hockey," said Jagr in a piece on Fire and Ice. "I want to play until 50, maybe more. But I want to play in the NHL if I'm good enough. I don't want to just be here just to be here."
Last season, Jagr put up 47 points (17g-30a) in 77 games. While it's not nearly his best statistical season, it's not bad for a player of his age. Now, keep in mind he started the year in New Jersey – a team not known for their offensive prowess. However, he still ranked among the top 100 in league scoring in 2014-15.
"(Just) because I'm over 40, there's no rules that you have to stop player," he continued in the piece from September 2014. "There's no rules. It's tougher because there's a lot of young guys."
Now Jagr will have an important role with the Panthers in 2015-16 – a teacher and mentor for the young up-and-coming players. But he's still going to add some offensive flare to the club. After all, it's not in Jagr's blood to sit back and not leave his mark in the opposition's end.
What To Expect in 2015-2016
Knowing that he's within reach of climbing the all-time statistical lists, Jagr will certainly be hitting a few milestones in 2015-16. While these projections are simply an idea of what can be expected from the five-time Art Ross Trophy winner, here's a look at where Jagr might find himself following the upcoming season.
Over the past four seasons – since returning from the KHL's Avangard Omsk – Jagr's played 277 regular season games with 203 points (76g-127a). Over that time, his numbers have remained relatively consistent with one season at a full 82 games.
That being said, Jagr is a year older and might need some time to recuperate during the year. So if you're expecting a full season out of the him, don't bet on it. If Jagr plays a full season in Florida, expect him to play roughly 70 games during the regular season and put up roughly 51 points (19g-32a) if he has the chance to play with the same line mates from last season (Barkov and Huberdeau).
If Jagr finishes with these numbers, he'd hit the 1,600 games played mark passing Lidstrom, Ray Bourque and Larry Murphy on the NHL's all-time list. He'd jump over Marcel Dionne on the goals list and possibly Gordie Howe on the all-time points list.
Now, in now way am I saying these numbers are spot on. But if he comes close, Jagr could further his legacy in the NHL with possibly more years left in his body. He's the greatest Czech-born player to play in the NHL and arguably one of the best players to ever play the game. And the best part? Jagr isn't done just yet.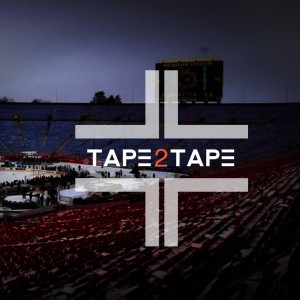 Have some thoughts about this week's column, let me know on Twitter at @AndrewGForbes or @Tape2TapeTHW.
Tape2Tape is a column looking at some of the biggest stories from around the world of hockey. Discussing different topics, it focuses on delivering some opinion to hockey's biggest fans. Whether you agree or disagree, writer Andrew Forbes would love to hear what you have to say.