He is 25 years old, will head into his sixth North American season and was Nashville's most productive defenceman last season. Yes, we are talking about Swiss defender Roman Josi. The second-round pick from 2008 emerged as one of the best defenceman in the NHL, although misleadingly not everyone considers him as an elite d-man. If we are talking about the top defenders in the game we (and I am including myself here) think of players like Drew Doughty, Duncan Keith, Erik Karlsson or Shea Weber. We often tend to forget including Josi on this list. Last year's fifth-best defender in terms of points scored deserves to be mentioned as a premier defenceman.
Not a Norris Finalist Yet
Josi constantly improved his point production in each of his four seasons in Nashville. Last season was clearly his strongest as he put up 55 points in 81 games. He played more dominant than ever before and was a leader on Nashville's blue line, playing big minutes and finishing the season among the top five in TOI/GP. However, Josi wasn't named a Norris finalist, which surprised not only me but also fellow colleague and Predators writer Colin Fitts.
He is pointing out in his article that "Josi's statistics are overshadowed, unfortunately, by flashy offensive defensemen in bigger markets" and that "Maybe, someday, the Predators will get the recognition the franchise deserves". I very well get Fitts' point here. Josi played outstanding in all three zones and could have been a Norris finalist, but surely should have been ahead of finalist Doughty, who didn't play his best season and missed the playoffs with his team.
#NHLAwards: Swiss defender Roman #Josi voted 5th for Norris Trophy, 11th for Lady Bing. Only a matter of time to win one?

— Swiss NHL (@SwissNHL) June 25, 2015
Despite his second season in a row posting 40+ points, Josi still gets underrated quite a bit. This is also reflected in his salary. His contract is worth a cap hit of only $4,000,000 and is valid till 2020-21, which is ridiculously little money for a player of his calibre. The contract is heavily undervalued and arguably one of the best bargains in the entire league. It might take another two strong seasons with similar numbers like the past one until most NHL fans rate him in the way he deserves, but this day will come sooner rather than later if he continues to play at this level.
Josi Not Seeing Himself as a Star
Being a little underrated might even be in Josi's favour as he doesn't like to be in the spotlight. In this regard, Josi is typical Swiss and conservative. He doesn't see himself as a star player: "I am not a star player, I don't see myself as a leader in the locker room. We have more experienced players who know the business for a long time. I still have a lot of things to improve", Josi said to Swiss newspapers. He is trying to focus on practice and the games, and doesn't waste too many thoughts on what people write about him, but still appreciates how far he made it already. "It was always my goal to make it to the NHL and to see yourself on advertisements outside of the stadium is pretty cool and makes you realize you are living your dream."
Swiss Roman Josi is one of the NHL elite defensemen. http://t.co/wZKHyOQu4T

— Martin Locher (@m_l79) April 6, 2015
Josi grew up near Bern, the capital of Switzerland, where he spent his entire junior career with SC Bern. He returned to his youth team for the lockout season and always enjoys the time in summer when he returns to his home country to prepare himself for the season. He is a calm and introverted person off the ice and likes to stay in the background, but as soon as he puts on his skates and possesses the puck, that changes. He likes to play a dominant game and uses his strong puck-moving and skating skills. But Josi doesn't only contribute offensively, what coach Peter Laviolette likes the most about him is his complete three-zone game.
Mentored by Weber
Josi was mentored by Weber, with whom he builds a defensive pairing, actually one of the best defencemen duos in the entire league. Josi on Weber: "He is an absolute role model to me on and off the ice. "We respect each other and spend time together off the ice."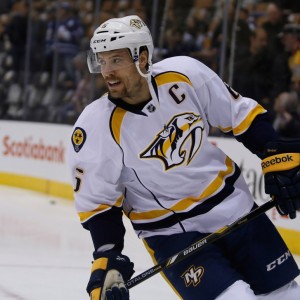 Josi learned a lot from Weber, arguably one of the best defenders in the game. As Josi grew into his role in replacing Ryan Suter on the Predators top line, people in Nashville missed Suter less and less. The future looks bright for Josi in Nashville, even if he might never get the praise he is due playing next to franchise captain Weber. If you know Josi well, then you might also realize that he is just fine with that and indeed, it's not the worst thing in the world to play alongside Weber. Josi and Nashville are a great fit at all points and the emerging franchise is looking to make a splash beyond the regular season this time.
Taylor Swift's House Party
If there is something he can still improve it might be his off-ice attitude. He is still young and there is no need to speak up in the locker room yet, but in the future, when he is a veteran on the team, he might need to do so, although this would mean he has to leave his comfort zone.
General Manager David Poile describes Josi as a "good person" and indeed he is the typical "guy next door". Actually he is the neighbour of pop star Taylor Swift, who has a house in Nashville. There is a funny story to share. One day, Swift was holding a house party and Josi wanted to check it out but when he tried to enter the house he was declined by security. "That's true and after that I didn't try it again. She possesses several houses and isn't in Nashville very frequently anyway."
If Josi wins the Norris Trophy or the Preds capture the Stanley Cup, it's likely something like this would never happen againm as the entire city would recognize their hometown heroes and all doors to each parties would forever be opened. Sounds like a good plan.