The hockey world descended in on Canada Olympic Park in Calgary on Sunday as planning for the 2014 Winter Olympics in Sochi, Russia began in earnest. Prime on the agenda? The kick-off to Hockey Canada's orientation camp, as 46 of the country's top hockey players arrived to begin preparing for the eventual trip to Sochi. However, with the camp being restricted to off-ice preparations due to insurance concerns – and with the entire prospective Canadian roster being based on North American teams – a question arises regarding how prepared a team can be prepared for the larger European ice.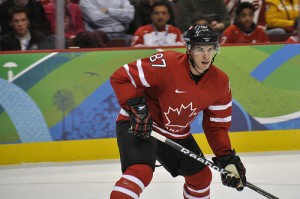 That notion itself raises an interesting concern, regarding how much Hockey Canada's brass will factor in recent international ice experience when looking at their final roster decisions for the Olympic roster.
Looking at the last six years of World Juniors and World Hockey Championships, there's an interesting split between international and North American ice surfaces used, particularly looking at how it impacts the Hockey Canada orientation roster.
North American Ice: 2009-12 World Juniors, 2008 World Championships
International Ice: 2008 & 2013 World Juniors, 2009-13 World Championships
Based on this categorization of recent international events, Canada's Olympic hopefuls slot into four simple groups: (1) players with no recent experience on the larger ice, (2) players with one recent experience, (3) players with a couple recent events, and (4) players with quite a bit of recent experience on the big ice.
THE RELATIVE ROOKIES
You could probably put together a very good Olympic team made entirely of guys that haven't seen the international ice in recent years. This group features goalies Corey Crawford, Roberto Luongo, Braden Hotlby and Carey Price, defenders Jay Bouwmeester, Dan Boyle, Kris Letang and Brent Seabrook, and forwards Jeff Carter, Logan Couture, Sidney Crosby, Chris Kunitz, Milan Lucic, Mike Richards, Joe Thornton and Jonathan Toews.
In the event that Hockey Canada's brass decides to leave guys off the final roster due to a lack of international ice experience – and there's no evidence to suggest that's the case – they'll be hard-pressed to dictate who gets left off. The group of players with no recent experience reads like a list of some of hockey's best players, including several players that have gone well into the deep waters of the Stanley Cup playoffs (which is likely the reason that they never had the chance to play in a World Championship over in Europe during the spring months).
A LITTLE EXPERIENCE
Much like the "no experience" club, the group of players with a little recent experience on the larger ice reads rather well. Goaltender Mike Smith is joined by defenders Karl Alzner, Travis Hamonic, Duncan Keith, Alex Pietrangelo, Marc Staal, Marc-Edouard Vlasic and Shea Weber, and forwards Patrice Bergeron (via the Spengler Cup), Ryan Getzlaf, Brad Marchand, Rick Nash, Patrick Sharp, Martin St. Louis, Eric Staal and Jordan Staal.
Smith, in particular, may be a beneficiary if Hockey Canada decides to take a goalie with some experience on the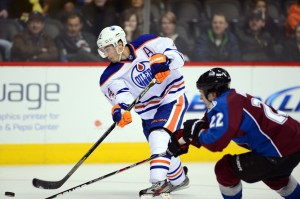 larger ice. In addition to his adept puck-handling skills – a huge asset in international competition devoid of the NHL's behind-the-net "trapezoid" – Smith also has experience dealing with the change in shot angles and bounces from the slightly different board schematics, as well as dealing with the differing speed with which players converge on the net.
SOME EXPERIENCE
A handful of players have played on the larger ice twice in the last six years. Those players include quite a few defensemen – Drew Doughty, Marc Methot and Dion Phaneuf – as well as forwards James Neal and Corey Perry.
LOTS OF EXPERIENCE
Finally, there are five more players who have made three or more trips to competitions conducted on international ice. Those players are Matt Duchene, Jordan Eberle, Andrew Ladd, Steven Stamkos and John Tavares. PK Subban has a couple trips to international tournaments on the big ice, but he's also played in Belleville's international-sized arena for his junior career, so he's got tons of games under his belt.
WILL IT MATTER?
As Hockey Canada began camp on Sunday, there were some differing opinions regarding whether the larger ice will factor in – either for the players or for Team Canada brass.
Yzerman: with his expertise in international game, big ice, former #Oilers coach Ralph Krueger will consult CDN coaching staff

— Tim Wharnsby (@WharnsbyCBC) August 25, 2013
Crosby on bigger ice surface: 'I don't think a lot changes'; notes more space & a little more time to make decisions

— Mark Masters (@markhmasters) August 25, 2013
Nash on one thing to watch on bigger surface: 'You drift to the outside a little more if you're not careful'

— Mark Masters (@markhmasters) August 25, 2013
In the grand scheme of things, it's quite unlikely that Team Canada brass will look at their roster and take the 25 guys with the most experience on international ice. After all, that would involve leaving Sidney Crosby at home, and that would be quite wacky.
However, on a positional basis, decisions between one or two players may be made based on a few specific factors – including experience on international ice.