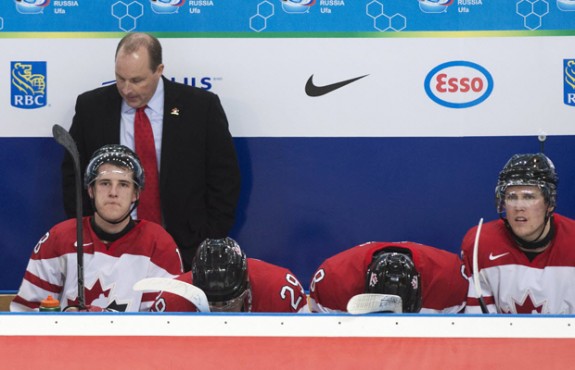 Going into the 2013 World Junior Hockey Championships, many teams were going in with high expectations.  None more so than Canada, loaded with a number of potential NHL calibre players and one bonafide star in Ryan Nugent-Hopkins in their lineup, it was expected to be the best team they've sent in years.
That very well may have been the case but it's also, as they say, why you play the games.  Not only did Canada not bring home the gold but they did not even medal and ended Canada's medal streak at 14 consecutive years.
There is of course an outcry from Canadian fans that the junior program is in trouble and big changes need to be made.  An expected emotional reaction at the disappointment of losing back to back must-win games.
I among many other prognosticators had Canada as the predicted gold medal winner, or at least playing for it.  A good indication why they don't hand out the medals before the tournament.
Is this a case of a major failure on the part of the coaches, players and Hockey Canada in general, or were expectations too high and unrealistic to begin with?
There have been many fingers pointed at the players and coaches, that Steve Spott did a poor job, that Hockey Canada took the wrong players or that Malcolm Subban is to blame and shots at various other players.
While they played a factor, the fact is that there is far more to it than placing the blame on a few shoulders.
ANYTHING CAN HAPPEN IN ONE GAME
With the format as it stands, if you get into the medal round, to win gold teams must win two or three single elimination games, depending on where they are seeded. In Canada's case, they did not have a terrible tournament, but rather one terrible game.
They went undefeated in the round robin with impressive wins against the US and Russia, en route to a bye to the semi-finals.  Even the bronze medal game vs the Russians, they fought back from a two goal deficit and lost in overtime, hard to call that failure.
They did have one game that cannot be termed anything other than bad, however, and that was the semi-final game against the Americans.  That loss is on the shoulders of the players and coaches. They simply got out worked and out played by a team that fought harder than they did.  While Subban did get pulled from the contest, he was hardly the only reason they lost.  He deserved to start the game after playing extremely well in his previous two starts, and it was a total team breakdown in that game, not solely a poor goaltending display.
That one game was certainly a disappointment, and to have the one game they needed to win result in such a flat performance is concerning.  However, that one game does not signify trouble with Hockey Canada or their World Junior program, it is just that….a bad game.
IMPACT OF NHL LOCKOUT ON ALL TEAMS
Much was made of the NHL lockout providing Canada with a powerhouse team.  They certainly had some players that may not otherwise have been made available.  Nugent-Hopkins for sure would have been centering the Oilers top line and others such as Jonathan Huberdeau, Ryan Strome, Mark Scheifele, Dougie Hamilton and Boone Jenner had shots to make their respective NHL clubs.
What people don't seem to realize is that Canada was not the only team boasting potential NHLers.  With Nugent-Hopkins as the exception, being the only player to have played a full NHL season, there were a handful of other players on some of the top teams in the tournament.
J.T. Miller of the winning USA was already playing pro in the AHL for the Rangers affiliate in Connecticut.  They also had Sarnia's Alex Galchenyuk who would have likely had a shot in the Montreal Canadiens training camp.
Sweden would certainly have liked to have Mika Zibanejad in the lineup, but even though he was denied permission, they still had talents such as Filip Forsberg and Richard Rakell and Hampus Lindholm of the AHL's Norfolk Admirals before he went down with injury.
Russia had a sure fire NHLer in Nail Yakupov who would have been wearing the Oilers blue and orange if not for the lockout, not to mention players such as Mikhail Grigorenko and Alexander Khoklachev who would have been given looks at their respective camps.
While those countries may not have had the depth or as many high profile prospects as Canada, they did have considerable talent of their own that can't be overlooked.
PROGRESSION OF OTHER COUNTRIES
Whether most Canadian fans want to admit it or not, the rest of the world has caught up in many regards over the last decade or more.  Canada while still one of the main hockey super powers, are far from the only one.
Many countries have closed the gap with respect to it's development of young players and junior programs.
It shouldn't have been much of a surprise that the US won gold, after all they have won the last four straight U18 Championships, with many players for the WJC coming from those teams.
Sweden who won silver, came in as the defending gold medalists and also won this years U17 Hockey Challenge in Quebec.
Russia, the most established hockey nation aside from Canada has medaled in 8 of the last 10 tournaments and are always a threat in every tournament.
Not to mention the fact that all of these countries are producing more and more top end NHL prospects, which goes to show that the game has indeed become a global one.
HOCKEY IN CANADA IS JUST FINE
The result this year is disappointing to Canadian fans and certainly frustrating based on pre-tournament expectations.  Fans have a right to be upset and disappointed. After all, it is that kind of fan loyalty that makes tournaments hosted on Canadian soil such an immense success. But Canadians need to sit back and take a deep breath following this year's WJC tournament.
The fact remains that Canada did bring one of, if not the most talented team to the tournament.  That is what makes the game great, that the best team does not always win and there are so many other variables that factor in.  Especially when considering we are talking about 17, 18 and 19 year old hockey players.
The pressure on these teenagers by their nation is quite a bit more significant than other countries.  Something not all players that young are equipped to deal with.
When considering that this is the first in 15 years that Canada has not received a medal, the consistency is remarkable.  No other country can come close to that kind of record.  So while the 4th place finish this year and the lack of gold over the past few eats away at Canadian fans, they are still among the best each year.
Small solace at this point, but a fact nonetheless.
Hockey Canada is, if nothing else, well prepared and they will go back to the drawing board and once again return one of the most talented entries for the 2014 tournament.
It is that drive and expectation of gold or bust that will make sure everything humanly possible will be done year after year to give Canada the best shot to play for gold.
The one thing that Canada has that no other country has yet to equal is the depth of junior hockey players playing across the country.  The Canadian Hockey League and the three respective leagues that make it up, provide Hockey Canada with a pool of players each year that no other nation has.  That has not changed.
One look at NHL rosters show just how good a shape Canadian hockey with the impressive top end talent and overall depth there is, especially when it comes to the game's young stars.
Take a deep breath. Hockey in Canada is not in peril and the World Junior program is still in good shape.