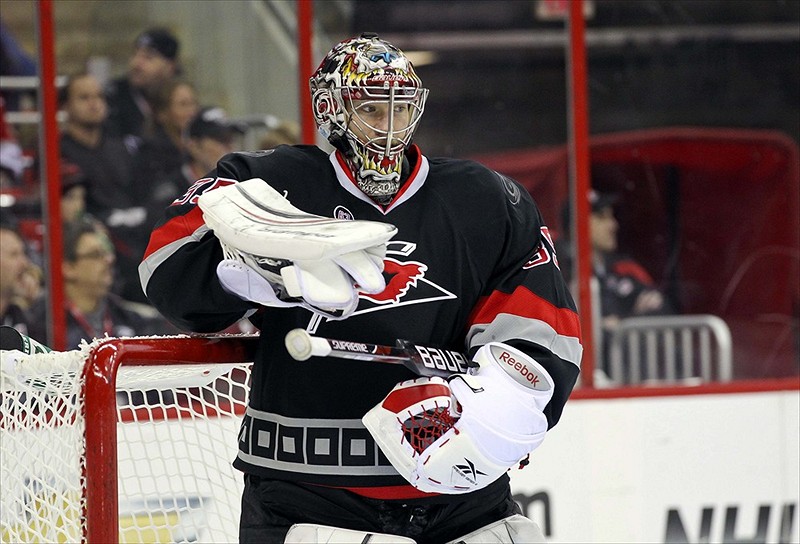 RALEIGH, N.C.—Of the many reasons why the Charlotte Checkers currently sit atop the AHL's South Division, the strong play they've received between the pipes has been the most crucial to the team's success.
And with the NHL lockout finally over, this bodes well for the Carolina Hurricanes.
The duo of Justin Peters—the young, up-and-coming prospect—and Dan Ellis—the wily, experienced veteran—have been platooning for coach Jeff Daniels, seeing action 21 and 18 games, respectively. Together, they have given the organization ample depth at goaltender; depth that was very much absent prior to the start of the 2012-13 season.
Between losing Mike Murphy to the KHL, having former draftee Frederick Andersen go unsigned and seeing backup Brian Boucher go down with a shoulder injury, the Hurricanes found themselves horribly thin in net last fall. But with the way Peters and Ellis look right now, it appears Carolina will have a plethora of options heading into the abbreviated 2013 campaign.
After starting the season a little slow, Peters has been playing the best hockey of his career of late, allowing one goal or less in six of his last eight games, and twice earning shutouts in that span. The Ontario native currently sports a 2.44 goals against average and a .911 save percentage.
Peters gave fans a look at the kind of goalie he could become during his second call-up of the 2011-12 season, when he surrendered just seven goals in five games with the Hurricanes. Carolina earned six points in the standings during that stretch, as Peters effectively kept the team afloat while Ward was sidelined with a minor ailment.
Ellis, who joined the organization on a tryout basis with the Checkers, has been a pleasant surprise in his return from a nasty groin injury that cost him half of 2011-12.
"(Ellis has) been great," Daniels said. "He's a great veteran presence in our locker room."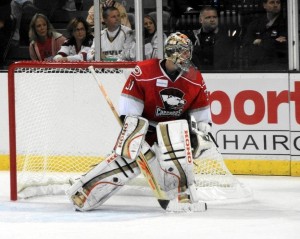 The former Nashville Predator doesn't have a spectacular record with Charlotte (8-7-4), but his individual numbers are encouraging: 2.46 GAA, 0.922 SV%.
"It was important for me to just overcome the injury. When you miss a lot of time you have to get your body back in shape, back in balance," Ellis said. "It's been a good start to the year. I'm thankful for the Checkers to give me an opportunity to play and to get back into shape and prove myself again.
"It's been a great ride. We'll see where it takes us—you never know."
With the chance to start in front of the Canes brass in Sunday's contest at PNC Arena, Ellis didn't disappoint— stopping 28 of 29 shots en route to a 3-1 victory. After giving up an early goal that deflated much of Charlotte's momentum mid-way through the opening frame, Ellis' value was exemplified by his ability to shut down the Norfolk attack for the remainder of the day.
"(Ellis) has seen a lot in his career; he's been a No. 1, he's been a backup. You see (his experience) in games when he gives up a bad goal early that doesn't rattle him," Daniels added.
*   *   *
When training camp commences in a few days, the recently-healed Boucher will receive competition from both Peters and Ellis for the No. 2 goalie spot on the Canes depth chart. While Boucher is currently slated as Ward's backup, there's no doubt that he could be unseated if one of his two challengers outplays him in the time before the regular season starts, which will be around Jan. 19th.
Peters and Ellis have an advantage in the respect that they've been playing since September and are in mid-season form. Boucher, on the other hand, has been on the shelf and hasn't skated in a game since last April. It wouldn't come as a surprise if Boucher starts in Charlotte to get back into a rhythm, while either Ellis or Peters backs up Ward out of the gate.
Given the condensed schedule all NHL teams will play this year, we can expect less days off in-between games than normal, and thus a greater necessity for quality backups. Ward will likely be the stalwart, reliable goalie he's been since 2006, but a capable No. 2 will be critical for the team's success.
And with three solid options to choose from, the odds of the Canes producing that essential piece are fairly high.