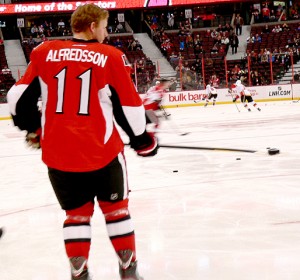 It is finally over, after months of speculation and "cautious optimism" the NHL Lockout has finally ended. When NHL hockey starts back up later this month, the Ottawa Senators will be looking to return to the NHL playoffs. Last season they surprised the hockey world, expected to finish last by making the playoffs and pushing the #1 seeded New York Rangers to 7 games. This year for Ottawa to be playoff bound once again they must rely on these 5 keys to success:
5.) Rookies contributing at the NHL level
The Senators have a trio of promising NHL prospects at the forward positions, all 3 saw limited NHL action last season and will be looking to build on that this year. Jakob Silfverberg has shown the most promise. Silfverberg dominated the Swedish Elite league last season before joining the Senators for the NHL playoffs, and this season has led Binghamton in scoring with 28 points in 32 games.
Mika Zibanejad and Mark Stone both have promising NHL careers ahead of them, Stone would be better suited to having a full season in Binghamton getting used to playing against men. Zibanejad has been underwhelming in his time with Binghamton this season but the time in the AHL has helped him get accustomed to North American sized ice. Expect Zibanejad and Silfverberg to compete for a top 6 spot on the Senators roster with the edge going to Silfverberg.
4.) Erik Karlsson must avoid a slump
We have seen it countless times before, an NHL player has a breakout season where nothing can go wrong then struggles to recapture the glory the next year. All eyes are on Karlsson to avoid a slump in production and continue to spark the offense on the back end.  With a shortened season and the injury to Cowen, Karlsson will be relied upon to play heavy minutes this season.
3.) Penalty Kill needs to be better
Last season Ottawa ranked 20th in penalty killing with an 81.61%. The loss of Jared Cowen puts added pressure on an Ottawa defense that is starting to look thin before the puck even drops. Chris Phillips and Mark Methot will need to play big minutes on the PK. Look for the Senators to make a move to acquire an NHL established defensive D-man.
2.) Craig Anderson must return to his playoff form
In his first full season as the Ottawa Senators starting goalie Craig Anderson posted solid numbers going 33-22-6 with a .914 Sv % and a 2.84 GAA. When Anderson recovered from his freak hand injury he returned in time for the NHL playoffs and elevated his game going save for save with one of the best in the NHL, New York's Henrik Lundqvist.
In the 7 game series Anderson posted a 3-4 record with a .933 Sv % and a 2.00 GAA. Ottawa will need Anderson to return to his playoff form as divisional games against Carey Price, Ryan Miller and Tukka Rask and the Bruins will dominate the Senators NHL schedule.
1.)    Daniel Alfredsson will lead one more time

Alfredsson, who just turned 40 last month, will be returning to the Senators for possibly his last campaign. Alfie's point per game seasons may be behind him but he is still a reliable top 6 forward. Alfredsson possesses strong leadership qualities which are just as valuable to the organization as his on ice production.  Look for Alfredsson to hover around the 30-40 point mark in this shortened season.
http://youtu.be/BO1lhAarft8
The Ottawa Senators proved last season that they are not a team to be dismissed easily. In a shortened NHL season any team can have a chance at the post season. If Ottawa meets expectations in these 5 areas then expect to see them play in the 2013 NHL playoffs.
You can follow Rick on Twitter: @remrith