The battle for the Stanley Cup kicks off in less than a month, on Wednesday, April 11. While there are still several teams battling to secure a playoff spot in the Western Conference, teams in the East are fairly well decided.
Best Odds to Win the Stanley Cup
This season, three of the four 2016-17 division winners–the Montreal Canadiens, Chicago Blackhawks and Anaheim Ducks will miss the playoffs. Only the Washington Capitals will compete again, though they're fighting for first place in the Metropolitan Division with the Pittsburgh Penguins.
This year's new regime of division winners includes the Tampa Bay Lightning, Nashville Predators and the Vegas Golden Knights who only existed on paper a year ago.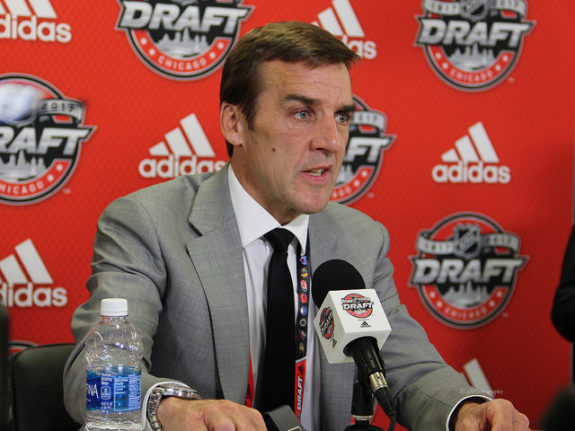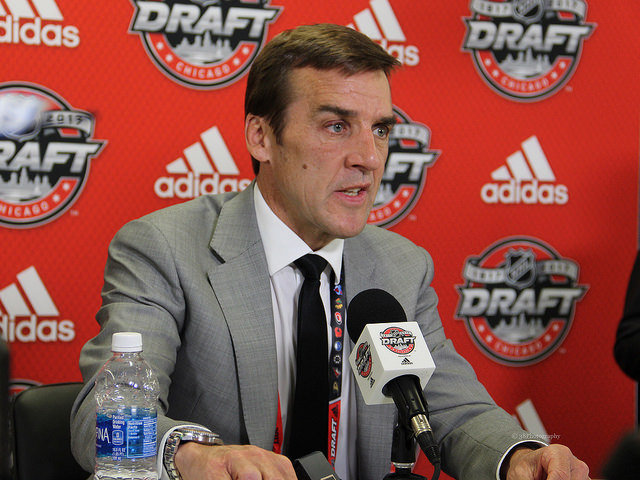 So many things have to go right for a team to win the 16 games it takes to hoist the Cup: a healthy, talented roster; getting hot at the right time; and a goalie finding his confidence; even lucky bounces. While any of the 16 teams that make the postseason have a shot at going all the way, there are 7 with the best odds. We'll take a look at each team, what makes them special and point out the odds they have to raise Lord Stanley's hardware.
Washington Capitals – 14/1 Odds
The perennial champions of the regular season have devolved into a wildly inconsistent team, from game to game, from period to period.
Winning the Presidents' Trophy is passé in Washington. Alex Ovechkin, 'Mr. 600 Goals,' and the rest of the team knows winning the regular season is inconsequential, if not meaningless. They've had the best record three years and it has never helped them advance past the second round.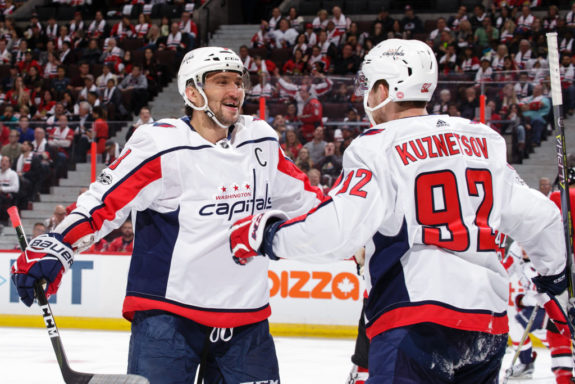 That said, the Caps are not the dynamic team they've been in recent years. They've dropped 7 of their last 11 games. Their star players are struggling to produce. Their goal differential is barely positive (plus-seven). And they've taken the fewest shots on goal per game (28.6).
T.J. Oshie, who scored a career-high 33 goals last season, has one even-strength goal in the past 20 games. Ovechkin, Evgeny Kuznetsov and Nicklas Backstrom are the only players with more than 15 goals. For comparison's sake, the Caps had five players score at least 23 goals last year, with two of them netting 33 apiece.
"There's some guys that are our core people who haven't gotten a lot of production either, so that's the dilemma right now as a coach," head coach Barry Trotz said. "I've just got to keep moving pieces until they get on a little bit of a roll."
Capitalizing on the Caps: The Capitals started the season at +1,000 (bet $100 to win $1000) to win the Cup. They're fallen back a tad to +1,400 (bet $100 to win $1,400) per OddsShark.
Winnipeg Jets – 10/1 Odds

Of Canada's seven NHL franchises, the Jets hold the best shot at ending the nation's 25-year Stanley Cup drought. They've developed much of their young, talented draft picks through the years and now have a roster that's impressive from top to bottom.
Leading the offense, are Blake Wheeler, Patrik Laine and Nikolaj Ehlers. Mark Scheifele is still recovering from an upper-body injury that has kept him out of the line-up for a good chunk of the season. Once given the all-clear, the Ontario native will likely slot back onto the top line with Wheeler.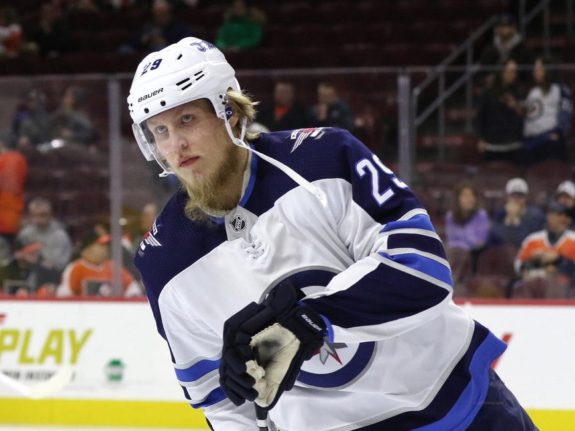 The trade for Paul Stastny at the deadline was proof that general manager Kevin Cheveldayoff thinks his team is poised to make some noise. Stastny makes a deep lineup even deeper, with a strong two-way game and special teams play.
On defense, they're deep as well. Their six defenders include Josh Morrissey, Jacob Trouba, three-time All-Star Dustin Byfuglien, Ben Chiarot, Joe Morrow and smooth skating Tyler Myers.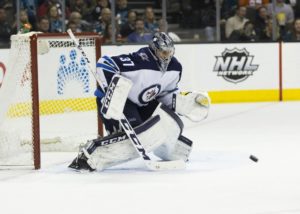 Connor Hellebuyck has had a terrific season. In 58 games, he's posted a 2.36 goals-against average and a .925 save percentage. His coming of age as a true No. 1 netminder has been instrumental in the Jets' success.
While the Jets have youth, they lack playoff experience. Nearly half the roster has yet to play a postseason game. But then again, every team is inexperienced until it wins. It won't be a surprise to see the Jets advance several rounds, if not win it all.
Wager on Winnipeg: The Jets opened the season as a far-off +4,000 bet (wager $100 to win $4,000). As the season has rolled along and they've racked up wins, they've improved to +1,000 (bet $100 to win $1,000).
Boston Bruins – 8/1 Odds

The Bruins may have started the season slowly, but they've turned things around, thanks to a strong month leading up to the All-Star break. Their 48 points since Jan. 1 is second only to the Nashville Predators by a point. They've found their mojo. They've also found what they believe to be the final pieces for their playoff push: Rick Nash, Brian Gionta, Nick Holden and Tommy Wingels.
The new Bruins bring veteran experience–nearly 3,000 career NHL games combined–to a team that still has players from their 2011 Cup win.
"They've fit in seamlessly," said Bruins head coach Bruce Cassidy. "You've got veteran guys that have been in other locker rooms. I can't speak to whether they're good or bad in different locker rooms. I know that ours is terrific when it comes to our leadership. I think our young guys have really helped it, as well, because they bring a lot of energy. They all have their own personality, but they're respectful. They want to learn from these veteran guys."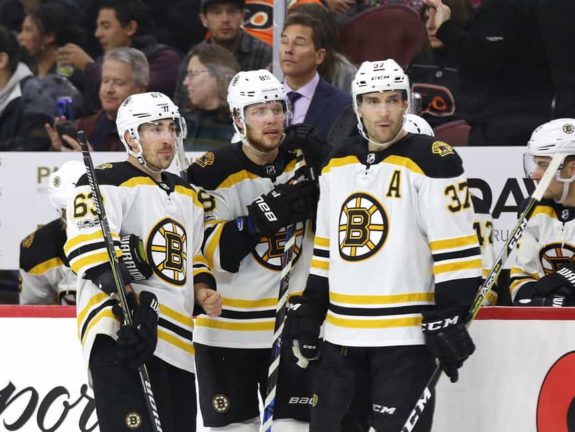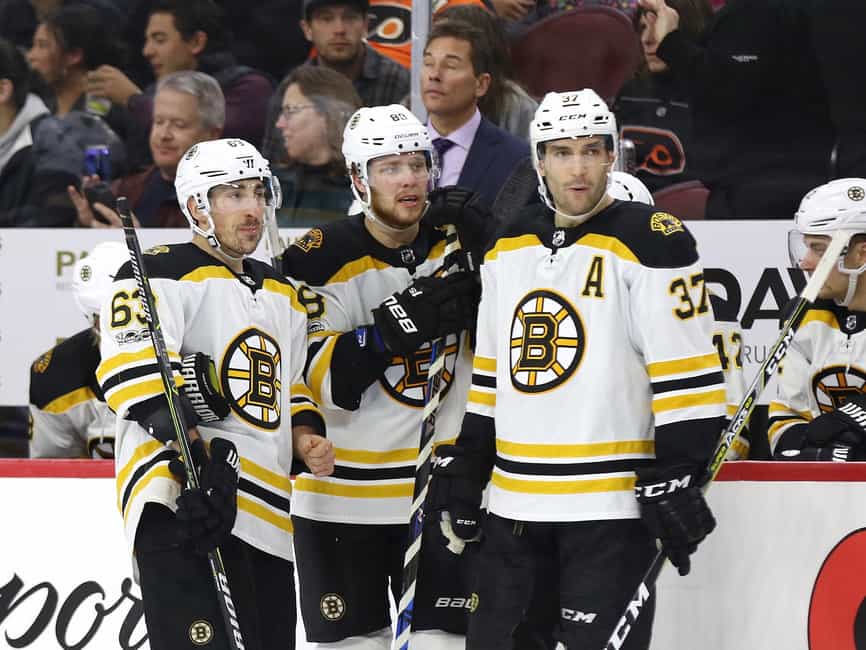 Healthy players and depth are a concern. Charlie McAvoy and Patrice Bergeron are already out with injuries. Then in a game Thursday night against the Hurricanes, the injury bug bit Zdeno Chara, Torey Krug and Jake DeBrusk.
The Bruins' success is predicated on playing a patient, disciplined game. They thrive in tight games, so they're prepared for playoff hockey.
Betting on the Bruins: The Bruins began the season with +1,800 odds. (bet $100 to win $1,800). They've now vaulted up to +800 odds. (bet $100 to win $800).
Pittsburgh Penguins – 7/1 Odds

The Penguins are gunning for a three-peat. After a mediocre start (19-18-3), they've since turned things up a notch, going 12-5-2 since Feb. 1. It's almost as if they find their stride at the right time every year.
They're as strong as ever down the middle with the dynamic duo of Sidney Crosby, Evgeni Malkin and newly acquired Derick Brassard. Brassard fills the hole left behind by Nick Bonino. They're scoring goals in handfuls now and have three players in the top 15 in league scoring (Sid, Malkin and gold-medal-winning Amanda Kessel's brother, Phil). Like the other top contenders, they can roll four lines.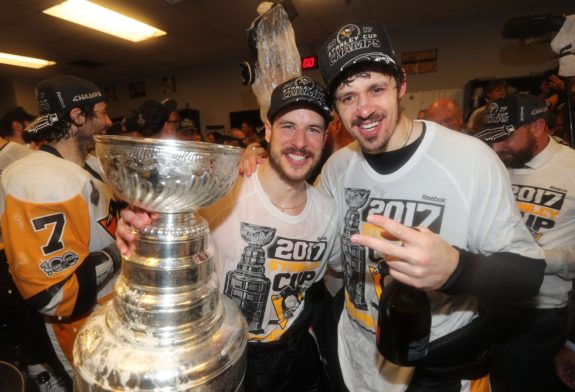 Defensively, there are no elite standouts. Brian Dumoulin, Kris Letang, Justin Schultz, Jamie Oleksiak, Olli Maata and Chad Ruhwedel are all decent skaters with the ability to make good outlet passes.
The unknown for the Penguins this year is in net. Fan favorite, Marc-Andre Fleury is gone, leaving confident and clutch Matt Murray to backstop their run. But, should Murray get hurt or go cold, the Pens' fate rests with 22-year-old backup Tristan Jarry who has never played a playoff game.
Three-peating Pens: The two-time defending Stanley Cup Champion Penguins started the season as +800 favorites (bet $100 to win $800) to repeat. They went as high as +1200 at their low point this season but are back in the mix of top contenders at +700 (bet $100 to win $700).
Nashville Predators – 7/1 Odds
This team looks determined to go the distance. They're on a red-hot tear, going 22-4-5 since Jan. 1–the most points of any team in the league in that span.
Nashville will once again transform into Smashville in the coming weeks. Last year's hysteria, while fun and wildly contagious, likely left the Predators feeling like they had unfinished business. Their storybook season fell two wins short of the Cup.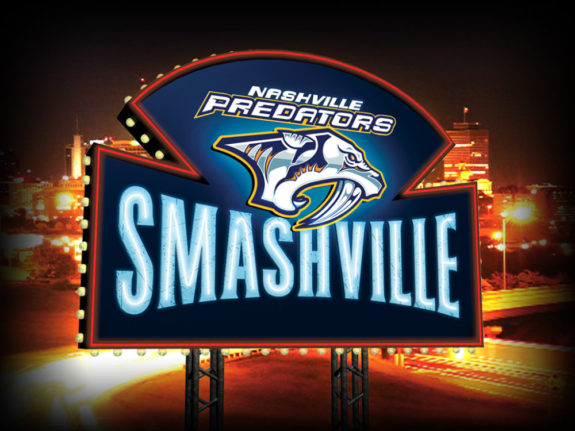 This year, they've added centers Kyle Turris and Nick Bonino and brought back Mike Fisher for a cameo. Nashville has six players with 40-plus points and six with 15 or more goals. In other words, they're deep and can roll four lines.
Defensively, they still have one of the fastest puck-moving skaters in Ryan Ellis alongside Roman Josi, Mattias Ekholm and P.K. Subban. They're fast on the transition from their own end and often act as fourth and fifth forwards. Goaltender Pekka Rinne has elevated his game, especially on the road–a knock against him last year.
Preds Probabilities: The Preds opened the 2017-18 season at +1,400 odds (bet $100 to win $1,400). Aside from sitting atop the Central Division, the Predators now sit with the third-best Cup odds at +700 (bet $100 to win $700).
Tampa Bay Lightning – 23/4 Odds

Entering the season, the Bolts were firmly among the Cup-contending mix of teams favored by fans and the media. Then, at the deadline, they bolstered their roster by acquiring two battle-tested New York Rangers: former captain Ryan McDonagh and J.T. Miller.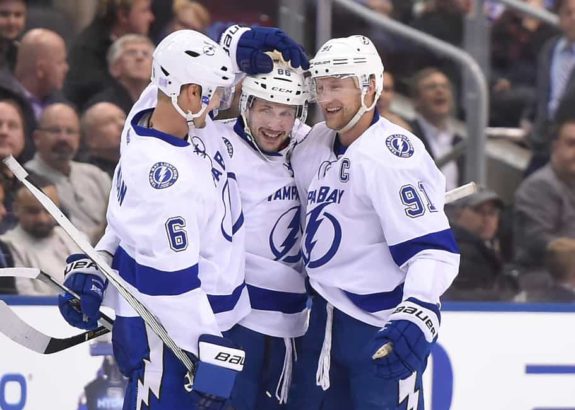 They were the first team to crack the 100-point plateau this season. They're also a team that is stacked with talent. Nikita Kucherov is a legitimate candidate for the Hart and Art Ross Trophies, Andrei Vasilevskiy is a strong favorite for the Vezina and Victor Hedman is in the thick of Norris Trophy consideration. Versatile J.T. Miller can play center and wing and adds a rough, heavy game. McDonagh is a stud defenseman that can pitch in offensively as well.
They are one of the NHL's best teams, rolling three legit scoring lines. They lead the league in goals scored and more than 3.5 goals per game. They also have the league's second-best power play (behind the Penguins). On the blue line, they're even deeper. Hedman, Stralman, McDonagh, Girardi, Braydon Coburn, and rookie Mikhail Sergachev lead the way. In goal, Andrei Vasilevskiy is a contender for the Vezina Trophy. He's 40-13-3 with a league-leading seven shutouts, a 2.52 goals-against average and a .923 save percentage.
If there's a weakness, it's their head-scratchingly weak penalty kill, ranking 26th in the league and operating at only 77 percent.
Betting on the Bolts: The Lightning started the season as +1200 odds (bet $100 to win $1,200) but now they're closer to +575 (bet $100 to win $575).
Vegas Golden Knights – 23/4 Odds
Who would've imagined this? A brand new team whose roster was plucked from every other team in the league became the greatest expansion squad in NHL history. By a mile. They've been atop the Pacific Division for most of the season. This hockey miracle is the favorite to win the Cup in the West.
Coach Gerard Gallant has this team playing fast and furious. He's made stars out of Jonathan Marchessault and William Karlsson. It didn't just survive a goaltending crisis, it thrived through it. They're also playing lights-out at their house­–the raucous T-Mobile Arena where they have an NHL-best 24-8-2 record. The atmosphere in Vegas could rival Smashville come April.
Anchored by a healthy three-time Stanley Cup winner, Marc-Andre Fleury, the Golden Knights are contenders. Fleury ranks fourth in the league in goals-against average (2.24) and fourth in save percentage (.927). He brings a calming presence and a wealth of experience.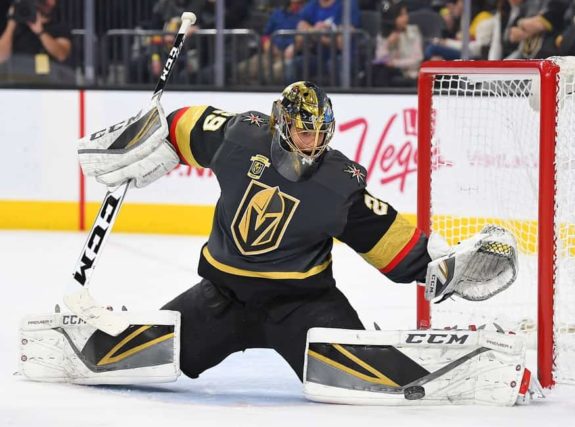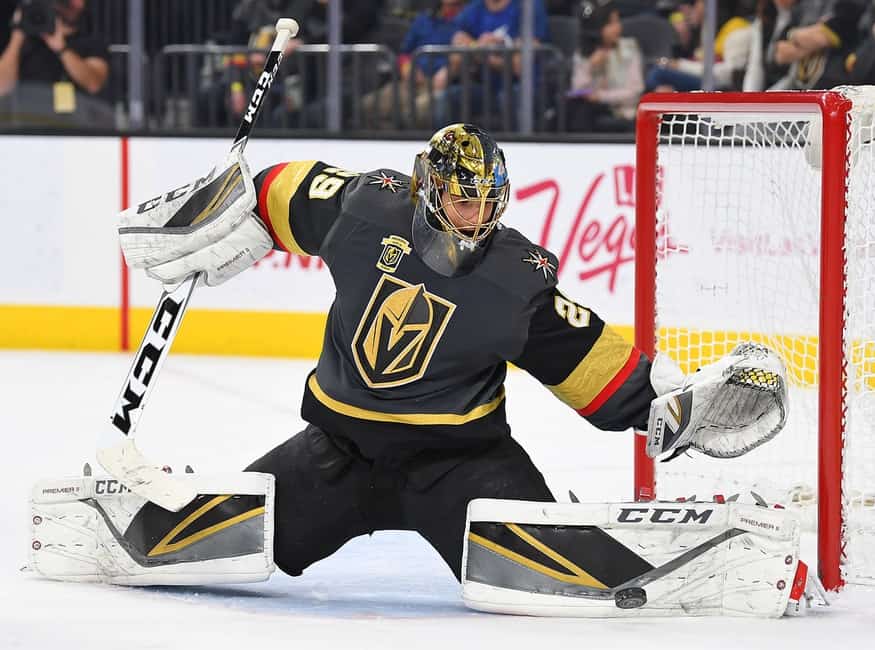 Offensively, William Karlsson is having a breakout year, already filling the net 36 times. He's the league's sixth-leading goal scorer.
The fun-loving team, adopted by fans all over the world, entered the season with absolutely no expectations. Now, they've earned the label of 'Cup Contender.'
Going "All in" on Vegas: While they're a first-year team and entered the season as a +20,000 long shot (bet $100 to win $20,000) to win the Stanley Cup, they're now a frontrunner. Their odds are now at +575 (bet $100 to win $575). Oddsmaker Bovada has them as co-favorites with the Lightning.