We live in a world where sports storylines and subplots pop up every second. The term overnight became outdated in the age of social media, where apps like Twitter and Vine can make touchdown dances or pizza rolls instantly famous. More often than not sports are unpredictable. It's why we love them; because the athletic action it captivates features more genuine drama than any TV program not involving Maury Povich and the results of a paternity test. But every so often, something we think will happen holds true. Our expectations are met with results, and the results are equaling satisfying as the truly unpredictable.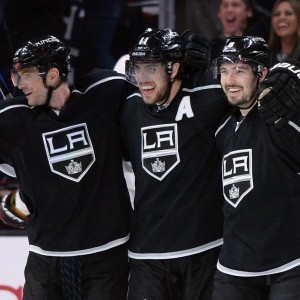 Take a look at the 2015-16 Los Angeles Kings in overtime. L.A. has played six overtime games since the NHL adopted its new 3-on-3 format this past off-season, and the team has only one blemish (a shootout loss to Tampa Bay) to show for it. Only one contest was won in a shootout (Philadelphia) and the other four ended before the five-minute frame expired with Kings players dancing on the ice and drinks overflowing at the Yard House. We knew they'd be good with under the brand new skill-favoring overtime format, but this good? This lethal? How is it possible?
Well it's actually quite possible given the makeup of this team. The Kings are 4-0 in games decided during 3-on-3 overtime because they have the perfect blend of skills, roster flexibility, and intangibles to outmatch and overpower any NHL club. Combine those three elements with a little good fortune, and you essentially have the hockey version of Ali in his prime on skates (The Louisville Snip?). Now let's analyze the Kings overtime success a bit further.
Speed and Playmaking
In their most recent conquest, the Kings faced an overtime lineup of Chicago's Patrick Kane, Jonathan Toews, and Duncan Keith to start the final frame. All future Hall-of-Famers, and all in their respective primes. And you know what? The Kings controlled a lot of the action. There might not be another team in the NHL that could go stride for stride with those three Blackhawks, because the speed alone required to share the ice with them is so elite. L.A. has speed in bunches, along with the ability to make sound hockey plays at the fastest of tempos. It's one thing to be able to blister around the ice (just look at every rookie with young legs), but it's another to maintain your responsibilities and make good decisions while playing with lots of pace. The Kings have proven they can match speed with anyone without having to sacrifice their playing style.
Even more impressive is the depth factor. The Kings have speed and playmakers throughout their lineup, not just at the very top. Jeff Carter, Anze Kopitar, and Drew Doughty started the overtime period against Chicago, but it was Marian Gaborik off the bench who scored the winning goal. Speaking of that final play:
Not only is the game moving faster than a Calvin Harris beat (the final two minutes of this game will actually be shown at TomorrowWorld in 2016), but puck possession it at a premium. Kopitar somehow realizes that he has an extra millisecond to let the play develop, and uses it before feeding a beautiful pass to Gaborik. The Slovakian heartthrob (as my friends from Minnesota know him) then demonstrated that he can still skate the river and finish with ease. Most teams would panic in that situation, assuming they could even keep up. Not these Kings.
Masters of Counter-attacks
Wouldn't it be easy if you could just win the opening faceoff and methodically generate an overtime goal? Unfortunately 3-on-3 doesn't operate under smooth circumstances. There are plenty of chances to be had for each team, but they come in short bursts that are unsustainable and often leave the attackers very vulnerable. The Kings have solved this aspect of the new NHL overtime like a college janitor in Boston, turning defense into quick offensive chances. Look at every single one of their OT game winners, and you'll see this in motion. My favorite though? Doughty to Carter against Nashville:
It doesn't get old watching Doughty break up a 3-on-1 with the shaft of his stick and then have the presence of mind to find Carter streaking up the ice. If the NHL ever shifts to 2-on-2 overtime, I really like this duo.
Thriving In Chaos
Gone are the days of simplistic NHL regular season overtime, where everyone played in a somewhat reasonable and comfortable position. This is 3-on-3 we're talking about, and this is chaos. Structural play is often thrown out the window, as the trios teams put on the ice come in all shapes, sizes, and positions. Cats and dogs, living together, mass hysteria!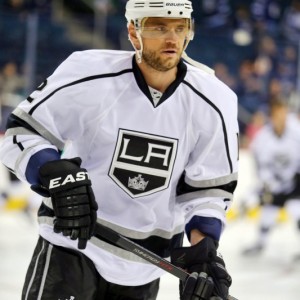 And yet again, the Kings feel right at home in this madness. Gaborik and Kopitar received the much deserved recognition for the team's win against Chicago, but don't forget that Tyler Toffoli broke up a Blackhawks 2-on-1 attack (a play I believe the Blackhawks refer to as "free money") just moments before. That's right the team's leading goal scorer, a young winger, played textbook defense against an offensive juggernaut in the clutch. It takes plays like these to succeed in 3-on-3 overtime, where forwards cover for defense and defense is forced to join the offensive zone to enhance a scoring opportunity. With the versatility and general awareness that each L.A. player possesses, the Kings are able to perform without traditional guidelines.
Big-Time Players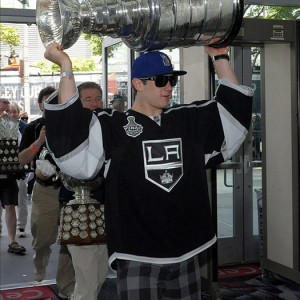 As is the case with anything pressure related in the NHL, you need gamers to get the job done. The Kings are no strangers to the high-stakes table, and their history of gutting out close wins is one that any franchise in the last decade would be proud to boast. Think about the 3-on-3 overtime goal scorers this year (Kopitar twice, Carter, Gaborik), or the players that set up the goals (Doughty Toffoli) or even the coaches that pushed all the right buttons (Darryl Sutter, Darryl Sutter's Costco reading glasses). And think about their netminder in every overtime game, Jonathan Quick, who made save after save to give his team a chance to win. While other teams are still trying to figure out the new system and how their lineups should look, the Kings know exactly where their bread is buttered.
Change happens fast in the NHL, and the Kings could soon be on the losing end of a few 3-on-3 overtime contests. But looking at this roster, with these sets of skills, and their ability to adapt under duress, why would you bet against them? I know I wouldn't.
Just a hockey loving American. I grew up in Cleveland, Ohio, and attended Saint Louis University where I skated for the Billikens. From 2013-14 I covered the St. Louis Blues for ESPN Radio St. Louis. I currently work in sports video production in Los Angeles, and will always show solidarity for stay-at-home defenseman.