As the Carolina Hurricanes prepared to drop the puck in their game against the visiting New Jersey Devils Thursday night, they were ranked last in the NHL on the power play. In 80 opportunities they have scored only 10 power play goals this season, a dismal 12.5 percent rate of power play success. (Oops, make that 10 for 81. I'm writing this at the game).
It's not easy to pinpoint exactly what is wrong with the 'Canes' power play. From my vantage point, not consulting advanced analytics but merely observing as a spectator, it seems that part of the problem is a lack of shooting the puck at the goal when on the power play.
Here's a live in-game example. It's 14 minutes into the first period against the Devils and the Hurricanes have six shots on goal. Keep in mind that this includes 5-on-5 play and two minutes with a man advantage. Of course not every blast in the direction of the net is counted as a shot on goal, but there is a real absence of aggression by Carolina on the power play. There is a lot of posturing and passing and it's all I can do to keep from yelling, "Shoot the puck!"
If Not for Faulk
A glaring statistic revealed when looking at the Hurricanes' power play is that eight of the team's ten power play goals have been scored by Justin Faulk, who is currently first in the NHL in power play goals scored this season. One may tend to think of big-time defensemen, like John Klingberg of the Dallas Stars who is currently fifth among all points leaders in the league with 27, or Erik Karlsson of the Ottawa Senators who is tied for sixth with 26 points. But a closer look shows that the bulk of their points have come from assists, with both Klingberg and Karlsson having netted five goals apiece thus far.
Digging deeper into the list of point leaders this season at ESPN.com finds only five defensemen currently in the top 40. (Oops, make that 10 for 82). My point is that it is typically the forward players on a team that carry the offensive load. Sadly, when it comes to this year's Hurricanes, that is not the case. Faulk leads the team in points (18) and is tied with Victor Rask with eight goals. Rask has one power play goal. Team captain Eric Staal only has four goals, one of which was on a power play.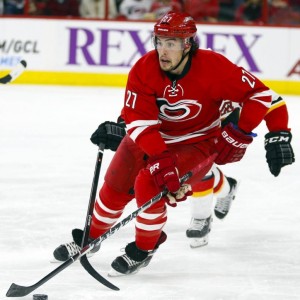 One would think that based on previous performance, a first unit power play consisting of Staal, Faulk, Elias Lindholm, Noah Hanifin and Rask would be strong. But, it's Faulk who is carrying the weight. Something is just not clicking for these guys. I'm sure that if coach Bill Peters knew how to fix it he would, especially with the team's reasonable power play success last season.
Keep Your Corsi for Now
This casual analysis doesn't mention Corsi or Fenwick or any of that, there's no need to go that far with the dreadful offensive numbers. The lifeless 'Canes power play is an extension of the team's lifeless offense. The Hurricanes power play and its overall offense needs juice, a burst of energy that will bring it up from the bottom of the league. I understand that teams don't play at playoff level during the regular season. But, this team needs to develop the kind of aggressive nature that characterizes playoff hockey, crashing the net, shooting, going hard at the goal at every opportunity. A good place to start would be on the power play. Soon.