In today's Fantasy Findings, we're talking age and how it may not be just a number. Where do we sit with veteran players and is the new wave of young goalies ready to take on the task of the number one job?
Out with the old and in with the new – at least it goes something like that. And in fantasy hockey – according to NHL.com's Matt Cubeta – it's no different. And on fantasy Friday, Cubeta discusses some grizzly veterans who might be on their way out in terms of fantasy value.
For owners, it's hard to imagine some of these big names ever losing their value. Guys like Marian Hossa and Joe Thornton have always been studs in our lineups. But time does catch up to players and it becomes noticeable in their numbers.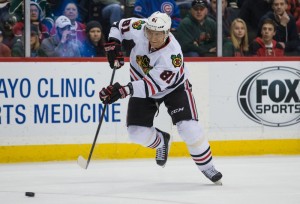 Take Hossa for example.
"During the 2013-14 season, Hossa finished with 30 goals, 60 points, a plus-28 rating and was the 41st best fantasy player in Yahoo leagues. Last season he was even better, finishing as the 33rd best fantasy player," writes Cubeta.
"However, the soon-to-be 37 year old seems to have taken a turn for the worse in 2015-16. Through 23 games, Hossa has 10 points and is a minus-1. Drafted on average with the 96th pick coming into the season, Hossa currently ranks as the 180th best fantasy player in Yahoo leagues."
Cubeta's list is compiled of players over the age of 35 who've seen dramatic drops in production this season. Some might just be having bad years, while most are arguably nearing the end of their illustrious careers.
Fantasy Advice: Time For Cautious Pessimism
I'd like to sit here and tell you to hold onto these players – have some optimism in how they've dominated the game over their careers. But with this group, that's not quite possible. Sure, Hossa, Thornton and Ryan Miller all have the opportunity to turn it around, but guys like Marek Zidlicky and Dan Boyle are biding their time until retirement.
Effective in other ways on the ice, their fantasy value is beginning to dwindle and it looks like it's time to let them go – a sad goodbye indeed. Don't get too worried, there are other options to fill in the gaps when you let your fantasy veterans sail off into the sun.
---
Speaking of the youth movement, David Satriano sured up the latest edition of the top 30 fantasy goalies and the young tenders are starting to make their way up the list.
Roberto Luongo (ranked 10th) and Sergei Bobrovsky (ranked 13th) were the biggest climbers – both jumping up six spots on Satriano's list. While, on the other side of things, Semyon Varlamov was the biggest drop from 21 to 25.
That being said, four new goalies joined the top 30 this time around – all of them newer to the show and all of them still early in their NHL careers. Anaheim's John Gibson debuted on the list at 19, while Thomas Greiss (23), Connor Hellebuyck (29) and Chad Johnson (30) all found their way into the rankings.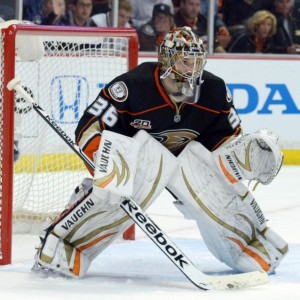 Sure, key injuries played a role as well, but it may be time to start looking at the next wave of young goalies.
Fantasy Advice: The Quick and the Dead
Look, you can be quick to take this advice and start scooping up the young goalies available in your leagues, but don't forget that these veterans still have the ability to come out and steal back those number one jobs.
Keeper leagues are a different story. Grab the Condons and Gibsons of your league and toss them in your minors or on your bench – they're worth the roster spot. But don't be caught dead in the water if you're in a yearly or weekly pool. Some of these young guys aren't here to stay – at least not yet.
Many of them have bright futures ahead of them, but they're still ahead of these players and 2015-16 isn't the year to rely completely on an inexperience netminder. Take your time in considering this, but don't be afraid to risk taking a guy like Condon or Hellebuyck for the next few weeks as their team's number one goalies are sidelined.
For more fantasy news, be sure to check out THW's fantasy homepage and follow Andrew on Twitter at @AndrewGForbes.