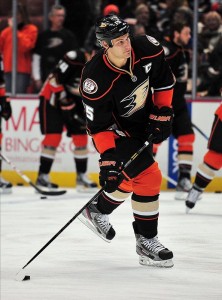 I wasn't familiar with Justin Abdelkader's name until this year; his fifth year in the league. That's because his production and ice-time have gone up in small increments with every season and he hasn't done much damage to any specific team. Now he has changed that, as the winger is a household name in Anaheim for two reasons.
Abdelkader was a huge part of the beating that the Detroit Red Wings laid on the Anaheim Ducks during their slump in March. On Mar 22nd, Abdelkader helped chase hot goaltender Viktor Fasth out of net as he tallied his first NHL career hat-trick at the Honda Center. Since then, he has been a Red Wing on a mission every time he plays against Anaheim. It's as if Anaheim brings out the best in him.
When the postseason match-ups were announced, I wasn't just dreading the usual Henrik Zetterbergs and Pavel Datsyuks. Abdelkader was right up there as well. The uncertainty of who exactly this guy is and how he has been able to expose the Ducks' weaknesses and exploit their holes this season was unsettling.
Abdelkader has only one point in the series against Anaheim, but that doesn't mirror his contributions on the ice. Detroit's first win of the series –Game 2– came when he too had a strong performance. Abdelkader had a goal and six shots on net in that game where his team went on to win in overtime. Needless to say, Abdelkader has been a thorn in the Ducks' side this entire season.
Now, after a controversial hit Abdelkader laid on Toni Lydman in Game 3, he will be sitting in the press box the next two games as he serves his suspension. This is huge for Anaheim. Not only do the Ducks have a 2-1 lead in the series, they embarrassed the Wings in front of their home crowd with a 4-0 shutout win on Saturday.
With Abdelkader gone for Game 4 and 5, the Ducks need to make good use of their time. If the Wings and Ducks split the next two games, there is no doubt in my mind that Abdelkader's return will fire up his squad and then some.
Abdelkader has made a name for himself as a duck hunter and rightfully so. Don't think that he wouldn't return from his suspension without addressing some unfinished business. Now that the Ducks have temporarily gotten into the heads of the Red Wings, they need to close them out over these next two games before Abdelkader has a chance to get into theirs.
See you later , Abdelkader.
For more information throughout the season follow me on twitter @m_drinnenberg and on Facebook here.