It has been, dare I say, a wild beginning to the Minnesota/Chicago first round playoff series. Niklas Backstrom's freak lower-body injury during warm ups prior to Game 1 seemed to spell doom for Minnesota, but Josh Harding has performed admirably after being pressed into duty.
Throughout the season, a Wild offense that has starved for consistent energy and goal scoring has been seeking a boost. Young prospects are littered throughout the roster. Some, like Charlie Coyle, have excelled, while others, like Mikael Granlund, have scuffled in trying to find success in the pros.
Where To Place Zucker
Perhaps the biggest mystery was former University of Denver star Jason Zucker. The diminutive yet speedy winger tallied 91 career points in two seasons with Denver under the tutelage of the great George Gwozdecky, reaching the NCAA tournament twice. He also has proven to be a winner on multiple occasions with USA Hockey.
Jason Zucker fun fact: One of just five American men to have won three gold medals in IIHF events. 2 from U18WC, 1 from 2010 WJC.

— Chris Peters (@chrismpeters) May 5, 2013
A 2nd-round draft pick of the Wild (59th overall) in 2010, Zucker has struggled to find a niche in the NHL. The 21-year old saw action in just 20 regular season games and was frequently a scratch or a demoted winger spending time with the Houston Aeros in the AHL.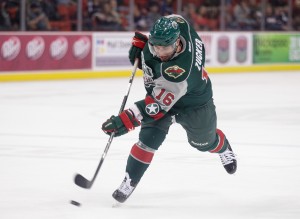 Zucker finished second on the Aeros with 50 points, including 12 power play goals. However, his bouncing between leagues has made him a difficult player for Wild coach Mike Yeo to place onto a scoring line.
Entering the playoff series, Zucker had not scored an NHL goal since March 10. Just two days later, he became the latest victim on Corey Perry's track record of suspensions after receiving a check to the head.
Even though he was back on NHL ice just six days later, Zucker's minutes and production took significant dips. He received fewer than ten minutes of ice time in each of his next four games.
What has made him a useful commodity for the Wild is his ability to use his speed to wreak havoc on the forecheck. This energy earned him 17:29 of time on ice in Game 1.
Without registering a point, Zucker's performance against Columbus on April 13 had the Wild hopeful. He recorded six shots on goal and his energy resulted in him being rewarded with 18:07 of ice time, his largest total of the season.
As the playoffs began, Zucker's scoring drought continued in agonizing fashion. After Harding played a remarkable 60 minutes to force Game 1 into overtime, Zucker found himself with a golden opportunity to steal the game for Minnesota.

At the 3:25 mark of the video above, Zucker picks up a puck off the overtime faceoff and rings it off the crossbar. Had it gone, Minnesota would have stolen the home ice. However, as fate would have it, Bryan Bickell buried the overtime winner, and the Blackhawks rode the momentum to a dominating Game 2 victory.
As Game 3 began, the Wild had managed only three goals in the prior six periods of regulation plus the extended overtime of Game 1. It appeared the Hawks were poised to end the Wild's season before it could even take a breath.
As the venue changed, the Hawks did not seem fazed inside Xcel Energy Center. Johnny Oduya capped a flurry of scoring chances by beating Harding at 13:26 of the first.
From that point, the Wild found a soft spot on Corey Crawford. As the period progressed, Minnesota garnered better chances, and eventually, Pierre-Marc Bouchard beat the Hawk goaltender on a backhand glove side. The 1-1 tie carried over into period three.
As Minnesota began the third, they continued to pepper the offensive zone. Zach Parise received a slick feed from Charlie Coyle, and from almost the same spot as Bouchard, roofed a backhand over Crawford's outstretched glove.
The Wild sagged into a defensive mode from there on out. Eventually, the prevent defense caught up to them, as Duncan Keith scored with 2:46 to play to force overtime.

Zucker was the victim of bad luck in Game 1, but the hockey gods smiled upon him this time around. He had worked his way up to join Matt Cullen's line, and the two tag-teamed to cut the series' deficit in half.
From his stomach, Cullen one handed a pass toward the left circle from below the goal line. In one motion, much the same way he hit the crossbar in Game 1, Zucker surprised Crawford from a severe angle and sent Xcel Energy Center into pandemonium.
If the Wild are to complete a series comeback and upset Chicago, more players will need to channel a Zucker-like energy. As long as Harding can hold the fort on the back end, the offense will continue to be the main area of focus for Yeo's squad.
Ryan Smith is a proud graduate of Penn State University, having attained a degree in broadcast journalism. His experience in hockey is extensive, having covered PSU Men's ice hockey for USCHO.com as an Arena Reporter for its first NCAA season in 2012-2013 while also serving as Penn State Athletics' voice of women's ice hockey home games. He was also the sports director for Penn State's ComRadio, a student based radio station endorsed by the College of Communications. In that position, he broadcasted Penn State hockey since for four years. He can be followed on Twitter @RyanSmithHockey.