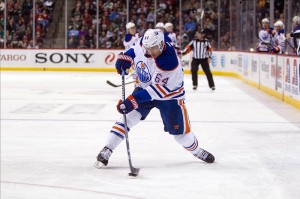 He led all rookies this season in goals. He tied Jonathan Huberdeau in points. He did all this while playing for a dismal Edmonton Oilers team, and for the most part didn't play with the teams superstars. Yet Nail Yakupov was left off the final ballot for the Calder Trophy. Instead, Brenden Gallagher and Brandon Saad joined Huberdeau on the list of three candidates. All worthy to win the honors. And while many hockey writers claimed to have voted for Yakupov, there can only be three and he didn't make the cut. We don't know yet how close he got but in any case, the rookie of the year will not reside in Edmonton yet again. The question is, was Yakupov robbed?
Last year's Calder winner, Gabriel Landeskog was second in goals among rookies, and tied for first in points with Edmonton's Ryan Nugent-Hopkins (who played 20 less games by the way!). The year before, Jeff Skinner won the honors. He led all rookies in scoring. The rookie of year doesn't have to be the points leader however, as defenseman Tyler Myers and goalie Steve Mason both won the award. But amount of points is always a big factor. This year there wasn't a standout rookie goalie, and no defensemen were on the final ballot either. So how did Nail Yakupov not make the cut?
Because there can only be three finalists, someone will always end up snubbed. And there were plenty of other worthy candidates who didn't make it either, for example Minnesota d-man Jonas Brodin and Brenden Dillon of the Dallas Stars. The three guys who did make it all have a very strong case. Huberdeau put up 31 points playing for the last place Florida Panthers who were riddled with injuries, and he didn't really have much help around him.
Brandon Saad, despite playing with superstars like Jonathan Toews and Marian Hossa, has shown an all around game that makes him look much older than his 20 years. He is an interesting pick however, putting up 27 points with so much talent around him, and he's older than Yakupov with more pro experience. But again, he showed a strong two-way game, putting up a +17 rating and playing some big minutes for the Blackhawks.
Brendan Gallagher has proved to be a huge part of the Montreal Canadiens this season. He is fearless going to the net. He gets under opponents skin but doesn't take bad penalties. His 28 points in 44 games was good for forth in scoring among rookies, and his 15 goals was tied for first with Max Pacioretty in team scoring. He was a big part of the Habs finishing second in the Eastern Conference.
Yakupov could have easily been in that group for the award. Many feel he certainly should have been. It was a surprise to those in Edmonton that he wasn't there. But this season was a strong one for rookies in general, and maybe his mid-season struggles contributed to the snub. He probably earned a lot of votes, but not enough to make the ballot. He certainly wouldn't be the first and won't the last. Whoever wins deserves the prize. And if it makes Nail feel any better, Sidney Crosby didn't win the Calder Trophy. Didn't seem to affect his career too much.
Marcy, a former hockey player, is a hockey correspondent on CTV News and TSN radio. She began her career as a Sports Journalist in 2009 and has been part of The Hockey Writers since 2010, where she is currently a senior writer and editor.