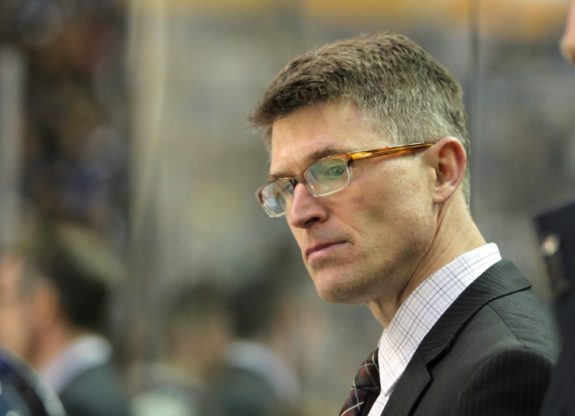 Bright and early on May 7th, the Buffalo Sabres took another important step in the rebuilding process.
General Manager Darcy Regier announced that former interim coach Ron Rolston will be the permanent head coach of the team heading into the 2013-14 season.
The move makes sense for a couple of reasons.
Firstly: he earned it.  Since taking over on February 20th, he coached the team to a 15-11-5 record while Regier was busy selling off veteran assets like Jason Pominville, Robyn Regehr, and Jordan Leopold.  The fact that this team was even on the playoff bubble after flirting with dead last is a testament to the turnaround down the stretch.
Secondly: his time spent in Rochester, Buffalo's AHL team, will serve him well. He coached young players in the AHL and will obviously get the opportunity to do so as the Sabres rebuild.  The team got younger as they shipped out veteran pieces and could possibly stand to get even younger should stars Thomas Vanek and Ryan Miller get moved at the NHL Draft or at some point during the season.
Things could get rough for the Sabres next year when they will be clearly talent-deficient and in need of direction as they develop. Rolston will be a great fit in that department; helping the team grow together and understand that the losing is (presumably) temporary.
Thirdly, and most importantly depending on who you are: he isn't a high-priced ego that could potentially get in Darcy's way.  Rolston will quietly do his job and not command a lot of the spotlight nor will he make many demands that could lead to a clash with the GM.
Rolston isn't the sexy choice. Anyone who follows the Sabres know that and some will be disappointed the team didn't go after a bigger name but with the team in the state it's in — young, clearly rebuilding as Regier has stated, and potentially getting younger — there might not be a better option out there.  Bringing in a veteran coach might not be the best bet for a young team that needs direction and teaching.
This wasn't a move that the Sabres fan base will love in the short term. Then again, there's nothing about the Sabres and their future that will be short term.
Follow me on Twitter: @RWTFC
A long-time (and long-suffering) Buffalo sports fan. Sometimes optimistic, always weary. I write other stuff for a lot of other people.