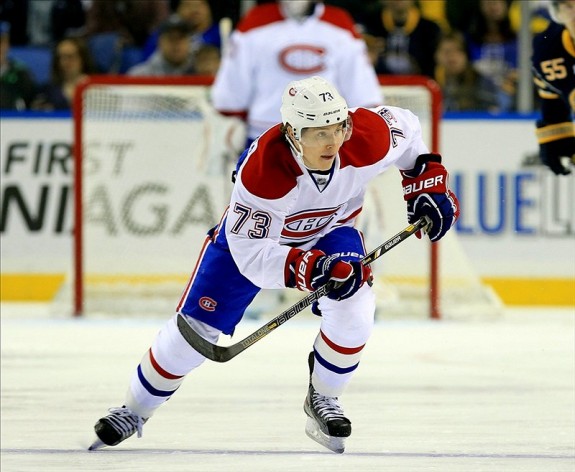 Brendan Gallagher: Calder Front-runner?
If you asked him, he'd probably say he'd prefer it the other way around.
From what we know of Montreal Canadiens rookie forward Brendan Gallagher, the small but feisty forward — who has quickly made a name for himself around the league for his ever-present smile, determination and net presence — would probably rather be basking in the afterglow of a Game 3 victory in his team's best-of-seven series against the Ottawa Senators instead of receiving a Calder Trophy nomination for the league's best rookie.
Of course, both a win and a nomination would have been nice, but it wasn't meant to be.
The right winger joins Chicago Blackhawks forward Brandon Saad and Jonathan Huberdeau of the Florida Panthers as this year's nominees. Huberdeau led all rookies in scoring with 31 points (with Nail Yakupov, whose late season push wasn't enough to get a nomination) and comes with the pedigree of being the 3rd overall pick in the 2011 entry draft. Saad was good on a great Chicago Blackhawks team, and finished the year with 10 goals and 17 assists and a +17.
Gallagher finished with 28 points (15 goals, 13 assists) and was a +10. The fact that Gallagher was a fifth-rounder, 147th overall makes his candidacy for the prize that much more intriguing. And though the playoffs technically do not apply towards the awards, if he should continue his strong play, does it give him the edge over Saad and Huberdeau?
Gallagher's Success Underscores Lack of Production From Canadiens' Veterans
After three games Gallagher has been the Canadiens' best player so far in the playoffs. He leads the league in shots on net (17), scored the game winning goal in Game 2 and is ultimately outplaying and outperforming some of his more experienced and higher paid teammates.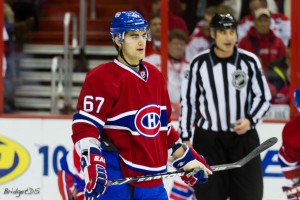 That's not to take away anything from his or even Rene Bourque's contributions, but Gallagher's success ultimately underscores the lack of production from the likes of veteran forwards Tomas Plekanec, Michael Ryder, David Desharnais, Max Pacioretty and Brian Gionta — all who should be the leading the way for the Canadiens.
Granted, both Pacioretty and Gionta are rumoured to be playing through injury, but this doesn't discount the need for them to contribute on the scoresheet for the Habs. Pacioretty led the team with 39 points this season and Gionta – who interestingly enough plays a game similar to Gallagher when he's on – has been nowhere to be found so far in the two games he's played against the Senators.
Although he looked good in Game 1, at least Pacioretty recognizes he needs to do more and is trying to work through it:
Max Pacioretty on the ice for the optional practice. #canadiens #RDS

— Renaud Lavoie (@RenLavoieRDS) May 6, 2013
Much was made of Montreal's advantage over Ottawa in scoring depth, but so far, it's been the Senators who have gotten production from throughout their lineup, highlighted by Pageau's hat trick in Game 3.
Can Gallagher's Calder nod breathe new life into the Habs for Game 4? Certainly the browbeating they took should be motivation enough to come back hard to even the series. Pretty much everyone across their lineup needs to come up with a better effort.
But how many rallying points does this team need to start playing an emotional, yet controlled version of playoff hockey? Eller's concussion? Price's teeth? Gallagher's Calder nomination? Paul MacLean's supposed slight in the form of a timeout with 17 seconds remaining in a 6-1 game? Or simply the fact that if they don't win Game 4, their chances of playing hockey further on into the spring become very slight indeed.
I'm a goalie — apparently that says a lot. Writer, producer and bon vivant I'm from Montreal but live in Toronto and write from that perspective on HabsFanInLeafLand.com. Young enough to be hip; old enough to remember where I was when Guy Lafleur scored against the Bruins in the infamous "too many men" game in the '79 playoffs. Can you say that?
You can contact Ari Grief on Facebook or on twitter @habsfanleafland