In simply looking at the end results, one might think the 2013 playoffs are going quite well for the Pittsburgh Penguins.  After all, they lead the New York Islanders 2-1 in their first round series (as opposed to being down 3-0 to the archrival Flyers at this point last year).  What's more, they have three of the top seven scorers in the league to this point and Marc-Andre Fleury tied a franchise record with his sixth career playoff shutout in Game 1.
Anyone who watched either Game 2 or 3, however, is well aware of the fact that Pittsburgh is incredibly lucky to be ahead in the series.
"You're not going to win a whole lot of games playing like that" – Mark Eaton, following Game 3
That's certainly an understatement.  After quickly falling behind 2-0 and eventually being out shot 36-25, the resilient Penguins were fortunate to come away with a victory in Game 3.  Obviously, the Game 2 loss wasn't any better, appearing eerily reminiscent of last year's Philadelphia series, complete with blown leads and soft goals.
And, yet, here the Penguins sit, positioned to exorcise the playoff demons of their past three series.  But, if they are to finish off the Islanders, there are five keys to their success.
1.  Improved 5 on 5 Play
Through the first three games of the series, even strength goal scoring has been relatively even.  In fact, the Penguins have actually outscored New York 7-6.  That stat is skewed, however, by the Pens' 5-0 dismantling of the Islanders in Game 1, in which Pittsburgh potted three even strength tallies.  Since that point, New York has outscored the Penguins 6-4.  And while that doesn't sound terrible, it's more than just about the end result.  To be blunt, the Islanders have completely dominated the Penguins for long stretches of play.
If the Penguins are going to win this series, they need to improve in virtually every facet of the 5 on 5 game.  They need better gap control from their defense as the speedy Islanders enter the zone.  They need more tenacity in the back check from their forwards.  They need to exit their defensive zone with more speed and accuracy.  And they need to start….
2.  Winning Puck Battles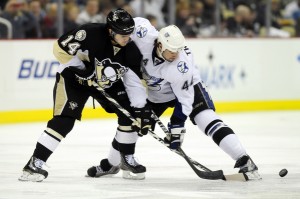 In reality, the Islanders have embarrassed the Pens along the boards the last two games.  Despite all the Penguins' talk about lessons learned from past playoff failures and players coming to Pittsburgh for a shot at the Cup, it's almost as if the Islanders simply want it more.  After being shell-shocked in the first playoff game for the majority of the New York players, the Islanders have proven to be the more relentless, the more physical and, frankly, the faster team.
As a team that prides itself on getting out of their defensive end of the ice quickly, transitioning and then hemming the opponent deep in their own zone, Pittsburgh simply won't be able to find success if they are unable to start winning some puck battles along the boards.  Should the trend continue, the Pens will continue to spend too much time in their own end, something that they are neither accustomed to nor equipped to handle.
3.  Consistent Goaltending
Despite critics constantly throwing the proverbial daggers at Marc-Andre Fleury, he hasn't played that badly in this series.  No, really.  While his 2.56 GAA is rather pedestrian, his .923 save percentage is actually quite respectable.  Now, that number is obviously buoyed by his Game 1 shutout but, with the exception of a couple of soft goals  in Game 2 – ok, the game winner was admittedly brutal – there honestly shouldn't be a lot of blame placed at Fleury's feet.  Indeed, the problems outlined above have hung The Flower out to dry far too often in the last two games.
What people may forget, though, is that the Penguins don't need Fleury to be spectacular.  With as potent as their offense is, they just need Fleury to be steady and come up with the occasional big save when they need it.  Think Grant Fuhr.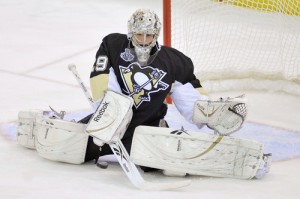 If Fleury can just outplay his counterpart in Evgeni Nabokov, Pittsburgh should be fine.  And to this point, Marc-Andre has actually done just that.  Nabokov's 4.78 GAA and .836 save percentage are the worst of any goalie to have played in more than one game in these playoffs.  Simply put, the Penguins will score enough goals to win.  If they can tighten up in their own end and Fleury gives them consistent play in net, they will get passed the Islanders.
4.  Avoiding Stupid Penalties
Thankfully for the Penguins, their penalty killing has actually been superb in the postseason, having killed off 10 of 11 Islander power plays.  In fact, if it weren't for their special teams (the power play is clipping at an incredible 46%) Pittsburgh would almost certainly be down 2-1 in the series.  These things, however, have a way of evening out; the Pens aren't likely to completely dominate the special teams battle for the entire series.
And that is precisely why Pittsburgh needs to stop taking stupid penalties.  Whether it be a careless tripping infraction behind the Islanders net (Jarome Iginla), a selfish roughing penalty (Matt Cooke), or a careless cross check (Deryk Engelland), Pittsburgh needs to start playing with more discipline.  After all, they're playing with fire in giving Jonathan Tavares and the Islanders so many needless power plays.  It's only a matter of time before they start getting burned.
5.  Evgeni Malkin
Evgeni Malkin needs to be, well, Evgeni Malkin.  It may seem strange to say given that he is tied for second in league scoring with six points but this is another case of looking at statistics versus watching the game.  Short of one brilliant pass that sprung Chris Kunitz on a game-tying breakaway, Geno's offensive production has mostly consisted of secondary power play assists, a mishandled puck that Beau Bennett turned into his first NHL playoff goal and a resilient second effort on a broken play.  And all that is great; you take whatever offense you can get this time of year.  But, at the same time, Malkin can give more.  Malkin means more to the team.
Clearly, the Penguins haven't had problems scoring goals in this series so Malkin's increased production may not be a primary concern.  But Geno has the ability to truly dominate a game, to seize momentum and turn things in the Penguins' favor.  The club needs him to be that player if they are going to keep moving forward in these playoffs.
Yes, the Penguins are up 2-1 but, in reality, they are lucky to find themselves in that position.  Indeed, there is a lot of work to be done if they are going to get out of the woods against the upstart Islanders.  If the club can improve on these five aspects, though, or at least the majority of them, there is a good chance they will survive the first round for the first time since 2010.