Every general manager knows the importance of pulling off a good trade. Getting a good return in a trade could very well provide the push a team needs to attain championship glory, while a bad trade can set a team back several years.
Lopsided deals always have massive impacts on the NHL. For example, just take a look at the 2015-16 Pittsburgh Penguins with the Phil Kessel deal or the L.A Kings' acquisition of Marian Gaborik in 2012-13.
In this list, we will take a look back on some of the most monumental trades in Carolina/Hartford franchise history. Since trade quality can be somewhat subjective, each trade will be judged on two factors; the historical impact of the trade, as well as the point-share differential between the players involved in the trade (point share is a metric created by Justin Kubatko of hockey-reference.com and is used to estimate how many points were contributed to a team by one player. for a more in-depth explanation of point shares, check out this Hockey Reference page).
Justin Williams for Danil Markov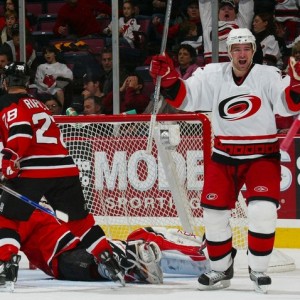 Just past the midway point of the 2003-04 season, Carolina was looking to improve upon their league-low goal total of 86, while Philadelphia was attempting to add a top-four defenseman to their lineup. The result of these searches culminated in a one-for-one trade. The trade would send Danil Markov—who, at the time, was a seven-year veteran of the league—to Philly while adding a 22-year-old Justin Williams to Carolina's roster. The trade didn't work out at all in favor of the Flyers as Markov would only play 34 games for them, contributing a lackluster five points during his short stay. Williams, on the other hand, would become a mainstay within Carolina's top six, producing 201 points in 265 games, as well as featuring prominently as a member of the Hurricanes' 2006 Stanley Cup roster.
What really made this trade stand out is Jim Rutherford's ability to recognize severely undervalued players. In this instance, Rutherford was able to add a young scoring forward that would produce excellently for five years. When looking and the point-share differential between these two players, you can truly see the difference a smart trade like this can make. Over Justin Williams' tenure in Carolina, he contributed 19.2 point shares to his team. Comparing that to Markov's point share of 1.2 for Philadelphia shows that the Hurricanes earned 17.8 more points in the standings due to this trade.
Rob Brind'amour, Jean Marc-Pelletier and a 2000 2nd Round Pick for Keith Primeau and a 2000 5th Round Pick
The Justin Williams trade wasn't the only time in which Carolina had gotten the man they wanted out of Philadelphia. Four years prior to that trade came one of the biggest deals in franchise history. The move would involve many pieces swapping places, but the real centerpiece of the trade came from the movement of two superstars in Rob Brind'amour and Keith Primeau. Primeau was the Hurricanes' top scorer for two of the three years he played with the team. Primeau found great success during his time in Carolina, earning himself a spot on Team Canada for the Olympic Games in 1998. For Philadelphia, Brind'amour was a prominent member of their high-scoring roster, consistently finishing among the top in terms of team scoring.
After the trade, Brind'amour would go on to be one of the best two-way players in the league, winning back-to-back Selke Trophies in 2006 and 2007. His greatest accomplishment, however, came in 2006, where in his first year as captain, he led Carolina to its first-ever Stanley Cup victory. Primeau found moderate success in Philadelphia, but nothing that could compare to Brind'amour's historic stay in Carolina. In terms of point shares, the entire trade left Carolina with a 17.5 bump in team points on top of their first Stanley Cup.
Pat Verbeek for Sylvain Turgeon
In June 1989, a deal was made between the Hartford Whalers and the New Jersey Devils that would have massive impacts on both franchises. Following a contract dispute with then-New Jersey general manager Lou Lamoriello, Pat Verbeek would be sent to Hartford in exchange for Sylvain Turgeon. Originally a second overall pick by the Hartford Whalers, Turgeon found decent success in Hartford. In his first four seasons in the NHL, he would average around 0.9 points-per-game, finding the net often with two seasons where he surpassed 40 goals. Verbeek had also strung together fairly impressive numbers early in his career. In 463 games with the Devils, Verbeek posted 170 goals and 321 points, including a 40-goal season of his own in 1987-88.
It was only after the trade when Verbeek truly exploded. In his first season with the Whale, Verbeek would score a career-high 89 points in 80 games. Verbeek's dominance wouldn't end there as in only six years, he became the sixth highest scoring player in franchise history. Unfortunately for the Devils, Turgeon wouldn't have the same levels of success. In Turgeon's first and only year with New Jersey, he scored 30 goals and post 47 points. After that, he played five more years in the NHL, split between the Montreal Canadiens and the Ottawa Senators. The deal in which Lou Lamoriello tried to send a message to his players had backfired horribly, much to the benefit of the Whalers. The addition of Pat Verbeek alone would add an outstanding 34.9 point shares to Hartford.
Josh Burns is from Ontario Canada and is an avid hockey lover, and covers the Carolina Hurricanes