On 28 October 2012 in a game against the Rockford Icehogs, San Antonio Rampage center Andre Deveaux reached a unique hockey milestone: He was assessed his 50th American Hockey League misconduct.
It's a dubious honor for arguably the dirtiest player in the AHL.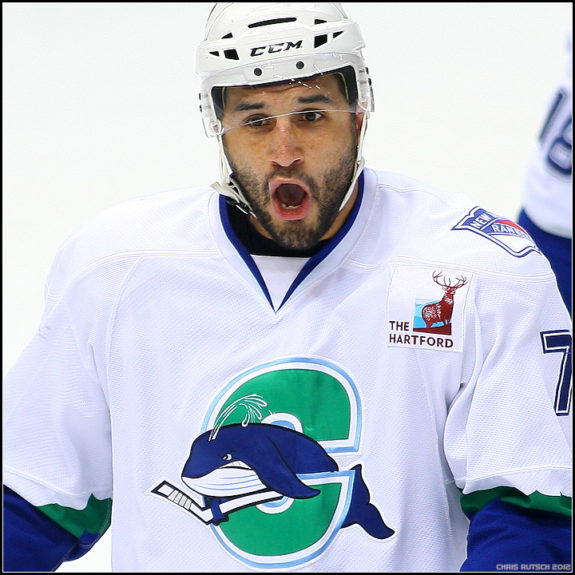 With his fifth AHL team in nine years, Deveaux's historical baggage tends to precede him. He's anything but an unknown–teams know full well what they're getting in Andre Deveaux: The size and mean streak of Eric Lindros minus the hands, the vision, the foot-speed, and everything else that made Lindros a special player.
Among other reasons, Deveaux has earned misconducts for:
Instigating
Aggressor
Kneeing
Fighting
3rd Man In
Boarding
Butt-Ending
Abuse of Officials
Unsportsmanlike Conduct
Across a professional career spent almost exclusively in the AHL, Deveaux is averaging a 10 minute misconduct every ten games. Granted he doesn't come close to the PIM and misconduct numbers put up by legendary AHLers like Dennis Bonvie and Rob Murray, but it's not for lack of effort.
DEVEAUX'S MAJOR LEAGUE HITS
While playing for the New York Rangers during a 2011 pre-season tilt against Philadelphia, Deveaux found himself on the wrong end of an ugly hit delivered by Tom Sestito. I've seen Deveaux throw similar hits so often that it wouldn't surprise me if, for a moment, Deveaux thought he was being boarded by Andre Deveaux:
Sestito's post-game defense ("I finish my checks.") was less interesting than that of Deveaux himself, who was reluctant to be too critical of Sestito, and who reminded the press that he hadn't been injured on the play.
After a spell with the Connecticut Whale, New York's AHL affiliate, Deveaux was back with the Rangers. On 19 November he lined up Montreal's Petteri Nokelainen and flattened him in signature Deveaux style:
Four days later, Deveaux earned his first NHL match penalty: an elbow flagrante to the head of Florida's' highest paid forward, Tomas Fleischmann. On the play–as clearly explained by Brendan Shanahan–Deveaux buys a little insurance on the hit by extending an elbow and a knee. You know, in case one of them misses.
The elbow earned Deveaux a 3-game suspension. He told the New York Post:
"I thought I had him lined up. The next thing I knew he was on the ice. That isn't me … I'm glad that [Shanahan] realizes that I'm not that kind of a player. If I'm going to settle something, I'll do it with my fists, not with my elbow or my stick."
Clever red herring, but who's he kidding? Who said anything needed to be 'settled'? Deveaux's problem is often with starting the nastiness, not settling it. The Rangers reassigned him to Connecticut where he told the Whale's Bob Crawford,
"I guess I elbowed myself out of the league."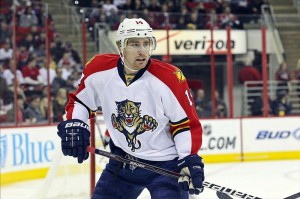 Panthers coach Kevin Dineen wasn't laughing:
"Every year the NHL puts out a video on what is legal and not legal; a hit like that would be one example of an incredibly … boy, that was … there's a guy that's only played a few games in the NHL. You can see it … At the end of the year you put together tapes of what's really wrong with the game, that hit would be one of them."
I'm not sure Dineen is making sense. He implies that Deveaux's inexperience caused him to miss the screening of this annual video; had he seen it, the hit never happens? Please. Deveaux may be Bahamanian-born, but he is Ontario-raised. He knows what flies and what doesn't.
In the summertime, Panthers GM Dale Tallon rewarded Deveaux for trying to decapitate Fleischmann by signing him to the richest contract of his career, a one-year two-way deal that pays him $160,000 to play for the Rampage:
"Andre is a big, physical and strong forward who adds further depth to our organization. He has had the opportunity to gain some NHL playing experience and we look forward to his continued growth with the Florida Panthers."
HISTORY? WHAT HISTORY?
When Brendan Shanahan said "Deveaux has no history of supplemental discipline during his brief NHL career," he was right.
In the AHL it's been a little different.
Before he laid out Fleischmann, Deveaux had been suspended by the American Hockey League on four occasions for a total of 10 games. Since Fleischmann, Andre has earned another four suspensions totaling five games, a total that includes a one-game suspension handed out this pre-season, and another one handed out just the other day.
With eight AHL suspensions covering 15 games to his name, Deveaux is becoming the reigning king of supplementary discipline and the poster boy for the league's re-offenders. It is only a matter of time before he delivers the hit from behind that a guy doesn't get up from.
Despite this– or on account of it– in the summer Deveaux never finds himself short of suitors. The AHL rule book gives no clear indication regarding just how much of this the league will tolerate, leading one to believe that for players like Deveaux, there's no limit to how low you can go.
Furthermore, if you can land a permanent NHL roster spot, there will be something waiting for you in your stall: a clean slate.