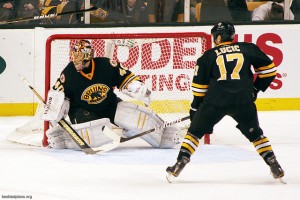 The world of sports is definitely a place where the "what have you done for me lately" mentality exists. Case in point: the Boston Bruins may have won the Stanley Cup just four months or so ago, but just nine games into the 2011 season, things have changed.
As it sits this morning, the Bruins have a 3-6 record and sit in last place in the East and 29th overall in the National Hockey League.  Coach Claude Julien had done his best to shake things up, switching the lines around, tweaking the power play, and challenging his players to perform at a higher level. I am not the biggest Julien fan, but it is clear he is trying to shake his team out of its early season. It has not worked, but the apathy is not due to a lack of effort on his part.
The problem is the players have no fear. They won the Stanley Cup, there was little turnover in the team, and no prospects quite ready to push anyone for a roster spot. The result? Everyone is comfortable about their job. Thus, no fear.
With the team struggling and no one feeling any pressure about their job, the time has come to make a deal. General Manager Peter Chiarelli needs to show the players that they cannot be comfortable and they need to play with some fear for their spot on the roster before it is too late. A trade, whether a blockbuster or not, is what is needed to show the players that what is going on is unacceptable. Moving Benoit Pouliot to Providence and bringing up Jordan Caron won't do that. However, trading someone out of town will accomplish it.
My choice to move would be Milan Lucic, who is overrated and overvalued by Boston fans. He is a slow, lumbering skater, and has done little over his last 58 games, scoring just 10 goals. Worse is the fact that he is nowhere near the physical player he was when he arrived in the NHL in 2007. Maybe he can regain that edge, but I'm not sure he can. Yes he had a nice streak of games last season where he played well and finished with 30 goals, but for most of his career, he has been a fringe player.
Moving Lucic would likely bring back some useful parts, but more importantly, it would send a message to everyone else that they either pick it up or they too can be sent elsewhere.
So who might be out there? I have been a proponent of the Bruins pursuing Calgary star Jarome Iginla. Now, I understand that the
Flames may not be willing to deal their longtime star, and it would clearly take more than Lucic, but would it hurt to actually pick up the phone and inquire about his availability?
Iginla, who is 34 and has a cap hit of $7 million, is signed through the end of the 2012013 season. He has scored 30 or more goals in 10 straight seasons – including 43 in 2010-2011 and 50-plus on 2000-01 and 2007-08. He would provide the Bruins with something they sorely need – a goal scorer. In their six losses, the Bruins have scored seven goals – including the lucky goal against Montreal last night. Yes, I am aware the Bruins did win a Stanley Cup last year without a true sniper, but here is the reality: the Bruins do not win the Stanley Cup without Tim Thomas, and no one can expect Thomas to play as well as he did in the playoffs last year. No one in the history of the NHL played as well as Thomas played last spring, so it is unfair (and unlikely) he could repeat that. Therefore, the Bruins will need someone who can score consistently to even have a shot at repeating.
Of course, Iginla would provide far more than scoring. He is a strong, physical force on the ice. He is the prototypical power forward – he bangs in the corners, works the front of the net, and will drop the gloves when needed. He would fit right in with the big, bad Bruins.
More importantly, he would fill a big void in leadership. When Mark Recchi retired, he left a big hole in terms of on- and off-ice leadership. There is no question Iginla is one of the most admired leaders in the NHL, and he would be a great asset in this capacity for this year's Bruins team.
Iginla is a perfect for Boston: he is tough, physical, a leader, and a goal scorer. He would add a presence in the locker room and on the ice, give them a legitimate 40-goal scorer, all while fitting in perfectly with the physical make-up of the team.
So, theoretically, what would it take it get this deal done? If I am Chiarelli, I start with Lucic – a native Western Canadian who is young and would be a good building block for the rebuilding Flames – and add in one of Boston's young defensemen (Steven Kampfer, Matt Bartkowski, David Warsofky, Carter  Camper). If that is not of interest, move Tuukkaa Rask and a Pouliot or a young defenseman. The Bruins have a fine young goaltending prospect in Anton Kudobin who is highly-regarded by many teams, and I am still not convinced Rask is capable of stepping up and being a No. 1 goalie in this league.
Will this trade happen? Probably not? But it should be explored. I would love to see Iginla in a Bruins' uniform for the next two seasons at least.
One thing I can virtually guarantee is something is going to happen – and soon — is someone will be headed out of Boston. The Bruins cannot afford to sit around and wait for this group to work itself out of its apathy – management needs to shake them out of it. Trading Lucic would do that.
Thanks for reading. Feel free to leave comments!
Follow Steve on Twitter @skendallhockey or on Facebook
Steve has covered hockey at all levels for over 20 years and reports and comments on the NHL for The Hockey Writers.