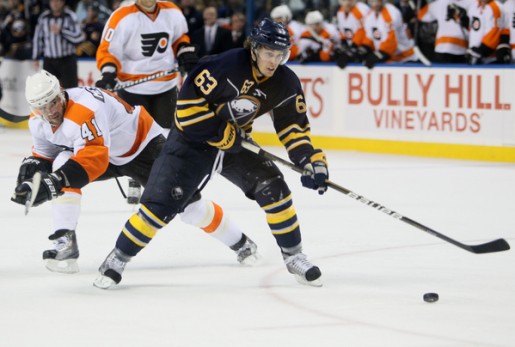 Now that the dust has settled on the NHL Draft, the time has come for teams to look forward to the NHL Free Agency, which opens on July 1st. The Buffalo Sabres need to go into the Free Agency with one goal, and that is to lock up Tyler Ennis long term.
Ennis is the lone player that the Sabres cannot afford to lose once the Free Agency comes around. Ennis is well on his way to becoming one of the Sabres top center men, and with the possible departure of Derek Roy, who was Buffalo's number one center for much of last season, that future could be right around the corner.
The Sabres have lacked strong play down the middle and they addressed that recently when they drafted two big centers, Mikhail Grigorenko and Zemgus Girgensons, just days ago. However, those two may take a season to make the jump to the big club and when they do they will not fit into that number one role right away.
This makes Ennis even more valuable to the Sabres. He will likely be the number two center behind Roy, if he is a part of the Sabres come October, and ahead of Cody Hodgson, another promising young center that was picked up at last season's trade deadline. However, if Roy is shipped away, Ennis could become the Sabres number one guy as soon as October.
There is also the possibility of Hodgson, who benefits from a bigger frame than Ennis, coming in and making a run at the number one spot as well.
Ennis, drafted 26th overall by the Sabres in '08, has shown flashes of brilliance since coming into the league. He had a strong rookie campaign two seasons ago, when he recorded 20 goals and 49 points in 82 games played. Due to his strong rookie campaign, most eagerly waited to see what he would produce during his second full year with the Sabres.
Unfortunately, Ennis fell victim to a bit of an injury bug, and was placed on the injured reserve list for just under a month from November 11th to December 2nd, and was placed on the injured reserve  again from January 6th to 31st. This injury time caused him to miss 18 games.
Even with all that time injured, Ennis still put up respectable numbers with 15 goals and 34 points in 48 games played.
Ennis had a small cap hit of $875,000 over the last three seasons with the Sabres. So he will definitely get a raise once the ink dries on his new contract.
However, the Sabres may have actually benefited from Ennis' injury and low output last season, their pocketbooks at least. When players are going through contract negotiations, the team often bases their future salary on their past play.
This being taken into account the Sabres may get away with signing Ennis for less money, resulting in the Sabres being able to get his future production at a cheaper price. This would not be the same situation say Ennis played 75 games and put together a 30 goal 50 point season, going into the Free Agency.
Ennis could be on his way to a breakout season and an All-Star career with the Sabres. But first things first, the Sabres need to make sure Ennis is not going anywhere and lock this kid up for a long time.