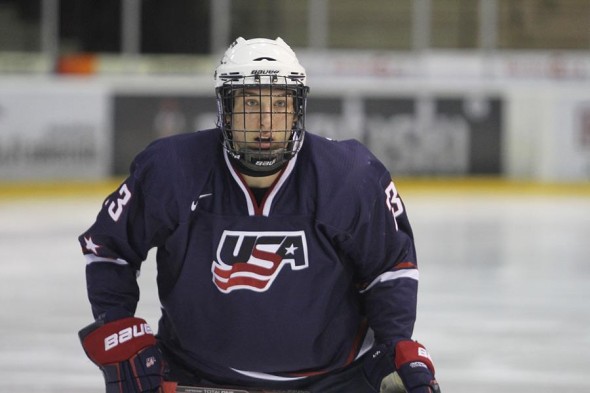 The future is not quite the present as we have learned and the 2012 NHL Entry Draft was not exception. It never is. However, when your first pick is at number 29 on day one, not too much is expected. When the top hopes fell by the wayside, options were dwindling for Lou Lamoriello and David Conte (New Jersey's GM and Director Of Scouting respectively). What does one do? Basically one pulls out a move that was made for fans of one team to squawk at another and simply say "Wow!".
When the name Stefan Matteau was uttered by David Conte, the twitter world exploded, the press row buzzed wildly, and literally the last 18 years flash forwarded all at once. There was laughter from most Devils and Ranger fans for entirely different reasons.
Now to be fair, Matteau was graded by several publications high enough to be a very late first or early second round pick. This is not one of those cases where this was a total reach. The fact that most had him around a B or B+ grade is not a surprise. It was just the name.
Thanks to Bob Mand, here is his valuation of New Jersey's first round pick.
29.)  New Jersey Devils – Stefan Matteau, C, U.S. NTDP Under-18 – The Devils' needed to add up-front on Day One and proceeded to select the son of Stephane Matteau, the Ranger who broke their hearts in overtime in '94. This new Matteau plays a rough, heavy, some might say 'dirty' brand of hockey and is a bull in front of the net. While his offensive upside is modest, Stefan Matteau makes sense for a team in-need of some additional size, grit and finish.

Value Grade: (B-); Fit Grade: (A-); Overall Grade: (B)
So the basic way to valuate Matteau is calling him a muck and grinder with a nose for the net. Maybe the offensive skills are not exactly elite but they are slightly above average. When one take a slight look at some video, there is a feeling that New Jersey did not reach here. Please see below.
As further proof of the validation of this pick, we offer up Chris Ralph's valuation with fantasy implications as a listing. Why do we include this? Honestly the knock against Matteau is his offensive upside but that may be a bit of a misnomer. The rankings ranged from 25-45 for the most part with the Center and some have said that his stock has risen enough to where that number was between 25 and 30.
What does this all mean? There is a growing sense that Matteau could develop into a David Clarkson like player with a better ability to stay up on his skates which is rather important to be blunt. If Matteau turns into a pretty good 20 goal scorer, no one is going to complain at least in New Jersey. One of the biggest things that was noticed is how the Forward seemed to always find ways to dance that fine line between filthy and borderline dirty.
After the first pick, New Jersey went according to a pretty clear and concise plan. They did go forward heavy because in reality, their defense and goaltending are fairly solid in the sense of prospects. That is the perception anyway. First, we will just list the picks from day number two hockey fans.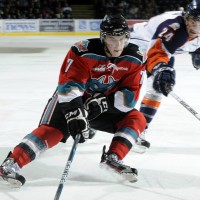 There was something about the second round pick that stuck with me. The value is there. There is a simple quote with Severson from Lou Lamoriello that just speaks volumes about where they felt this defenseman was on their rankings. When looking at players, there were few other options as some of the first round talent that fell. However, it did have that look where the boards were skewed significantly. If you do not think so, just do and check out the translation is he was pretty high. Here is the quote from the Washington Post.
"We had him in mind for the first round and we would have taken him higher in the round if we had a higher pick," Devils president and general manager Lou Lamoriello said. "Our scouts are really excited about him. No question, his size was a focus for us. Without question, he has a lot of potential. He's shown he can score."
It just seemed obvious that the 60th pick was a "best player available" scenario for New Jersey. Here is a young player who is about 200 pounds that could stand to gain another 15-20 pounds and still skate just as fast. The shot he has is above average and almost NHL level already which is something New Jersey's defensive corps sorely needs. He is a player that is probably about 2-3 years away which suite the team just fine. There are enough prospects on that side of the ledger where no rush is needed.
After the two Ben's were picked, Graham Black was a very intriguing pick at 135 for New Jersey. This is a guy who can score but does not always skate at his best. The 17 goals and 33 assists for Swift Current of the WHL indicated that he had that look where Black looked ready to make a lasting impression whether it is in Albany or New Jersey. Black has admitted that his defense needs much improvement and he did show signs late in the year of the commitment paying off a bit at the very least. He will be a project and a bit of a medium or long rate of term.
Ben Johnson is also a bit interesting because of his smallish 180 pound frame but his "Hockey IQ and vision" are unlike even many of the top first round picks. The biggest knock was the lack of physical play. At 5 foot 11, size is a slight issue but not too much of one. The key for Johnson will be to develop the rest of his game gradually (near NHL level) and whether that takes 2, 3, or 4 years really does not matter at all. Just keep an eye on Johnson because his playmaking is well above average. The process will run its course and maybe three or four years down the road will be when Johnson is seen with the big club.
Now Ben Thomson just looks like a very physical guy who takes a ton of penalty minutes yet has pretty good hands. While he does not possess anywhere near world class talent, he just has heart and an ability to drop a goal or two as one can see here. That is generally few and far between. It is something that needs to happen more if Thomson expects to make a lineup sooner rather than later.
Lastly, no one forgot about Arturs Gavrus. Gavrus was New Jersey's sixth round pick. Gavrus may have a bit more upside than even Alexander Kerfoot because Kerfoot played in yes, the BCHL. While Kerfoot has the look of being a more offensive player, Gavrus plays that desirable two way game that fans keeps locating. Gavrus had 37 points in 41 games for Owen Sound of the OHL. This is going to be a fun little class and as usual no one ever really knows what will happen with some of these picks.
We hope you enjoyed our series on the New Jersey Devils and their posts for The Next Ones, the draft, and more. Next year the draft will be in Newark and there will be even more in-depth coverage.