Damon Severson THW Close-Up:
Kelowna Defensemen has big upside.
Date of birth: Aug. 7/94
Place of birth: Melville, SK
Ht:6'2  Wt: 198
Shoots: Right
Position: Defense
NHL Entry Draft Eligibility: 1st time eligible 2012
*Click here for Notes Up Front for various topics covered below in the live updated NHL 2012 Entry Draft Guide – The Next Ones home page – your quintessential draft resource.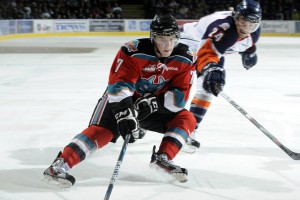 After a promising rookie campaign in Kelowna, Rockets defenseman Damon Severson increased his role and potential in 2011-2012. In 56 games played he scored 7 goals and 37 points and ended the season with a plus-5. He was slowed by a wrist injury that caused him to miss six weeks but came back nicely for the Rockets to finish the season without any lingering affects. Severson has shown up on several top 50 lists and projects to most likely be a mid to high second round pick.
According to Rockets assistant coach Dan Lambert, Severson is a great forward skater who is extremely strong and shoots the puck really well. Lambert says that at times this past year Severson tried to do too much on his own and that he needs to focus more on taking care of his own zone and getting the puck out quickly. The Rockets are expecting big things from him during this upcoming season. Lambert says that they expect him to shut down the other teams best players, something Lambert and the Rockets feel he is capable of doing.
At only seventeen he did suffer some fatigue, according to Lambert, and this summer will be key for Severson to work on his conditioning. Lambert says that the Rockets are expecting him to play signifigant and meaningful minutes next season. He has shown that he has some toughness and has not been afraid to drop the gloves to stand up for his teammates.
Severson is not neccesarliy a dynamic offensive threat from the Blueline but he has a big shot and can chip in. His potential at the next level is more of a defndender rather than a big scorer from the blueline. He will be one of the Rockets power play quarterbacks and could see an increase in his production next season. His NHL prospects may hinge on being able to play that shut down game, relax and letting the game come to him. He was recently selected to play for Canada in the U-18 world tournament and held his own against some of the world's best competition. That can only help his confidence moving forward. So will hearing his name selected by an NHL team this June.
Scout's Honour:
"Another of the tremendous "Dub" crop who is quietly developing into a strong prospect. He brings size, a strong two-way game, and some toughness. He is showing that he has an offensive side from the point or as the jump up guy. A good skater with a bit of speed, but what stands out is how good he is at playing the defensive part of his game. " – Bill Placzek, Draft Site
***
"Damon Severson has proven to be a bit of an enigma this season with the Kelowna Rockets. At times, Severson seems to have the potential to be a game breaker – and at others, he seems like more of a project than a top prospect. Severson does have good size and a booming shot from the point, but will definitely need to work on the other parts of his game in order to be successful at the next level. It's hard to find many glaring problems in his game; there just isn't much that stands out. After battling injury for more than six weeks, Severson will undoubtedly have to make up for lost time in a draft that's chock full of talented young defensemen. As a bit of a raw talent, he will certainly benefit from an ever increasing role with the Kelowna Rockets, and is definitely a key component to his team's future. " – The Scouting Report
***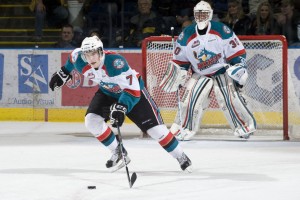 "Offensively, he seems to produce in bursts (notably tallying five assists in an early-season match) with some extended cold streaks. He won't bring the distribution prowess of Morgan Rielly or the goal-scoring potential of Matt Dumba (though he has a heavy shot) but he does the little things well in the attacking zone and it's an area of his game that's been progressively improving.
Detractors point to his skating game as suspect (he lacks the elite wheels of many of his fellow WHL blueliners) and his minimal offensive upside as reasons he's more of a second-round than first-round talent. No argument here – but a look at the whole package (size, skills, intangibles) evinces a very intriguing prospect.
Damon Severson is a relatively 'safe' pick given his physical tools and capable play within his own zone. However, because he lacks the attacking flair and elite wheels of many of his prime rivals he'll probably wind up drafted on Day Two. He could really fit perfectly for some team in the 40s." – Bob Mand – NHL Draft Profile  
Statistics:
Bio/Interview(s)/Link(s):
International Tournaments:
Severson played for Canada this past year in the U-18 tournament appearing in seven games and notched two assists.
ETA = 2 yr
NHL Potential:
Second defensive pairing with potential to become a shut down defenseman.
Strengths:
*See "THW Close-Up" section above.
Forward Skating
Great shot
Good size
Strong and physical
Tough
Flaws/Aspects He Needs To Work On:
Needs to work on conditioning in order to play big minutes.
Focusing on not trying to do too much, let game come to him.
Show that he can shut down opposing top lines.
Fantasy Hockey Potential:
Offensive = 5/10   Defensive = 6.5/10
NHL Player(s) Comparison:
Kevin Bieksa
Video(s): 
Off The Iron (Interesting Notes):
Severson is from the small town of Melville, SK which was also the home to NHL'ers Jarret Stoll and Chris Kunitz
THW's The Next Ones prospect profile template design architect: Chris Ralph