There's a quick line in the Coen Brothers movie No Country For Old Men when the main character, played by Josh Brolin, asks Woody Harrelson about the bad guy that's chasing him. "What's this guy supposed to be, the ultimate badass or something?"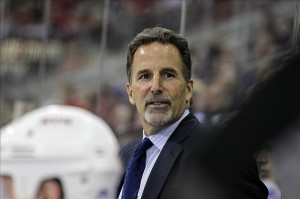 Brolin turned out to be asking about a sociopathic murderer, but he could have just as easily been wondering about New York Rangers head coach John Tortorella. Tortorella is the epitome of an old school hockey coach. He not only would have fit right in with the endlessly quotable personalities of hockey's past, he seems downright out of place among other coaches who seem to focus on giving snooze-inducing answers as much as their team's defensive system.
Torts has been in the news lately for his brief, and very brusque, press conferences. Fans and media have criticized him for barely reaching the minute mark. I'm as much of a transparency fan as the next guy but it's not like Tortorella's refusal to go into detail about his strategy is Nixon denying any knowledge of Watergate. Head coaches rarely say more than they have to with reporters and while Torts has certainly been rude, his lack of concern about the newspapers makes him that much more endearing. He's mad when they lose games and shows it. Here's a transcript of what happened the other day:
Reporter:  Are you this way with us just because you don't like dealing with us?
Tortorella: No.
Reporter:  Or is there a strategy behind not …
Tortorella: What are you being a wise ass?
Reporter: No, I'm being sincere.
Tortorella: I'm being sincere, too. I'm not gonna give you much information. Some of you guys sit here and tell me I'm curt or whatever. I'm not gonna have a staring contest. If you don't ask me questions, I'll just leave. So that's the way it is. I'm sorry I'm not a guy that wants to converse about everything during the playoffs. I'm not.
Yowza. I'm glad I don't have to ask that guy questions everyday. Still, his honest dissatisfaction with having to answer repetitive questions is refreshing. He's a badass about it because he cares more about the team than anything else and while he's been criticized for causing a distraction, that's exactly the point. The transcript above took place after the Ranger lost Game 2 to the Washington Capitals. Last month, Tortorella was fined $20,000 for calling the Pittsburgh Penguins an "arrogant" organization and say they had "whining" stars. Coincidentally, the Rangers lost to the Penguins that night. Do you see a trend? Even if the distraction is only slight, he's been able to provide a small deflection for his team during the time of the year when their confidence matters the most.
Not all of Tortorella's comments come at a time when his team needs some shelter from the storm. Even after they won the Winter Classic he was fined $30,000 for implying the league had a conspiracy to send the game into overtime. Whether he was right or wrong, he again used his megaphone mouth to call attention to something that many fans were thinking. The officiating during the Winter Classic was terrible. Even if he's not always politically correct, players love that when they're mad about something the coach is fired up too.
Torts hasn't only won me over because of his brash attitude. Most people can't stand him, but one thing no one can deny is that he's a genuine personality in a league that needs more of them. Too often when players are interviewed they answer questions with quotes like "It is what it is" or "They just wanted it more tonight." Not ol' Johnny Tortorella, no way. At 5 foot 8 inches, most of the time cameras are pointed down at him during post game interviews so it could be a classic case of short man's syndrome, but during HBO's last season of 24/7 hockey fans saw a little deeper into the coach who told Larry Brooks where to go:
It's almost weird to see him with a genuine smile instead of that smirk he's always wearing behind the bench. For better or worse, Tortorella is himself. He's not concerned with the politics of the NHL but isn't slow to apologize when he goes over the line. He's an authentic badass, and you have to respect that.