There has been no playoff hockey for the Minnesota Wild once again in 2012, but the 2011-12 season has left much to discuss and consider in Hockey Town. GM Chuck Fletcher doesn't have the easiest job in front of him, and what he feels he needs to do will be strongly based on how he perceives his roster performed during the season. This series of articles grades every player that skated for the Minnesota Wild during the season. It started two weeks ago with the goaltenders, last week it looked at the blue-liners, and it finishes today with a look at the forwards.
Dany Heatley GP 82, 24 goals, 53 points, +2
Heatley slotted into this team as a solid leadership figure and ended up leading the Minnesota Wild with 24 goals and 53 points. However, the fact is that the elite scorer has disappointed for the second straight season. Bigger things were expected of Heatley and this offense overall when Fletcher traded Martin Havlat to acquire the forward. Injuries damaged Heatley's supporting cast and there was a feeling that coach Mike Yeo really mis-used him on the power-play. Because of his all-round game, Heatley's grade is less severe than it might have been given his production. Final Grade: C
Mikko Koivu GP 55, 12 goals, 44 points, +10
The biggest problem for Koivu all season long was that first statistic. He was in and out of the line-up with injuries all season long. Not only did that have a detrimental effect to the forward lines and offensive production of this roster, but it was also pretty damaging to the structure and all-round game of this team. Koivu is a key leadership figure and strong two-way player, and his inability to establish himself as a consistent presence was a serious issue for the Minnesota Wild all season long. Final Grade: B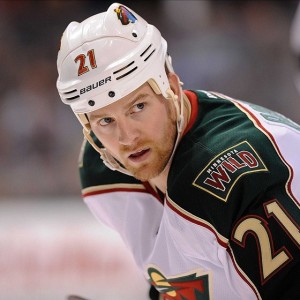 Kyle Brodziak GP, 22 goals, 44 points, -15
Brodziak was one of the bright spots on this team during the season and he was rewarded with a contract extension. He provided useful offensive depth, while playing a solid two-way game. He was perhaps unable to step up into a bigger role when Yeo was looking for extra offense from his line-up, but that was certainly no fault of Brodziak's. His steady improvement and strong all-round game make him very deserving of his grade. Final Grade: B
Devin Setoguchi GP 69, 19 goals, 36 points, -17
Setoguchi played some pretty good hockey in places, but he was extremely erratic and the truth is that a lot more was expected of the 25-year old. Another acquisition from San Jose; Setoguchi was given a top six role and expected to thrive. Instead he managed just 36 points and his game seemed to take a step back in other areas. His offensive numbers were inflated by some incredibly streaky spells as well. This is a player who the Minnesota Wild will hope produces a lot more next season, but he failed to meet expectations in 2011-12. Final Grade: D
Matt Cullen GP 73, 14 goals, 35 points, -10
It's about now that the list of players asked to do much because of injuries begins. At 35, Cullen is still going pretty strong as a decent two-way center, but it is pretty clear that his better offensive days are behind him. The veteran actually enjoyed a slightly better season than might have been expected scoring 14 goals, he played very well during the Wild's early surge and played in a number of different roles. For those reasons, he gets a slightly better grade than many of the other forwards. Final Grade: B
Cal Clutterbuck GP 74, 15 goals, 27 points, -4
Okay, so Clutterbuck can hit and can play a physical game. That's great, but is the player who showed glimpses of adding serious offensive depth in 2010-11 going to re-emerge in 2012-13. It's hard to criticise Clutterbuck, because in many ways he simply executed on his job description this season, but there has to be a feeling that this still young player can get more from his talents. Final Grade: C
Nick Johnson GP 77, 8 goals, 26 points, -6
A promising start to a rookie season didn't end up coming to much for Johnson. The 26-year old clearly has talent and the Minnesota Wild should consider giving him another shot next season. However, he definitely has the look of a player who could spend his career on the AHL borderline. His grade is lenient based on his rookie status. Final Grade: C
Pierre-Marc Bouchard GP 37, 9 goals, 22 points, -1
Hard to make a serious judgement on Bouchard. He had some difficulties before his season ending concussion. That being said, there is little doubt that this team would have been better off if Bouchard had stayed healthy. Final Grade: C
Darroll Powe GP 82, 6 goals, 13 points, -20
It feels hard to try and judge Powe's season. He wouldn't have been expecting the sort of ice time he got when signed by the Minnesota Wild. Really, he is a useful penalty killing fourth line center. However, his grade will be negative because of the disappointments in that part of his game. He didn't energise this team and didn't bring a lot of the attributes expected. Arguably, he was thrown off of his game by other line-up issues, but we won't let the veteran off here. Final Grade: D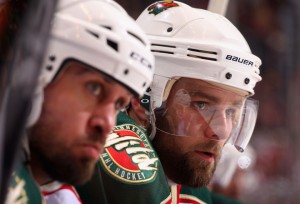 Guillame Latendresse GP 16, 5 goals, 9 points, +6
Similar to Bouchard, it is hard to judge Latendresse's season, and similar to Bouchard, there is little doubt that the Minnesota Wild would have been better off had he been able to play. Final Grade: C
Erik Christensen GP 29, 6 goals, 7 points, -13
One way of looking at Christensen's time with Minnesota is to look at that streak where he scored all of his goals and a couple of shootout successes. The other way is to look at a 28-year with offensive talent, who got 29 games in a top nine role and did little to show that he should get that chance again. Christensen was a cheap acquisiton, but it did not work out. Final Grade: D
Warren Peters GP 58, 1 goal, 5 points, -15
A career minor leaguer who was needed far too much by a thin Minnesota forward group. However, he actually didn't do a terrible job and can now say that he has scored an NHL goal in each of the last four seasons. Final Grade: C
The following players didn't really play enough/are not worth grading, so a short sentence on their performance will suffice:
Carson McMillan – McMillan is on the AHL borderline, but he actually played pretty solid hockey in 11 games this season.
Brett Bulmer – Played nine games before going back to juniors and is a player to watch out for over the next couple of years.
Jeff Taffe – A former first round pick who registered two assists in five games!
Chad Rau – Rau is a young hockey player to watch out for. He brings a lot of energy and a physical edge. It's possible that he could be on the fourth line in the future.
David McIntyre – Probably will not see NHL action again anytime too soon.
Stephane Veilleux – Was nice to see Stephane back in a Minnesota Wild uniform, but it is pretty clear that the veteran's NHL days are behind him.
Jed Ortmeyer – Ortmeyer fell off the NHL map in 2010-11, but he returned this season and showed that he can still bring energy to a fourth line. Will probably miss out next season with young players coming through and a changed roster.
Matt Kassian – Plenty of penalty minutes as expected for Kassian.
Jason Zucker – Showed enough to wet fans appetite for more in future seasons.
Cody Almond – Not spoken about much, but this is a player who still has some potential.
Jerod Palmer – Only played six games and possibly won't play many more NHL games in his career.
Jon Disalvatore – One NHL game for the career minor leaguer.
Nick Palmieri – Will be interesting to see whether Palmieri stays with Minnesota next season. He definitely has potential, but he seems like a lot of work in progress at the moment.
Kristopher Foucault – Besides the fact that he shares his name with a great Frenchmen, cannot judge too much from one game.
Seb has been writing about the NHL and ice hockey online for over a decade. A long-time passionate Bruins fan, it's a dream of his to be writing about this team, but don't expect him to hold back from telling some hard truths when necessary. Follow him on twitter @seberead