New Jersey Devils 1st Round selection, 29th overall: Stefan Matteau, LW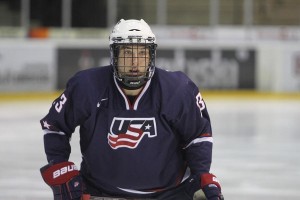 If the last name sounds familiar it's because his father, Stephane Matteau, scored one of the biggest goals in New York Rangers history, eliminating the Devils in double overtime of Game 7 in the 1994 East Finals. Stefan, was only three months old when that momentous goal was scored, born earlier in 1994 in Chicago, before dad was traded from the Blackhawks to Broadway. Stefan works out in the offseason with Dainius Zubrus, and spoke to Zubrus by telephone after being drafted. "He said congratulations like eight times," said Matteau through the New Jersey Devils twitter feed on Friday night.
He will play for the Balinville-Boisbriand Armada of the QMJHL next season, where his father is an assistant coach. GM Lou Lamoriello said that Matteau's name "wasn't even an thought" before pick was made. Then he added, "his name came up in meeting Thursday as to "is it a concern and I said, 'Absolutely, unequivocally no. A player is a player.'" Matteau's confidence may be one reason he was selected by New Jersey, "My mentality, is to make the team next year," the 18-year-old said. Stephane said he is looking forward to going to MSG and NJ to root for Stefan and the Devils.
Scouts say his skill will translate to that of a power forward when he reaches the NHL, and expect his 6'1″, 210 lb.  frame to fill out by the time that day comes. Other attributes used to describe him are: edgy, energetic and physical — the evidence clearly shows that in racking up 93 PiM's last year in the USHL in only 18 games played. He will attend New Jersey's development camp next month at Prudential Center.
For more in-depth analysis check out THWs own Shawn Reznik's great work here:
Stefan Matteau – The Next Ones 2012 NHL Draft Prospect Profile – Like Father, Like Son
Also, you can watch Matteau's post-draft press conference here:
Dan Rice can be reached via Twitter: @DRdiablo321 or via email: drdiablo321@yahoo.com
Dan Rice is in his 9th year of reporting for THW & has covered NJ Devils home games for 15+ years at various websites. He began his journey working for legendary broadcaster/writer Stan Fischler from 2002-04 & completed an internship at the ECHL; he also has been writing features for the NWHL (nwhl.zone) website since 2016.