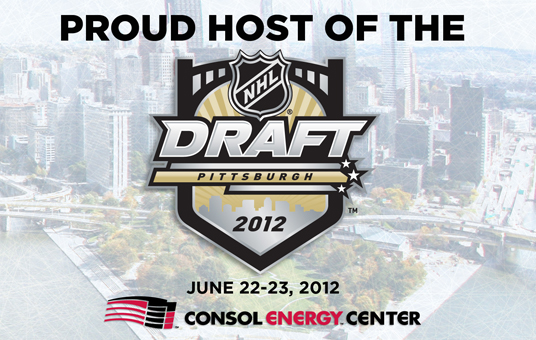 With round-one of the 2012 NHL Draft complete, it's time to give each pick an early grade on value and fit with the team that made the selection.
For the first half of the first-round check-out Part One.
16.)  Washington Capitals – Tom Wilson, RW, Plymouth Whalers (OHL) – The Capitals added a second sizeable forward with the addition of Tom Wilson. Right now, Wilson lacks anything beyond 'borderline' top-six production-potential, but his toughness, physicality, north-south skating and capable puck-control game should make him a dependable third-line pugilist and secondary scorer. Despite the low grades, I like the pick – but I'd have liked it more if they were able to trade-down or if Collberg and especially Teräväinen weren't still on the table so far into the 2012 NHL Draft.
Value Grade: (C+); Fit Grade: (B+); Overall Grade: (B-)
17.)  San Jose Sharks – Tomáš Hertl, C, Slavia Praha (Czech Extraliga) – The Sharks' system has been depleted in recent years thanks to some poor drafting and major trades which sent the organization's best youngsters out in exchange for NHL talent. Tomáš Hertl is a big, strong, playmaking center who immediately improves their prospect corps and has some top-line upside if he can get his below-average skating in-order. It's a solid pick that unfortunately looks less impressive with Teräväinen still on the board.
Value Grade: (B-); Fit Grade: (A-); Overall Grade: (B)
18.)  Chicago Blackhawks – Teuvo Teräväinen, F, Jokerit, (SM-Liiga) – Purely on value, this was the best pick of the first round. Teuvo Teräväinen possesses elite offensive potential and could develop into a dominant scorer. The franchise certainly benefits from another forward with top-line upside but the Hawks' need in-net almost supersedes the best-player-available gameplan.
Value Grade: (A+); Fit Grade: (B+); Overall Grade: (A)
19.)  Tampa Bay Lightning (From DET) – Andrei Vasilevski, G, Tolpar Ufa, (MHL) – The Lightning selected Koekkoek at pick ten of the NHL Draft to bolster their lackluster own-zone performance; they added Andrei Vasilevski with their second first-round pick to secure their future in net. Vasilevski drew rave reviews for his performance at the World Junior Championships this past winter and possesses the ideal size, athleticism, technique and poise teams look for in top 'tenders. Of course, the Bolts' signing of Riku Helenius and acquisition of Anders Lindback from Nashville softened their need for a goalie but Vasilevski is an elite talent.
Value Grade: (A); Fit Grade: (A+); Overall Grade: (A)
20.)  Philadelphia Flyers – Scott Laughton, C, Oshawa Generals (OHL) – For an organization with modest talent at several positions to select a player who plays the one position where they don't need to add certainly seems counter-intuitive. Scott Laughton represents a solid middle-line two-way centerman with outstanding intangibles but the Flyers needed help in net, on defense and on the wing. I think Laughton's going to be a player, so this certainly isn't a bad selection – but I find it hard to argue it was a good one, either.
Value Grade: (B-); Fit Grade: (C); Overall Grade: (C+)
21.)  Calgary Flames (From NSH) – Mark Jankowski, C, Stanstead College (Quebec Prep) – Oh Jay Feaster, you provide us all with so much unintentional humor. After trading out of pick-fourteen (when he had a chance to select any number of solid forward-prospects), Feaster went for the home-run selection with Mark Jankowski. He's a kid with first-line upside – but is a long way from ready and could be a major miss. I don't dislike the target – but Jankowski would probably still be on the table towards the very end of the first round of the NHL Draft (if not significantly into the second). This could go oh so wrong for Calgary – and that wouldn't be out-of-character in the slightest.
Value Grade: (D); Fit Grade: (B); Overall Grade: (C)
22.)  Pittsburgh Penguins – Olli Määttä, D, London Knights (OHL) – With their own pick, the Penguins balance the out-of-slot nature of the Pouliot selection with what's almost a steal at twenty-one. The OHL's Finnish import, Olli Määttä plays a physically sound two-way game and displayed some impressive offensive upside in the Knights' long postseason run. This solid BPA pick deserves praise even while the Pens' need to add organizational depth at forward.
Value Grade: (A-); Fit Grade: (B); Overall Grade: (B+)
23.)  Florida Panthers – Mike Matheson, D, Dubuque Fighting Saints (USHL) – Here's yet another situation where the player in question could have justifiable been selected ten or more picks beyond where he was taken. Matheson presents impressive upside as a dynamic and physical two-way blueliner, but concerns about his hockey-sense and intensity were discussed at-length in scouting circles. Despite the obvious BPA issues with Skjei, Pokka, Bystrom and Finn still on the table, Matheson is a decent fit for the Cats and has some 'boom' potential – which isn't a bad thing for the franchise with perhaps the best system in the NHL.
Value Grade: (D-); Fit Grade: (C+); Overall Grade: (D+)
24.)  Boston Bruins – Malcolm Subban, G, Belleville Bulls (OHL) – This pick appeared to come out of nowhere (Pierre McGuire's crystal ball notwithstanding) as the Bruins' brass seemed to 'troll' the B's media and fanbase with the addition of PK's younger-brother, goaltender Malcolm Subban.  Yes, the Bruins grabbed a blue-chipper in a position they lacked one in. And Subban may have been the best goalie in the NHL Draft – but with Finn, Skjei and others available – and Chiarelli's tendency to avoid goalies early, most (including this humble scribe) assumed the Bruins would improve the more immediate concern, defense. All in all, a decent pick, but not the one I would have made.
Value Grade: (B); Fit Grade: (B); Overall Grade: (B)
25.)  St. Louis Blues – Jordan Schmaltz, Green Bay Gamblers (USHL) – Adding to what is already a talented defensive corps, St. Louis selected USHL blueliner, Jordan Schmaltz. Again, the problem lies with Schmaltz's expected draft position – another ten-plus spots down from 25. The Blues could have added value and gotten their target by trading-down. Simultaneously, they passed on several arguably-superior defenders to take Schmaltz, whose offensive skillset is very impressive but lacks an advanced defensive game and rarely displays any semblance of physicality.
Value Grade: (C-); Fit Grade: (B-); Overall Grade: (C)
26.)  Vancouver Canucks – Brendan Gaunce, C, Belleville Bulls (OHL) – With Collberg and Åberg still available (and both of whom I rank higher than Gaunce), this remains a solid selection for the two-time defending Presidents' Trophy winners. Brendan Gaunce is a solid two-way player with an excellent possession game and finishing ability. Even with mediocre wheels, he's a good bet to play a second-line role at the NHL level. Given the general consensus on his ranking pre-draft, the Canucks made a great addition to their organization.  
Value Grade: (B+); Fit Grade: (B); Overall Grade: (B+)
27.)  Phoenix Coyotes – Henrik Samuelsson, RW, Edmonton Oil Kings (WHL) – The surprising 'Yotes made it to the Western Conference Finals thanks to goaltending and defense. However, their quick disposal at the hands of the Kings reinforced their need for additional ability up-front. Samuelsson evinced his attacking skillset with some solid production after joining the Oil Kings midseason. Again, Åberg and Collberg were significantly higher in my rankings but Samuelsson is a gritty, talented fit for the Coyotes.
Value Grade: (B); Fit Grade: (A-); Overall Grade: (B+)
28.)  New York Rangers – Brady Skjei, D, U.S. NTDP U-18 – The Rangers own an excellent prospect corps with solid depth and talent at several positions. Unfortunately, the position they're deepest at is defense and that's where the Rags added on Friday night. In acquiring the U.S. NTDP's Brady Skjei, New York snagged one of the two best defensemen available. He's a safe, mobile blueliner who seems destined for a middle-pairing, minute-eating shutdown role.
Value Grade: (A-); Fit Grade: (B-); Overall Grade: (B+)
29.)  New Jersey Devils – Stefan Matteau, C, U.S. NTDP Under-18 – The Devils' needed to add up-front on Day One and proceeded to select the son of Stephane Matteau, the Ranger who broke their hearts in overtime in '94. This new Matteau plays a rough, heavy, some might say 'dirty' brand of hockey and is a bull in front of the net. While his offensive upside is modest, Stefan Matteau makes sense for a team in-need of some additional size, grit and finish.
Value Grade: (B-); Fit Grade: (A-); Overall Grade: (B)
30.)  Los Angeles Kings – Tanner Pearson, LW, Barrie Colts (OHL) – Columbus passed on the Kings' first-rounder this year in hopes of securing a better selection in 2013, and LA used their pick to secure the rights to twice-passed-over Tanner Pearson. A 1992-born forward who set the OHL on fire with a torrid first-half performance in '11-'12, Pearson appears ready to take the next step into professional hockey. With depth on defense and in-net it behooved Los Angeles to grab a forward this June (particularly after their disappointing offensive showing during the regular-season). Pearson may not have been at the top of many 'best forwards available' lists at this point, but he shouldn't have been too far down, either.
Value Grade: (B-); Fit Grade: (B); Overall Grade: (B-)
Again, for the first half of the first-round check-out Part One.
For more NHL Draft news, profiles and insight: Head over to THW's Dedicated 2012 Draft Page – The Next Ones 
For even more Boston Bruins 2012 NHL Draft news, follow Bob Mand on Twitter at @HockeyMand
Bob is a Boston Bruins Correspondent for The Hockey Writers. He lives in the Boston Metro Area with his wife, Amanda and their five-year-old son, Cormac.