Mark Jankowski THW Close-Up:
Date of birth: September 13th, 1994
Place of birth: Dundas, Ontario
Ht: 6-2 Wt: 175
Shoots: Left
Position: Center
NHL Draft Eligibility: 1st time eligible in 2012
THW Ranking (May): 42nd
Other Rankings
***
*Click here for Notes Up Front for various topics covered below in the live updated NHL 2012 Entry Draft Guide – The Next Ones home page – your quintessential draft resource.
***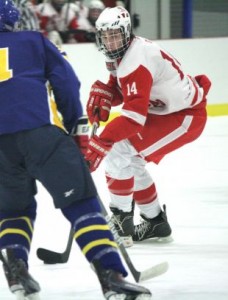 If you're looking for a wild card in the next NHL Entry Draft that will be held in Pittsburgh in less than three weeks, look no further than Mark Jankowski. The lanky center was even ignored in the OHL Priority Selection Draft up until this season, two years after being eligible, when the Saginaw Spirit grabbed him in the seventh round (131st overall).
After two years at Stanstead College, a Quebec boarding school, where the calibre is much more inferior than that of major junior hockey, Jankowski still doesn't know if he will make the transition to the NCAA, where he would play for Providence College Friars, or head to the OHL and dress for the Saginaw Spirit. Mark Jankowski has also been drafted 11th in the first round of the USHL 2012 entry draft by the Dubuque Fighting Saints where he would play after college, should he chose that path. Top-prospects Zemgus Girgensons and Mike Matheson are currently playing for the Saints.
Jankowski is also aware that if he is a first-round choice, the team that drafts him will likely have a say regarding where he plays next season.
This past season, Janowski tallied 53 goals and 40 assists for 93 points in only 57 games (with a plus/minus of +51) following a rookie season during which he recorded 36 goals and 46 assists for 82 points in 78 games at Stanstead College. Jankowski's rise as a prospect for the upcoming is primarily due to a growth spurt that saw him go from 5'8" to 6'3" in a period of 18 months. While he has grown in stature, he weighs only 175 pounds and needs to bulk up during the summer to handle the tougher competition he will most likely face next year.
A smooth skater with a great on-ice vision, Jankowski is a very creative player that can score goals and distribute the puck to his line-mates. The skilled pivot is very patient with the puck and his high hockey sense helps him create offense for his team-mates. While he has dominated the MPHL this season, Jankowski will need to play against better players in 2012-13 in order to develop normally. Should he decide to play one more year at Stanstead, I fear he will stagnate and fail to make a smooth transition to the higher level.
His grandfather, Lou Jankowski, had an 18-year pro career in the NHL in Detroit and Chicago in the 1950s. And his great-uncle is Hall of Famer Red Kelly who played 1,316 games over 20 years for Detroit and Toronto.
Jankowski, while still very raw, can play a two-way game and doesn't take a shift off even if he still needs to get used to his rapidly-changing body. He needs to add weight to play a more physical game along the boards and improve his strength over the summer in order to be more fluid and strong on his skates. The Dundas native will also need to work on improving the speed and the release of his shot as it could be much better.
At this point of his career, Jankowski is a long-term project, albeit a very intriguing one, and he's a typical high-risk high reward player with a high ceiling that could turn out to be a late first-round or early second-round steal for the team that takes a chance on him.
With the news that Bobby Kinsella, former director of scouting for the Dubuque Fighting Saints, has been hired by the Montreal Canadiens as a USHL scout out of Chicago, I would not be surprised at all if the Habs take Jankowski with their 2nd round pick (33rd overall). Kinsella recruited Max Pacioretty and Steve Kampfer, among others.
Scouts' honour:
"Jankowski is a typical late bloomer as he grew 6 inches this season. His sudden growth spurt has left him rail thin as he is vastly under-developed physically, weighing a slight 170. His strength test results at the Combine were certainly a reflection of that. Nonetheless he is a solid prospect due to his ability to manufacture offence. His vision, puck skills and patience with the puck are his best attributes. More of a finesse player, he lacks a physical dimension to his game. Jankowski skates like a young Jason Spezza as he lacks fluidity but has good levels of speed. His anticpation and hockey sense keep him involved in plays even though he doesn't have the best start up speed. Jankowski desperately needs to add power and strength to his game. His shot as a result is not very strong nor is the quickness of his release. His sudden spike in development is a healthy sign for NHL clubs. This year he dominated the MPHL and helped his draft stock considerably with a strong end of season showing at the Beanpot Classic playing against better players. Jankowski has the potential to be a top six scoring centre at the NHL level. " – McKeen's Director of Scouting David Burstyn Twitter account: @DavidBurstyn
***
"Rangy centreman with long, smooth stride that will only get better as he develops his strength and leg drive. Plays with his head up and has excellent on-ice vision. Creative player who makes his linemates better, showed some impressive instant chemistry with Ben Foster at Beantown Classic – the duo were noticeable on just about every shift. He's a project at this stage, but in terms of raw upside, I don't know that I saw many better prospects this year than Jankowski. He's not all that physical a player, but he doesn't shy away from contact either. I think he'll address that aspect of his game as he matures." Red Line Report's Kirk Luedeke Twitter account: @kluedeke29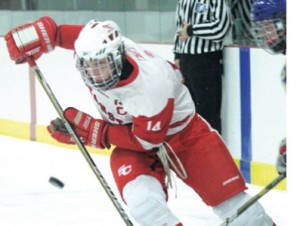 ***
"A real late bloomer, he skates well, has great vision with the puck and tremendous playmaking understanding and potential. He comes from a great hockey family and really just looks to giving only a small glimpse of what he could progress to be at this point." ISS Hockey's Ross MacLean Twitter account: @rossmaclean
Statistics:
Bio/Interview(s)/Link(s):
• Kirk Luedeke draft profile on Mark Jankowski: New England Hockey Journal
• The Montreal Gazette: NHL prospect Mark Jankowski's stock rises
International Tournaments:
None
ETA = 4-5 years
Risk-Reward Analysis:
Risk = 5/5 Reward = 5/5
NHL Potential:
First or second line center
Strengths:
• Very good hockey sense and excellent on-ice vision
• Intelligent player with good offensive instincts
• Patience with the puck and great puck-distribution skills
• Surprisingly good defensively
• Accurate slap shot and wrist shot
Flaws/Aspects He Needs To Work On:
• Needs to improve his first few steps and acceleration
• Needs to bulk-up (add 15-20 pounds), and strengthen both his upper body and lower body
• Needs to improve his face-off skills
• Needs to work on the quickness and the release of his shot
Fantasy Hockey Potential:
Offensive = 8/10 Defensive = 7/10
NHL Player(s) Comparison:
– Jason Spezza
Video(s):
None available
Follow Fred Poulin for all your 2012 NHL Draft prospect needs and get more information on the NHL.
THW's The Next Ones prospect profile template design architect: Chris Ralph