Dalton Thrower THW Close-Up:
Date of birth: 12/20/1993
Place of birth: North Vancouver, BC, CAN
Ht:  6'0″ Wt: 190
Shoots: Right
Position: Defenseman
NHL Draft Eligibility: 2012 1st year eligible
THW Ranking (May): 16th
Other Rankings (via Lighthouse Hockey)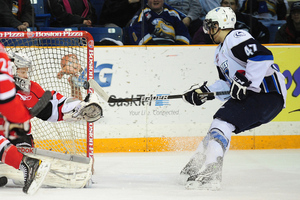 ***
*Click here for Notes Up Front for various topics covered below in the live updated NHL 2012 Entry Draft Guide – The Next Ones home page – your quintessential draft resource.
***
Dalton Thrower seems to be aptly named for his destined profession. He projects to be a tough, two-way defenseman who patrols the blueline like an ice gladiator.
Thrower is not the biggest blueliner that will be selected in June, but he still plays a very effective physical game. Naysayers have focused on his size, citing NHL Central Scouting's underestimated listed dimensions of 5'11" and 179 lbs. Dalton is actually 6'0" 190-195 lbs and is as hard as nails. This was evident on the big stage of the CHL Top Prospects game:
"Thrower came to the aid of his best friend following a tremendous hit that sent Sutter head over skates in his own zone. Plymouth Whalers forward Thomas Wilson was the one to raise the ire of Thrower, who wasted little time when given a brief window of opportunity to set the record straight despite being four inches shorter and 18 pounds lighter than the 6-foot-4, 200-pound Wilson. Wilson appeared to get the upper hand initially, but Thrower, who partners with Colorado Avalanche prospect Duncan Siemens in Saskatoon, had a good finish." (Mike Morreale – NHL.com)
He is a silky smooth and efficient skater. His game does go well beyond the numbers, but he did finish 8th in defensemen scoring in the WHL. He can man the left or right point, delivers crisp and accurate passes, and has a blistering shot. He is also adept at rushing the puck.
Dalton is effective at both ends of the rink, improving his defensive play as the season wore on. He is sound in his positional play, but has noted himself that he still needs to continue to work on gap control.
Thrower's really elevated his game throughout this season. He was relied upon heavily by the Saskatoon Blades when the blueline was decimated with injuries; Thrower excelled when called upon to log a ton of ice time.
Teammates will love going into battle with this talented blueliner. Coaches will love his passion for the game, relentless work ethic and the way he leads by example.
Where will he end up in June: While I have him ranked 16th overall in my current Top 120 rankings (May, 2012), I had him landing in Chicago at 18th overall in my Memorial Cup Edition Mock Draft. He'll likely land anywhere from 15th to 35th overall; I think he will be a steal if he falls out of the first round.
Scout's Honour:
When you can blend together a physically agitating, hard-hitting blueliner with one that can make hard, accurate outlet passes or rush the puck, you get Thrower. The scrappy defenseman has grown in his ability to cover his own end, complimenting the physicality he brings. With a rocket of a shot, the Saskatoon Blades blueliner can be a threat at both ends.
Aaron Vickers, Managing Editor – Future Considerations *FC's 2012 Draft Guide now available
***
Dalton Thrower is one my favorite prospects in this draft. He is gritty, tough and intelligent on both sides of the puck. He isn't afraid of anyone and has some seriously underrated puck management skills.  His development has been very strong and he can play a variety of roles for a team. He has some Darius Kasparaitis in his game but with more offense and reminds most people of a Kevin Bieksa sort.
Ross MacLean,  Head Scout – International Scouting Services
***
Thrower is a tough, two-way defenseman that loves to throw the body and get involved at both ends of the ice. He also has very good hockey sense which he uses to make very good outlet passes to his teammates. He is often compared to Vancouver Canucks defenseman Kevin Bieksa. In 66 games he registered 54 points and 103 penalty minutes.

Fantasy Outlook: B-

Will get power play minutes wherever he goes. Solid fantasy value.
Zenon Herasymiuk, DobberProspects.com
***
"I love his toughness and character, but I don't see him as a point producer at the NHL level," said one Western Canada-based NHL scout. "He brings a lot of the characteristics you want on your hockey club including smarts, tenacity and a will to win. That isn't enough for him to be in play for us in the first round, but he is the kind of player you win with."

Another NHL scout for a Western Conference team sees similarities to Kevin Bieksa, defenseman for Thrower's favorite NHL team, the Vancouver Canucks.

"He's got some Bieksa in him and I think Thrower's offensive abilities are underrated," the scout said. "He's still developing, but put him in the right system and I think he's capable of being a top-three defender capable of giving you 40 to 50 points one day. Some will say that he's not skilled enough to be a natural point producer, but he's a smart, hard-working kid who looked pretty effective to me this season."
Via Kirk Luedeke, New England Hockey Journal
Statistics:
Bio/Interview(s)/Link(s):
1. How would you describe yourself as a player?

"I'm a guy who works hard every night and can move the puck and play good in my own end. I'm more of a two-way defenceman. I can play in all situations."

2. Do you try and model your game after an NHL defenceman?

"Yeah, I try and play like (Vancouver Canucks defenceman) Kevin Bieksa. He plays a solid two-way game and that's what I try and do. Be a guy that can make stuff happen at both ends of the ice."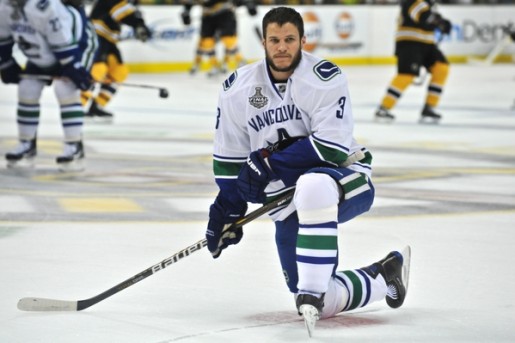 International Tournaments: 
Thrower suited up for Canada Pacific U17 at the WHC-U17s; he had 6 PIM and no points in 5 games in the tournament.
ETA = 2 years
Risk-Reward Analysis: Risk = 0.5/5   Reward = 4/5
NHL Potential: Top 3, two-way defenseman
Strengths:*See "THW Close-Up" section above.
Tenacity
Passion
Endurance
Skating
Shot
Poise
Physicality
Competitiveness
High defensive acumen
Offensive upside
Flaws/Aspects He Needs To Work On:
Continue to train to increase strength and add mass to frame to handle the rigors of the NHL.
Continue to develop his defensive zone acumen, especially with respect to gap control.
Fantasy Hockey Potential: Offensive = 8/10   Defensive = 8.5/10
NHL Player(s) Comparison:
– Kevin Bieksa, Kris Letang
– Hall of Fame comparison:  Chris Chelios
Video(s):
Off The Iron (Interesting Notes):
Dalton was drafted in 2008, round 2 #30 overall by Saskatoon Blades in the WHL Bantam Draft.
Josh (his brother) is  a forward who was selected in the 2nd round (23rd overall) in the 2011 WHL Bantam Draft by the Calgary Hitmen.
Worth Retweeting:
http://twitter.com/WHLFromAbove/status/208584610861432832
Blades blueliner Dalton Thrower (@thrower47) has 32 points in his last 29 games. Time to consider a 'Big 5' from the WHL in 2012 now?

— Aaron Vickers (@AAVickers) March 5, 2012
@bladeshockey 2012 NHL draft eligible highly touted blueliner Dalton Thrower has logged ton of icetime &had enuff in tank 2 blast PPG in 3rd

— chris ralph (@ChrisRa1ph) March 3, 2012
***
THW's The Next Ones prospect profile template design architect: Chris Ralph
***
Christopher Ralph is THW's prospect and draft analyst as well as a managing editor.
*Follow ChrisRalphTHW on Twitter as he infiltrates, dissects & analyses all happenings of hockey prospects & the NHL entry draft.
Chris is THW's senior draft/prospect analyst and a Managing Editor. Watch for "The Next Ones" Prospect Profile series, exclusive rankings, mock drafts, as well as the annual THW NHL Entry Draft Guide. Follow @ChrisRalphYQ on Twitter as he infiltrates, dissects and analyzes all happenings of hockey prospects and the NHL entry draft. Email: cralph[at]thehockeywriters[dot]com