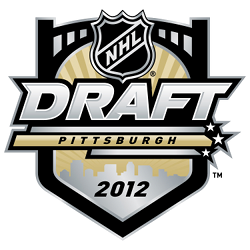 There are many talented players available for selection in this year's NHL Entry Draft, which is being held June 22-23 in Pittsburgh, Pennsylvania. A duo from the Sarnia Sting highlight the top forwards, and they are joined by many other great prospects from around the world.
Below you will find a group of the top forward prospects available, as  well as a group of sleeper picks. The top prospects are self-explanatory, and the sleepers are players who have some question marks surrounding them, but could ultimately end up being real steals at the draft. Not all top prospects are listed, but many of the more interesting ones can be found on this list.
The Top Prospects
Yakupov is widely considered to be the best player available in this year's draft. Falling outside the top three is nearly out of the question. There are some injury concerns, but he is clearly the most talented draft eligible player. He's expected to be chosen first overall by the Edmonton Oilers, and he has stated he'd love to play there.

Forsberg has risen up draft rankings all season, but appears to have halted his climb at the number two spot. He might just be the most sure-fire top prospect to have a long, successful NHL career. No relation to Peter, Filip has had consistency issues, but will still be an excellent prospect for whichever team selects him on draft day. He could go anywhere from second overall to around number five.
Grigorenko had the "Russian-factor" label placed on him early, and he just hasn't been able to shake it off. He's one of the most dynamic players available, and has tremendous vision, but there are many concerns about his defensive responsibility and work ethic. He's ranked number two by ESPN/Hockey Prospectus scout Corey Pronman. Don't expect him to fall outside the top five.
Alex Galchenyuk (Metcalfe Photography)

Alex Galchenyuk (Sarnia Sting) (OHL)
Galchenyuk is considered to be the best risk/reward player in the draft. He only played two regular season games for Sarnia this season, but tore it up as an OHL rookie last year. Galchenyuk has such great talent that he could seriously be considered as a potential candidate to go first overall. The risk is indeed high, as injuries derailed his entire 2011-2012 season, but the reward could really pay off big time.
Though he wasn't very high on draft boards at the start of the season, Teravainen has rocketed into top-ten conversation. At 5'11", 165 pounds, Teravainen is by no means a large player, but he makes up for it with his flashy, skill-filled game. There's potential for stardom, so he could very well end up going in the top ten if a team is really high on him.
Gaunce is a bit of a question mark, but still qualifies as a top prospect. There are those who believe the Sudbury, Ontario native should go in the top ten, and there are also people who believe he should not go in the top twenty. His size his very attractive to NHL teams, and he's viewed as possibly becoming a physical, scoring centre in the pros. He has potential to fall in the draft though.
Alongside Forsberg, Collberg is one of the top Swedish forwards available. Collberg is recognized as a skilled player who has tremendous speed. His playmaking skills are also rated very well. Collberg's defensive skills need some work, but defense is much easier to teach than offense. As is the situation with many young prospects, he needs to bulk up a bit. Eventually, Collberg will be expected to develop into a top-six forward in the NHL.
Faksa had a great rookie season in the Ontario Hockey League under head coach Steve Spott. He has been compared to Gabriel Landeskog of the Colorado Avalanche. Faksa is recognized for his poise with the puck, and even at 6'3″, 203 pounds, it is believed that Faksa still has room to grow. Has the potential to turn into a dominant NHL power forward.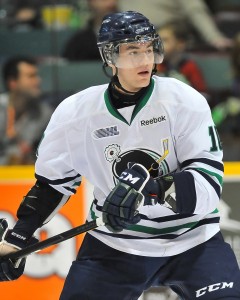 Tom Wilson (Plymouth Whalers) (OHL)
Watching Tom Wilson play is like watching a beast skate around on the ice. Wilson punishes opponents and is willing to run over everyone in his way. He can also back up his physical play by dropping the gloves and taking on larger opponents. He's 6'4″, 200 pounds already, and is expected to get even bigger by the time he establishes himself in the pros. The most common NHL player comparison for Wilson is Milan Lucic of the Boston Bruins.
The Sleepers
Andreas Athanasiou (London Knights) (OHL)
At the start of the season, Athanasiou was viewed as a good candidate to be selected in the first round. That's not the case anymore. It's still possible, but it's more likely he goes in the second. Athanasiou has an amazing amount of skill, it's just that sometimes, he doesn't seem to know how to use it. He's a high risk/high reward player.
Ryan Rupert (London Knights) (OHL)
Seeing Ryan Rupert run around on the ice and wreak havoc is just a pleasure to watch. I've been watching Rupert play for multiple seasons, and it never ceases to amaze me how people can say he doesn't have National Hockey League potential. Everywhere you go, you do not see the name of Ryan Rupert on draft rankings. At the start of the season, I chose him as my top sleeper in one of my mock drafts, and after his performances in the playoffs and Memorial Cup, Ryan certainly has a chance of being selected in one of the later rounds.
The story of Tanner Pearson is an interesting one. He's a 1992 birth-date, and has been passed over twice in the NHL draft. After really committing himself to the game in the summer, Pearson will very likely be chosen in the second round. Whether he's just a late bloomer or someone who has maxed out his potential is unknown, but Pearson will continue to prove the doubters wrong at the draft, and hopes to make 29 other teams regret passing over him three years in a row.
Scott Kosmachuk (Terry Wilson/OHL Images)

Scott Kosmachuk (Guelph Storm) (OHL)
Many believe Kosmachuk can be an everyday player in the NHL. The question is whether it's supposed to be as a scorer or as a grinder. Kosmachuk has put up good numbers while playing for Guelph, but no one's too sure as to what kind of game he intends to play. Because of that, he could be an early second rounder, or he could potentially fall out of the third round. It will all depend on what a team sees in him.
Consistency is the word when it comes to Mike Winther. He has speed and a good shot, but he ends up being really flaky at times. Rick Jackson of NHL Central Scouting says, ""I really like how he is a very smart player in the offensive zone and is always on the right side of the puck around the net. He also has a very quick release, his skating is very good, and he is hard to knock off the puck when he gains control."

The question mark following Matia Marcantuoni around is a big one. Coming in this season, he was viewed as a good bet to go in the first round. However, after an injury limited him to 24 games this year, Marcantuoni could end falling until the third round. He clearly has great speed, and he has solid leadership qualities, but scouts aren't sure whether his game can translate to the next level yet. After a good rookie season with Kitchener, he should get scooped up by a team willing to be patient with him.
Martin Frk (Halifax Mooseheads) (QMJHL)
Frk made a huge impression at the 2011 World Juniors in Buffalo while playing for the Czech Republic. That performance created lofty expectations coming into the 2011-2012 season. But then he was concussed, and it all went downhill from there. Now, Frk is back and trying to prove that he has more than potential. The injury concerns will no doubt scare teams away, but there should be someone in the second or third round willing to take a chance on him.
Ty Bilcke (OHL Images)

Ty Bilcke (Windsor Spitfires) (OHL)
There are more than a few people in the hockey world who don't like the way Ty Bilcke plays. Why, you ask? Simply put, Bilcke had 221 penalty minutes in 61 games play this season. According to hockeyfights.com, in those 61 games, Bilcke had 37 fighting majors. However, he has stated that he intends on developing his game so he can do more than just drop the gloves; he plans on becoming a well-rounded player.
In last year's draft, the Philadelphia Flyers took Derek Mathers of the Peterborough Petes in the seventh round. At the time, Mathers was making impressions in a style very similar to what Bilcke has done. Expect something similar to possibly happen with Bilcke in June. By clicking here, you can watch Bilcke and Mathers go at it one-on-one from earlier in the season.
That wraps up my Forwards Preview for the upcoming 2012 NHL Entry Draft. Be sure to keep an eye out for the next part of the series, which will focus on the top defensemen available.
________________________________________________
Follow me on Twitter: @DavidOConnor95    "Like" my page on Facebook: David O'Connor