Teuvo Teravainen THW Close-Up:
Date of birth: September 11th, 1994
Place of birth: Helsinki, Finland
Ht: 5-11 Wt: 170
Shoots: Left
Position: Center/winger
NHL Draft Eligibility: 1st time eligible in 2012
***
Click here for the live updated NHL 2012 Draft Preview Guide – The Next Ones – your quintessential draft resource.
***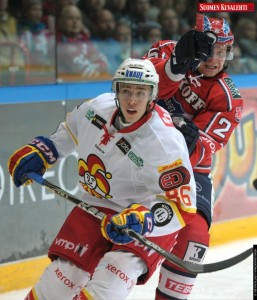 The skilled forward from Helsinki made a great impression during his rookie season with Jokerit of the SM-Liiga, the top professional ice hockey league in Finland, being named the rookie of the year (Jarmo Wasama Trophy) after recording 11 goals and 7 assists for 18 points in 40 games. He joined the men's team at Jokerit after a fast start with the club's U20 team. While these numbers don't seem dominant, don't forget that Teravainen is still only 17 years-old and that he was playing in an elite league filled with physically mature and talented players. He did have 12 goals and 8 assists for 20 points in only 11 games with his junior team before his promotion midway through the season.
The youngest of the top-30 prospects, Teravainen has a rocket of a shot that is lethal around the net. The talented winger is blessed with a great hockey sense, top-notch puck skills and great skating abilities similar to Pavel Datsyuk. An excellent puck-distributor, he is also able to score goals thanks to great hands and superior hockey sense. Because of his small size, he has to use his speed to be first on the puck as his small stature doesn't allow him to wrestle physically along the boards with bigger defensemen. A power-play specialist, Teravainen likes to circulate the puck at the top of the right-hand circle and use his booming slap shot to fool goaltenders.
Teravainen is a typical boom-or-bust prospect as he possesses the skill-set to become a lethal offensive weapon in the NHL; however, he will need to improve his muscular strength and work on his defensive game to become a more complete player and handle the rigors of the extremely taxing NHL season. He's made great strides in improving his first step, his acceleration and his agility over the season. While Teravainen has been mostly used as a winger this season, Jokerit GM Jarmo Kekäläinen confirmed that TT will be used as a center next season.
Tevarainen's stock has improved noticeably this season thanks to a very good U-18 tournament and most experts expect him to be a top-10 selection at the next NHL Entry Draft in Pittsburgh. He rocketed in the top-10 in April ISS Rankings, gaining 21 positions.
Scout's Honour:
***
[…] Teravainen is an impressive skater with a great first few steps who can get to a dangerous top speed that puts defenders on their heels, while also showing the ability to change gears quickly, and is very elusive from a standstill. His combination of quickness and speed is a great asset but his possession skills are even better and really drive top-end value. Teravainen has high-end puck skills which when combined with the ability he has with his feet, allow him to make very rapid movements with the puck and create space for himself in an instant. He's a smart, creative player who knows how to miss checks and open up lanes. Tervainen has plus vision and regularly makes very aware distributions with regular moments of flash in his playmaking. […] – Hockey Prospectus' Corey Pronman Twitter account:@coreypronman
***
"Teravainen is probably the player who has shown the most development from August to now. Smooth, intelligent with great two-way efforts. He has a great one timer but can also really find his teammates well from the perimeter and off the rush. A very dynamic threat at all times." ISS Hockey's Ross MacLean Twitter account: @rossmaclean 
***
"Teravainen may have the best hands in the draft. His offensive zone hockey sense rivals that of Yakupov and Grigorenko. He started the season with a bang as he led all scorers at the Ivan Hlinka tournament. His season progressed well in the SM-Liiga with Jokerit (the highest senior men's league) as he was a permanent fixture on the second line. He thrived laying against competition 10 years older than him. Despite being a rookie his game benefited the point totals of his line mates. Playing in the SM-Liiga better prepared him for international tournaments against his own peer group as he was sensational at the U18 5 Nations tournament in February, capturing a second place finish and concluded his season with a strong World Under-18 Championships. What makes Teravainen so special is his innate ability to slow down the pace of game with the puck on his stick. Teravainen has superior puck-handling skills and can spot the open man or trailer with ease as he holds onto the puck until the last possible second before executing a pass. His shot is also calculated and well placed. It is above average in terms of release and quickness, but it is not a heavy shot, more so an accurate one. Teravainen's lack of physical play has come into question. He can play on the perimeter and is not the type of player to dig in the corners or go to the front of the net to retrieve the puck. Nonetheless his ability to manufacture offense is very enticing to NHL teams. Teravainen needs to play with physical wingers at the NHL level who can get him the puck  and also have the ability to keep up with his offensive imagination." – McKeen's Director of Scouting David Burstyn Twitter account: @DavidBurstyn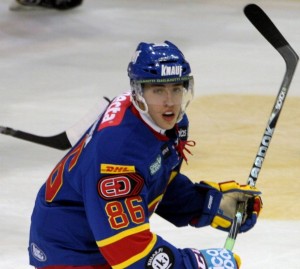 Statistics:
Bio/Interview(s)/Link(s):
• Our own Bob Mand's profile of Teravainen on NHL Mock Draft
• Power Play with CJ, prospect profile: Teuvo Teravainen
International Tournaments:
2010-11 IIHF World U18 Championships – 6 games, 0 goal and 0 assist for 0 point
2011-12 IIHF World U18 Championships – 6 games, 2 goals and 6 assists for 8 points
ETA = 2-3 years
Risk-Reward Analysis:
Risk = 3/5 Reward = 4/5
NHL Potential:
Top-six winger
Strengths:
• Great skater and puck-handler
• Accurate and quick slap shot
• Great hockey sense
• Smart passer
• Good offensive vision and hockey acumen
• Excellent puck-distributor
Flaws/Aspects He Needs To Work On:
• Not a physical player, he needs to add 15-20 pounds in order to be able to handle NHL players better
• Needs to improve his balance and his lower-body strength as he tends to be knocked off the puck easily
• Needs to polish his defensive game, especially his decision-making without the puck and his positioning
Fantasy Hockey Potential:
Offensive = 9/10 Defensive = 6/10
NHL Player(s) Comparison:
– Ales Hemsky
Video(s):
Teuvo Teravainen highlights
http://youtu.be/TMq4DTqlPCo
More highlights from the young Finn
Follow Fred Poulin for all your 2012 NHL Draft prospect needs and get more information on the NHL.
THW's The Next Ones prospect profile template design architect: Chris Ralph