The Minnesota Wild endured an extremely difficult campaign in 2011-12. After a strong start to the season, they collapsed from mid-December onwards and eventually fell well short of a place in the 2012 NHL playoffs. It has been made pretty clear that this is a franchise that has a long way to go before it can establish itself as a perennial playoff team or a Stanley Cup contender. However, the future looks bright in hockey town. The Minnesota Wild are a team with lots of young players on the cusp of breaking into the NHL team. Here's a quick guide to some of the players who look set to make the jump.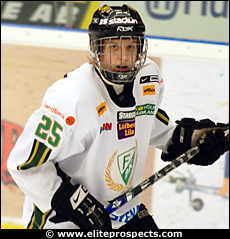 Mikael Granlund – Granlund is the biggest prospect in the organisation by some margin. He has found tremendous success scoring at a high rate while playing against men in the top league in Finland. He has great speed, strong stick-handling and is an elite level playmaker. Granlund was the ninth overall pick in 2010 and has just recently signed his entry-level deal. It isn't certain that he will be able to make the jump straight to the NHL, especially considering his small stature. However, this is a player who has already been playing hockey against men in a competitive league, so it is hard to imagine him spending too long in the AHL.
Zack Phillips – Phillips was the 28th pick in 2011. He achieved Memorial Cup success with the Saint John's Seadogs and came pretty close to repeating that success this season as well. Phillips has been a high scorer at junior level and is definitely a player to watch at NHL level. His hockey sense is arguably his most outstanding attribute and that is very good news for any prospect. It may take Phillips some time to adapt to the physical side of the professional game and he probably won't be able to jump straight into the line-up of the Minnesota Wild.
Charlie Coyle – Coyle was the prized piece that the Minnesota Wild were able to acquire from the Brent Burns trade. He finished his last junior season playing alongside Phillips for the Memorial Cup with the Saint Johns Seadogs. Coyle has lots of offensive potential and his physical attributes make him an extremely attractive prospect overall. He's a forward with good size and he combines that with a nice skating stride. This is a player who could also have an immediate NHL future.
Jason Zucker – Zucker got a taste of the NHL at the end of the 2011-12 season. He did some impressive things, while looking a little lost at times. That's to be expected. Zucker has great two-way hockey credentials and is considered a strong leader. He had a good final year in college and should be fine in the NHL. He is small, but he plays a lot bigger than his size and versatile player. He is a great example of just how diversified this Minnesota Wild forward prospect base is.
Jonas Brodin – More and more blue-liners are making the jump straight to the NHL these days. Brodin is one blue-liner with that potential. He has great hockey sense and a nice skating stride. He has some filling out to do, but Brodin looks like becoming the Brent Burns type of player that the Minnesota Wild clearly missed this season.