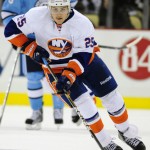 Now that we have addressed what the Islanders should do in free agency this summer, let's take a look at some internal issues that linger within the team.  The Islanders have a nice stockpile of young talent on the roster.  Yes, this has been a common theme for some time now, but with the right moves (and a little luck) this group could challenge for a playoff spot.
The Draft
By now, most Islanders fans have read a few hundred mock drafts and researched every top 10 prospect on the board.  Well at least I know I have.  In fact, The Hockey Writers have had plenty of in-depth analysis on what the Islanders should do with that 4th pick beginning with Anatoliy Metter's column on the subject last week.  I also covered the subject back in March with a list of prospects who could catch the eye of Garth Snow and company.  All of that is well and good and I urge all Islanders faithful to do their homework and get excited about this year's draft.  Heck, we all know it is one of the few things we can get to be excited about every year.  However, I have two simple strategies that I hope the Islanders' front office would follow:
1) If they are to keep the 4th pick, then take the best player available.  Simple.  I can certainly argue that the Islanders need depth at defense more than any other position, but for a team with their track record and as bad as they were last season, they have holes everywhere.  So whether it is Ryan Murray, or Filip Forsberg, or some kid from Alaska nobody has heard of, if they feel that is the best player on the board, just take him.  The New York Giants practice this method (albeit a different sport with many more positions) and it seems to work very effectively for them.  So if they can draft another Center and stockpile the position then do it.  Nobody's health is guaranteed, and nobody's success is guaranteed.  Except John Tavares of course… he can do no wrong.  Oh, and this obviously pertains to just forwards and defenseman.  Rest assure if they drafted a goalie at 4, the Coliseum might not be standing for too long.
2) If they really don't have a clear-cut guy at #4 that stands above the rest, then trade down.  I wouldn't recommend a trade to the lower half of the first round unless you're getting a bonified NHL star, so I would look in the top 12 for a trading partner.  If they can pick up an extra pick or two or add another young prospect along with that pick, then it is something to consider.
Player Development
With all of these high draft picks the past few years, the cupboard is certainly full in Long Island.  However, they have had a tough time turning some of these picks into top flight NHL players.  John Tavares and Travis Hamonic are the only two that have made a name for themselves and produce on a nightly basis.  Guys like Josh Bailey and Kyle Okposo have shown flashes, but lack consistency.  Calvin de Haan played all of last year in Bridgeport of the AHL and didn't seem to make much of an impact after high expectations.  And then there was Nino Niederreiter.  It is clear that Nino should have stayed in juniors last year as he mustered up only 1 point in 55 games playing on the 4th line.
As far as Nino goes, I think it is safe to say Bridgeport might the best place for him next Fall.  Let him start out there and get accustomed to the speed of the pro game.  Also, I am sure he could use a confidence boost as a player of his caliber is not used to putting up 1 point in a season.  If he excels at that level then I would love to see him get called up to the big club and wreak havoc towards a playoff push.
Also, there is Ryan Strome, last year's 1st round pick.  Strome had another great season with Niagara of the OHL and might be ready to make the jump.  However, after seeing what happened last year with Nino, I would be hesitant to guarantee him a job on the team.  The right thing to do would be to give him his 9 game trial, but do so with him playing on one of the top 2 lines.  Burying him on the 4th line to play 8 minutes a night with Marty Reasoner and Jay Pandolfo is not going to allow him to show his skills.  If he can hold his own on a top line, then keep him.  If not, I would have him back in Niagara to gain more strength and experience.
And finally, what do with this year's 1st round pick?  I guess that all depends on who the pick is.  Some people say Ryan Murray is a kid that can step right in and play on an NHL team.  If they do draft Murray I would use the same strategy as I discussed with Strome.  Give him a taste, but do not let him sit around as a 6th or 7th d-man all year and lose confidence.  He'd be better served dominating the WHL.  And that goes for any potential picks, whether it be Forsberg, Galchenyuk, Dumba, etc.
The Goalies
It really stresses me out discussing this topic, but nonetheless it is an issue for the Islanders and forever will be as long as Rick DiPietro is still under contract.  The good thing for the 2012-13 Islanders is that for once, DiPietro will not be entering the season as the expected starting goalie.  That honor belongs to Evgeni Nabokov who earned the right with his performance last season.  However, DiPietro might not even be the leading candidate for the backup job at this point.  And I see nothing wrong with that.
DiPietro (assuming he is healthy), should start next season in Bridgeport.  Until he can prove he can stay healthy for even half a season, he should not be with the big club.  It's nothing personal, but playing the goalie carousel really affects the team's rhythm which we have seen the past few years.  And to be honest, it might be the best thing for DiPietro himself.  He can rehab and work back into game shape under the radar in Bridgeport and not have to deal with goalie controversy questions in New York.  If he can prove himself a healthy, viable goalie again, I would then bring him back to split time with Nabokov.
The backup position should be battled for by Anders Nilsson and Kevin Poulin, two young promising goalies of the future.  Both have seen NHL action in the past so they would not be a liability to the team.  Ideally, most fans on the Island are hoping one of these two (if not both) take the next step and take over the reigns between the pipes next season when Nabokov is gone.  But as Islanders fans, we of course can only hope.