Mikhail Grigorenko THW Close Up:
Date of Birth: May 16, 1994
Place of Birth: Khabarovsk, Russia
Ht: 6-3 Wt: 195 lbs
Shoots: Left
Position: Center
NHL Draft Eligibility: 2012 1st year eligible
THW Ranking (May): 4th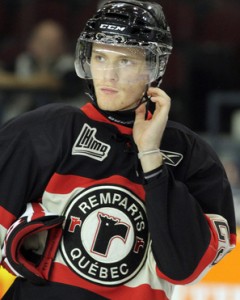 *Click here for Notes Up Front for various topics covered below in the live updated NHL 2012 Entry Draft Guide – The Next Ones home page – your quintessential draft resource.
Entering the 2012 NHL Entry Draft in a few weeks time, Grigorenko and his respective controversial rankings have become the biggest storyline of this draft class. After a strong start to his North American debut experiencing almost no transition period, the big pivot had become one of a few elite offensive players available in the draft, yet, recently the scouting world has been awfully critical of his play causing him to be dubbed a "faller". As the year unfolded, it became easier to find anonymous quotes by scouts stating that they would "not touch Grigorenko" or "Mikhail is not worthy of a top 20 selection" or some other bold statement with a similar sour tone. In truth, based on pure upside, the Quebec Remparts' high scoring freshman has arguably the highest offensive upside of any skater in this draft class.
The biggest knock against Grigorenko is that his work ethic is wildly inconsistent displaying bouts of poor effort often appearing invisible. However, Mikhail's methodical puck possession style of play contributes to the illusion that he is not putting forth maximal effort. Much like Joe Thornton in San Jose, Grigorenko is a cerebral player that eludes elite vision, exhibits deft puck skills and has the ability to control the flow of the game. This particular style of play can often appear lethargic at times as the player does not need maximum physical effort but rather an impressive understanding of the ice and it's surroundings to control the pace of the game at his pleasure. Grigorenko utilizes this extra time to make elite-level reads and draws from his keen hockey sense to make the intelligent play.
Unlike draft mate Nail Yakupov, you will not catch Grigorenko flying down the ice at top speed and beating the opposing defensemen one-on-one too often. On the other hand, it is more conducive to Grigorenko's game to see the big Russian make a crisp defensive zone breakout pass to a teammate and receive a return pass upon entering the offensive zone and immediately survey the ice for his first, second and even third scoring options before committing to his decision. Also contributing to the perceived lack of effort issues is Grigorenko's skating style – appearing almost effortless as if he's gliding or coasting from end to end. He possesses strong edge work and overall he is an above-average skater that should translate well to the next level of competition. To defend Grigorenko's work ethic vigorously would be inappropriate, as he does not exhibit the tireless work ethic that some of his draft peers do but he is intelligently selective in when and where he applies himself.
Closing in on 200-pounds and skating at 6-foot-3, Grigorenko already owns NHL size at a young 18-years-old. While not overly physical in any zone, Grigorenko utilizes his large frame well against the half-boards and boxes the opposition out successfully assisting him in his advanced puck protection game. Physicality is not necessarily a requirement for finesse players like Grigorenko but the big Russian would earn more time and space if he added more snarl to his game and engaged himself more consistently. He does not shy away from contact but rarely will one notice him initiating contact. Grigorenko's size should permit him to drive the net regularly but he tends to remain on the perimeter.
Beyond his playmaking abilities, Grigorenko owns a hot wrist shot that can beat goaltenders anywhere inside the offensive zone as evident by his 40 tallies this season. Grigorenko suited up for Team Russia at the past U20 World Junior Championship in Alberta but due to an ankle injury he received limited ice time and was unable to parlay the experience into a rising draft stock. As the recipient of the Michel Bergeron Trophy as the QMJHL's best offensive rookie, Grigorenko racked up 85 points in 59 games showcasing his offensive skills as an elite offensive centre.
Grigorenko had a mediocre playoff scoring 10 points in 11 playoff games and it was during this time that most experts became critical of his work ethic as he appeared uninterested at times and was not able to raise his game to the level people expected him to.
Come draft day, consistency and work ethic issues will remain Grigorenko's demise but there are plenty of elite offensive NHL stars that battled through the similar criticisms during their draft year including Martin Havlat (1999) and Anze Kopitar (2005). TSN had Kopitar ranked fifth in their final draft rankings and Grigorenko, despite being uber-talented, could experience a similar fall.
Scout's Honour:
Grigorenko is a very special kind of talent who scouts have been hearing about for many years. He absolutely burst onto the scene last year with a tremendous performance at the Under-18s. He's an exceptionally gifted player who can control the flow of a hockey game seemingly at will with elite puck skills, vision, offensive creativity, and overall hockey sense. He makes high level dekes seem effortless and is the kind of player who is able to slow the game down to his pace rather than try to keep up with it. His ability as a playmaker is really special as he is the classic "eyes in the back of his head" type of player who consistently makes high-level reads quickly and effectively…he's the kind of talent who NHL sources have described as the best guy on the ice while he's going at 75%.
Corey Pronman – ESPN and Hockey Prospectus Draft Writer
With top-notch vision and hockey IQ, Grigorenko effectively fills the role of the playmaker as well, creating numerous opportunities for teammates. In terms of raw skill (and perhaps total offensive upside) there isn't a purer selection than Grigorenko in 2012.
Bob Mand – Bruins' Correspondent at THW and NHLMockDraft.com contributor
Grigorenko enjoyed a fine season, as he was the highest scoring rookie, showcasing his vastly superior offensive skill set. He also won a silver medal a the WJC, but his play and contributions were limited and did not help his overall draft stock. Grigorenko is a big player with underrated strength and can be difficult to move once he gets a head of steam. What separates him from other prospects is his ability to make sensational passes while looking off. He can gain additional real estate in the offensive zone due to his uncanny stickhandling ability, as his one-on-one moves and imagination with the puck are NHL-calibre already.
David Burstyn –McKeen's Hockey Director of Scouting
Statistics:
Bio/Interview(s)/Link(s):
International Tournaments:
Grigorenko represented Russia at the U18 Ivan Hlinka Tournament in 2011 and simply dominated finishing second in tournament scoring with 4 goals and 18 points in 7 games en route to a Silver medal placing.

At the 2012 U20 WJC, Grigorenko suited up for Team Russian and racked up a respectable 5 points in 6 games all while battling through an ankle injury.
ETA
= 1 year or less
Risk-Reward Analysis:
Risk= 1/5 Reward = 5/5
NHL Potential:
Top line forward
Strengths:
*See "THW Close-Up" section above.
– Surgeon-like hands
– Impressive puck control
– Elite vision
– Good puck protection skills
– Above-average skater
– Creative offensive catalyst
Flaws/Aspects He Needs To Work On:
– Improve work ethic compete level
– Battle through consistency droughts
– Continue to work on improving defensive game
Fantasy Hockey Potential:
Offensive = 9.5/10   Defensive = 7/10
NHL Player(s) Comparison:
– Joe Thornton/Alex Kovalev/Evgeny Malkin mix
Video:
Off The Iron (Interesting Notes):
– Grigorenko was drafted 2
nd
overall by the Quebec Remparts in the 2011 CHL Import Draft behind draft peer Olli Määttä
– The big Russian was also drafted 8th overall by the CKSA Moskva in the 2011 KHL Draft
THW's The Next Ones prospect profile template design architect: Chris Ralph
Follow @RossyYoungblood on Twitter for 2012 NHL Draft Day coverage
My passion for the game has led me to writing about hockey, specifically dealing with the future of hockey and it's prospects.
You can find more of my work at DobberProspects.com, TheHockeyGuys.net and OHLWriters.com
Outside of the rink, I enjoy spending time with my friends, golfing, kayaking and fishing as well as competing in several of my own hockey leagues.
If you so do choose, please feel free to follow my thoughts and work on twitter @RossyYoungblood